I'm thrilled that the team who run our national
Public Lending Right
scheme have today published their first-ever
list of our Top 50 most borrowed illustrators from UK libraries
!
This is a big deal! Every year there's been a eagerly anticipated list of writers' names, but it's wonderful that this year people can find out about the illustrators, too! I didn't even know every single name on the list, and I'm planning to go look up the illustrators I'm not aware of. Seeing their names on a list like this is a great way to raise awareness about the people who contribute to our great UK illustration industry. Here's the list:
Sue Ridge from the PLR team sent a press release with this quote from list leader Tony Ross:
"WOW! That is wonderful, although I would think I have had some help from fantastic authors, such as Jeanne Willis, David Walliams, and Francesca Simon. Thank you library users. I'm surprised, proud, and delighted!"
Here's The Bookseller's article by
Katherine Cowdrey
:
Read the full article here
Big thanks to PLR, who give writers and illustrators a tiny bit of money for every time someone checks out our books in the library! Julia Eccleshare from the PLR team asked me for a quote as a representative of the
#PicturesMeanBusiness
campaign:
"Money earned from PLR is a real lifeline to so many hardworking illustrators, but most of the people who tell stories through pictures in books struggle to build a name for themselves professionally. I'm thrilled to learn the PLR team have compiled a list of the top 50 most borrowed illustrators from UK public libraries! I hope one day in the near future, publishers will update their data systems and people will be able to find this information on illustrators as easily as they can find it on writers."
If you're a published UK writer or illustrator, be sure to sign up your books to the
PLR database
! And you can follow PLR on Twitter:
@PLR_UK
.
Here's my latest Writer-Illustrator-in-Residence blog for BookTrust, featuring some drawing fun I had in Alaska a couple weeks ago.
Read the whole article here!
Joe Fleckenstein ferried my family and me to Schooner Beach; a short trip Valisa does several times a week by rowboat.
And here she is! Valisa and I had given a talk earlier to the community about our work and it was great to see where she puts her pictures together.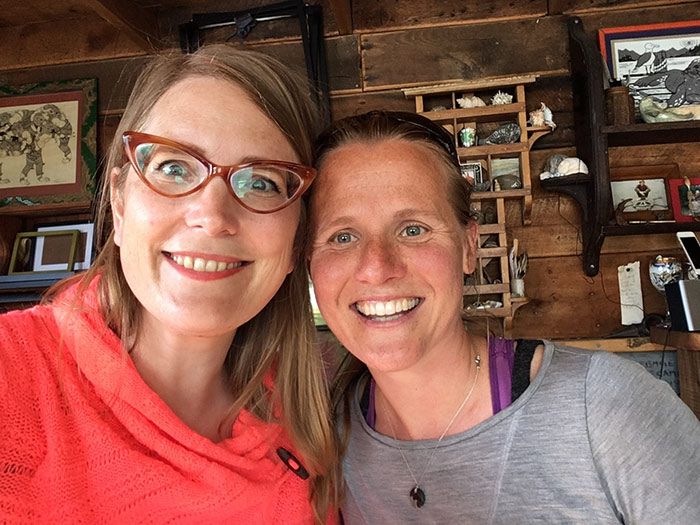 Here you can see a sample of what she does. This is a picture of the Seldovia waterfront, made by cutting black paper to form the lines, then gluing coloured paper behind it, then adding bits of paint on top.
(
Click here for lots more under the cut!
Collapse
)
A big highlight of my trip to Alaska this summer was visiting the studio of local Seldovia artist Valisa Higman. I've seen a lot of artist studios, but this has to be one of the most beautiful - and remote!
Seldovia
, on the Kenai Peninsula in Alaska. (The closest town you might have heard of is Homer.) One of my favourite things about Seldovia are its houses, in all their strange and wonderful shapes, and very often on stilts, to keep them raised up from water and ice. I could have happily spent all summer drawing them, but here's one, the Dancing Eagles lodge by the harbour:
I did a rough pencil sketch sitting in front of the house, but when the drizzle started, I took it back to my aunt and uncle's house to paint in ink and watercolour.
Here's the house itself, lit up about midnight, just before sunset.
Here's where my aunt and uncle live, on a place called the Slough (pronounced 'slew' in Seldovia). This is fairly low tide.
The Slough was a big inspiration for the houses in my northern-themed book with
Philip Reeve
,
Pugs of the Frozen North
.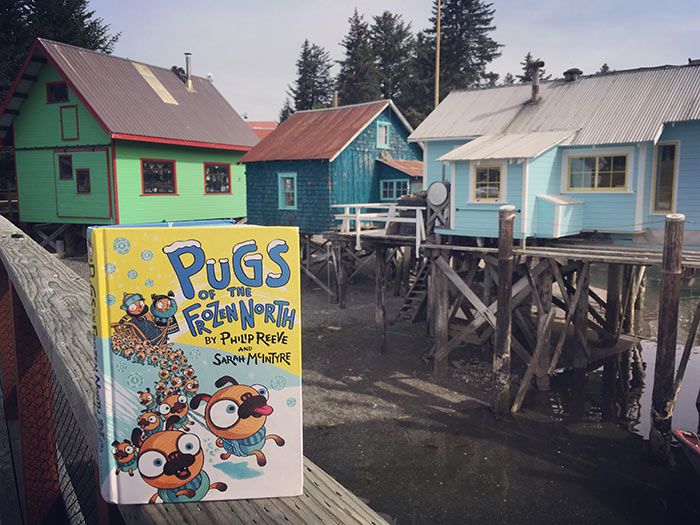 The 'Snowdovia' in our book is covered in snow, and I've only ever visited Seldovia in summer, so I had to use a bit of imagination. But it's a magical winter in the book, not even a regular winter, so I didn't have to worry too much about getting everything totally realistic.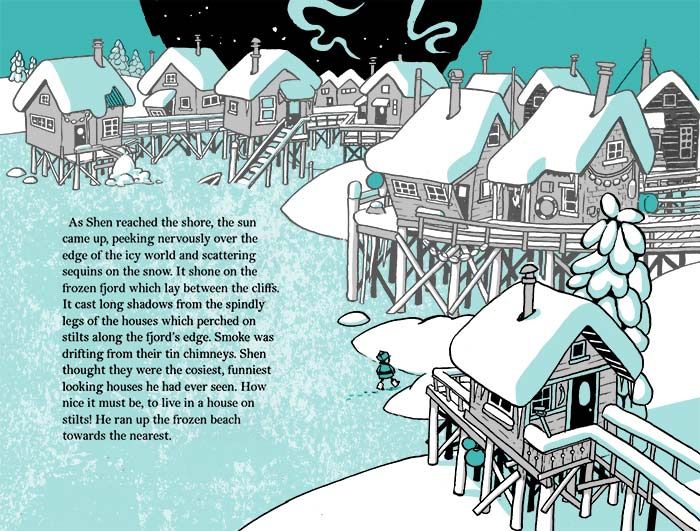 (
Click here for lots more photos under the cut!
Collapse
)
For the past week and a half I've been visiting family in