And here are the winning books! You can read about the winning writers and illustrators here
on the BookTrust website
, and because I'm an illustrator, special congrats from me to the people who drew the pictures! In the Best Story category:
Adam Murphy
wrote and drew the
Lost Tales
comics and his wife
Lisa Murphy
coloured them, and
David Wyatt
drew the pictures for
Podkin One-Ear
. In the Best Book with Facts category:
Tom Clohosy Cole
illustrated
Destination Space
,
Spike Gerrell
drew the pictures for
Football School
and
Kerry Hyndman
illustrated
Survivors
. All amazing!
And here are my fellow judges, I had so much fun with them on the day. You can read more about the judging day
in this previous blog post
. The BookTrust website says,
The winners will be announced live on Blue Peter on 23 February 2017, with the winning authors and illustrators appearing on a special World Book Day episode of the show on Thursday 2 March 2017.'
...Can't wait!
If you live in the UK, for 29 more days you can watch Blue Peter again
here on iPlayer
. (The book award segment starts at the 16.30 mark.)
Hooray! Today BBC's Blue Peter presented the shortlist for this year's Blue Peter Book Awards!
Passengers
with Jennifer Lawrence and Chris Pratt?
Jennifer and Chris may be voyaging into deep space, but this is charted territory...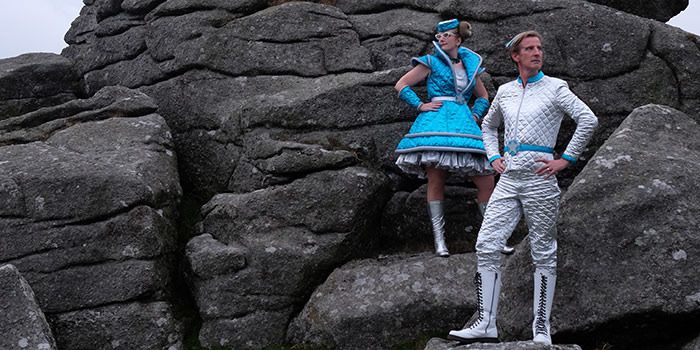 Yes, you guessed it, my book with
Philip Reeve
from a couple years ago,
Cakes in Space
(now published in at least 20 languages)! From the trailer, I can see similar themes...
UK colour hardcover edition, UK black-and-white paperback, USA black-and-white paperback
(
Click here for lots more under the cut!
Collapse
)
Are you and your family looking forward to seeing
who is reading them? Do people like them? Are they selling enough so I can keep my job?
Since I started making books with
Philip Reeve
, there's been a lot more flurry of activity around the books, people write reviews, tweet photos, it's amazing. Here's our most recent book together,
Jinks & O'Hare Funfair Repair
(which comes out in the USA in February renamed by the publisher
Carnival in a Fix
).
I was thrilled when author
Robin Stevens
tweeted this photo of Saturday's book roundup in The Times by
Alex O'Connell
(next to a picture by fab illustrator
Tomi Ungerer
).
I love seeing pictures of the people who are actually reading our books and seeing their drawings the story has inspired. Here's a great message on Twitter today from
@Chuck_Eldridge
in the USA. Check out this pug sled!
And it's wonderful to see
Pugs of the Frozen North
in the New York Public Library's
100 Best Books for Kids
list! Thanks to
MG Leonard
for posting that link and our Dutch translator
Sandra Hessels
for flagging it!
Booktrust has done a
nice review of The Prince of Pants
by
Alan MacDonald
and me (thanks, Booktrust!) but I find picture books get far less reviews and social media attention than longer chapter books, possibly because little kids don't review books and they're not as long for adults to enjoy. At first I thought it might mean my picture books weren't being read as much, but when I got my Public Lending Right statement this year, I realised
There's a Shark in the Bath
accounted for a vast amount of my books checked out that year from libraries. So they ARE being read, hooray!
If you want to give
me
a Christmas prezzie and you liked my picture books, an
online review
(in lieu of chocolate) would be gratefully received. :)
Don't forget, there are related activities on my website for each book:
explore them here!
And I can also recommend
The Phoenix Comic online shop
for a great range of
high-quality family-friendly comics
(
books
or a subscription), if you're looking for holiday gifts. They sell my
Vern and Lettuce
comic, but I'd just as happily recommend any of the other comics, they're all fab.
Most of my books come out in September, and it's always a bit nerve-wracking in the run up to Christmas, wondering
See the
original 1782 painting here
, and other people's interpretations over on
@StudioTeaBreak
!
Also, link of the day: this
rescue goat with anxiety issues
only calms down when he's wearing his duck costume.
I know I can't go back to the old days of making Pilgrim hats and shoe buckles out of construction paper and painting turkeys made from hand prints and thinking Columbus was a great American hero who had a nice dinner with the Indians and everyone got along and that's where we got popcorn.
Thanksgiving is very different now. It's not like it was ever that big of a deal when I lived near Seattle, my family didn't go crazy about it the way they did for Christmas. But it was still a Thing. I've chosen to live halfway around the planet from the people for whom I have the most gut-instinct love, and it's weird, watching all these Americans get together - some flying long distances - to do that Thing they do each year. But usually I'm fine about it, it's no big deal.
Big dinners aren't always fun. The worst were always the ones where there was a table for grownups and another smaller table to the side, or in the kitchen, for the kids. The adults would calmly be talking about all sorts of interesting things, whereas at the children's table, it was total anarchy. If another kid spat on your plate, tough, the parents didn't want to hear about it. I was so glad when I was too old to sit at the kids' table.
This year's different. I'm watching the dignity of the White House falling to pieces before the new president is even installed, I'm reading about friends panicking on Facebook, news reports of attacks on minorities, and Nazi rallies. The president is supposed to be the grownup at the table and tell those people to stop doing those things. This year Thanksgiving in America feels like it's all one big kids' table, and the adults are throwing dinner rolls at each other, pulling hair and spitting in each other's plates - while someone videos it all on their phone - and the kids are standing in the doorway with big eyes, look awed, scared, maybe slightly impressed.
And I want to run back to my parents and get a hug, and I feel just like my friend Ainsley on Twitter, who's from my hometown but lives in Australia:
But my mom can't tell me it's going to be okay. And the worst part is that it's people like us who are the problem. I was raised evangelical Christian, and something like 81% of evangelical Christians voted for Trump. On my Facebook feed, I could see nice Republican ladies from my school days discussing the election, saying that Trump had more of a 'heart for Jesus', and taking their cues from pastors who had put their support behind one of most capricious, rude, untrustworthy people who could possibly run for the job.
I've never been so embarrassed. I'm no evangelical. My dad used to be a good Christian Republican but now even he won't even call himself evangelical because to everyone else it's synonymous with sexism, racism, homophobia and being generally loonytunes. Christians I knew from childhood say, 'But those aren't REAL Christians, those are just people who go to church'. But if Trump puts together this Muslim registry of his, he's not going to pick and choose who the 'real' Muslims are. How could he? If people identify as Christian, to everyone else, they're Christian, and if they make people despise Christianity, you can't really blame the onlookers.
Christians, if you're serious about what you believe, you need to get your house in order. You need to show love for everyone, not just straight white people who talk the same way you do. And at times, that may mean taking a direct stand against the man you voted for. And loving people who are nothing like you. It's hard to do that when you're surrounded by people saying the same things as you and using the same religious jargon that sounds like gobbledygook to anyone else who's listening.
And there we go. Raise a glass to some very uncomfortable dinner conversations.
And to family, who feel very far away.
This is the weirdest Thanksgiving ever.