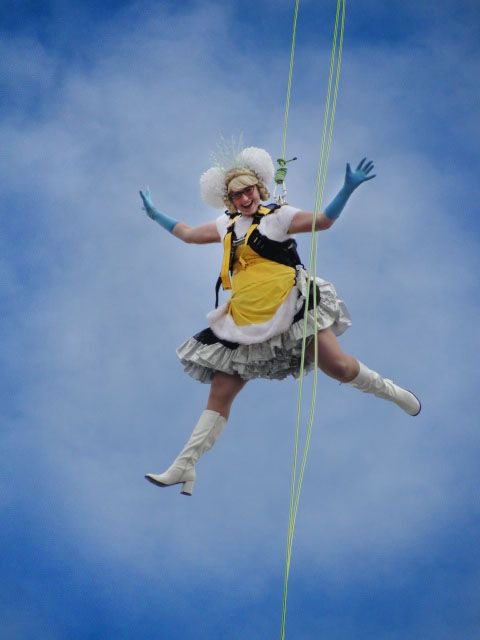 ...or at least to MAKE AN ENTRANCE.
My co-author
Philip Reeve
and I were thrilled to be part of it. The
Guardian Children's Book website
hosts loads of amazing material in a time when children's book journalism in the major newspapers is very scarce.
Emily Drabble
and her team have been doing a great job of getting the word out. You can follow them on Twitter at
@GdnChildrensBks
. (I've done several
how-to-draw
tutorials for them, including how to draw a
Hungry T-Rex
,
Jampires
and a
Silly Unicorn
.)
So Philip and I brought along our brand new book,
Pugs of the Frozen North
: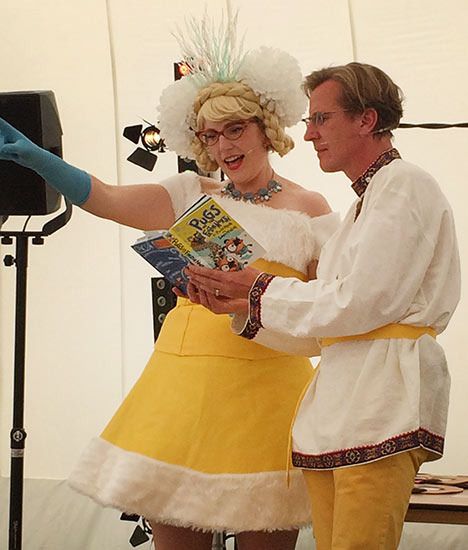 And encountered several PERILS along the way: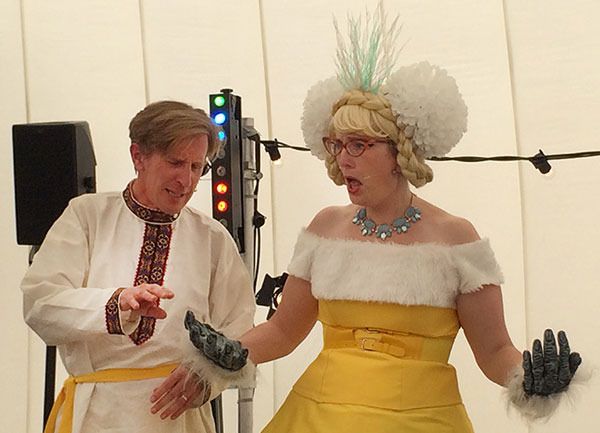 But together with the audience's help, we plotted our way through them to reach the North Pole.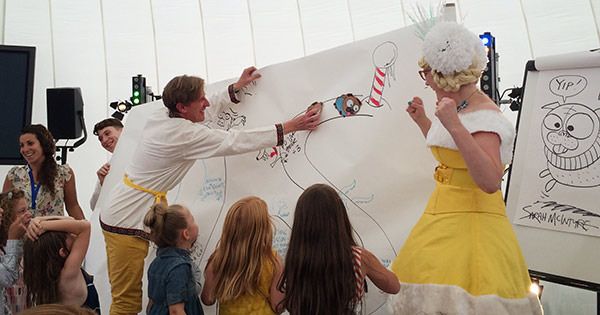 Here's a picture we drew right before the event: I drew Philip and he drew me! (It's fun working with a writer who's also an illustrator.)
(
Click here for more under the cut!
Collapse
)
For London's very first Guardian Children's Lit Fest, it seemed important to make an effort...
Philip Reeve
at least a decade ago, before I knew him.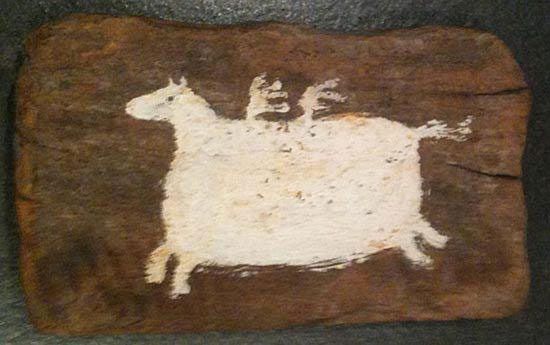 And today it's printed in story form in the Telegraph! (Thanks, illustrator
Cathy Brett
, for alerting us!)
Photo by Cathy Brett
We originally created the story for my blog, day by day. Philip adapted the story slightly when the newspaper asked us if they could print it, so it would work with less images, and you can read the
whole fully illustrated version here on my blog
. Oo, and I see the Telegraph have posted it on their website, with a few more images! So you can compare the two stories. Here it is on the
Telegraph website
.
I love drawing the Dartmoor Pegasus so much! And he so came to symbolise fun, supportive co-authorship to me that we ended up making him the logo for our
#PicturesMeanBusiness
campaign to get illustrators credited properly for their work. Making stories with a friend is the best thing EVER.
PicturesMeanBusiness.com
PS Funnily enough, our story's across from an article about Doctor Who, and Philip wrote a Doctor Who story!
You can see my fan art for it here
.
Dartmoor Pegasus started as a little 'artifact' created by
PicturesMeanBusiness.com
.
Kat Brown
in The Telegraph,
read it here
: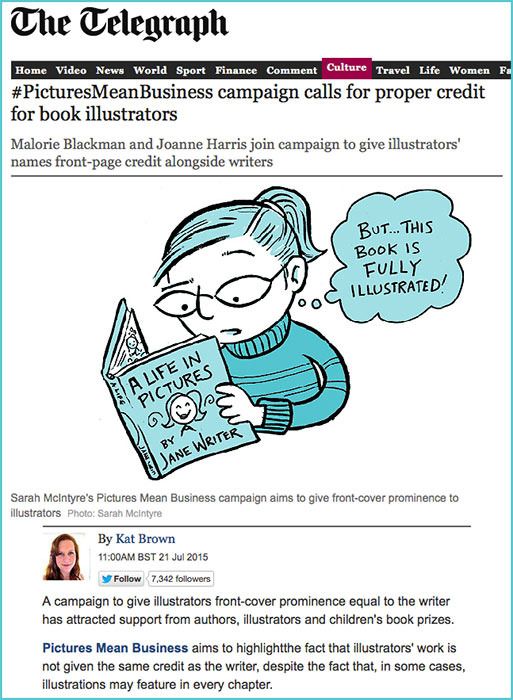 Alison Flood
in The Guardian,
read it here
: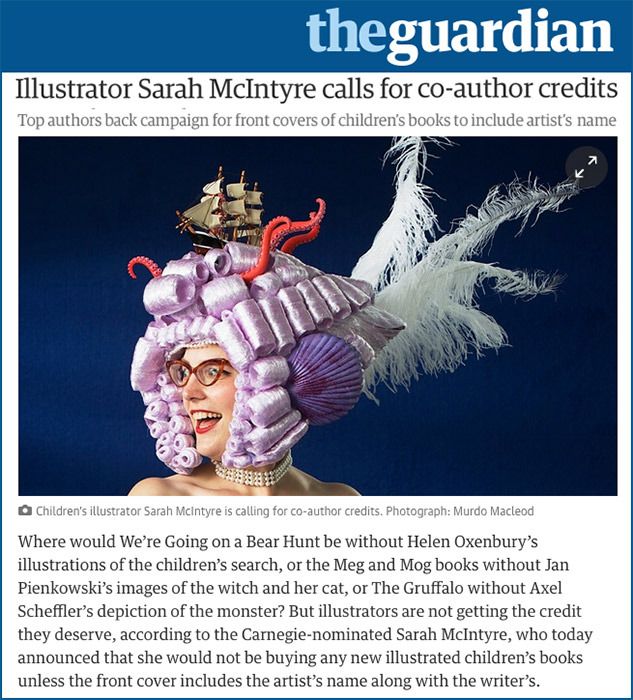 Dan Damon
interviewing me on BBC World Service,
listen here
:
We still have a long way to go. I was sorry to see Mariah Carey's new picture book won't have the illustrator's name on the cover (implying that Mariah has taken to painting).
I was hoping to big up the book's illustrator,
Colleen Madden
, on Twitter but she doesn't have an account. I understand the need to use a big celebrity name to sell a book, but it's dishonest and misleading not to mention the illustrator on the front cover, at least in smaller letters. Publishers may argue that they credit the illustrator on the back cover or inside the book, but these aren't what people see when they browse book covers on the Internet. Particularly with a PICTURE book, big credits for the illustrator should be a no-brainer decision for the publisher.
Jarry Lee
on BuzzFeed,
read it here
Big thanks to everyone who's supporting the #PicturesMeanBusiness campaign! We're making a bit of noise: right between Heathrow security and boarding my flight to the USA, I got e-mails from both Kat Brown at The Telegraph and Alison Flood from The Guardian, wanting to report on the campaign. I managed to borrow a laptop in the USA to do a Skype interview at my friend's dinner table with Dan Damon for the BBC World Service. I haven't had a chance to link to them properly, but here they are now, and I've posted them onto the 'Further Reading' section of
Once a lonely hunter ventured out upon the ice
The wind was howling fearful cold
It wasn't very nice
Then out of the swirling snow some tiny dogs burst forth...
PUGS.... OF THE FROZEN NORTH!
Photo tweeted by Tom Gates author Liz PichonThey said... YIIIIIP! yip YIIIIIP! yip YIP YIP YIP YIP YIP YIP YIP YIP!
...And thus begins the theme song of the new Reeve & McIntyre book, which launched at this year's Edinburgh Book Festival!
Now,
Philip Reeve
and I might get taken more seriously by grown-ups as Proper Authors if we turned up for events wearing black turtlenecks, stroking our chins, and taking turns giving dour gazes into the middle distance. But that's been done before and isn't half as much fun.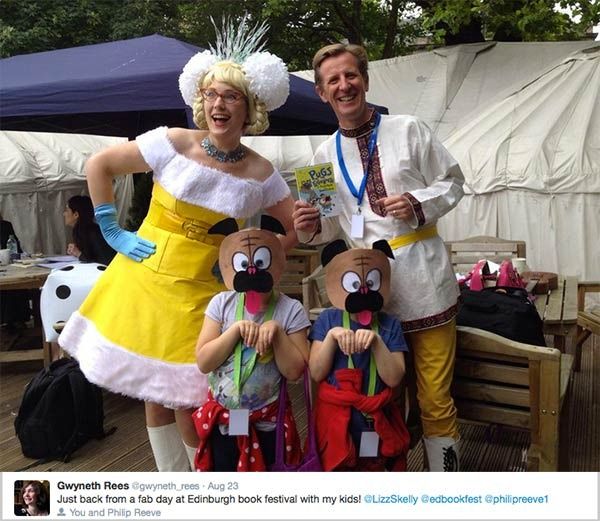 Photo tweeted by writer Gwyneth Rees
Last year we came space-themed (
photos here
), and this year we started with a handy shirt my husband, Stuart, had bought years ago in a market in Moscow, and built up the costumes from there. We thought we'd avoid blue (too much like another Frozen) or red (I'm not Mrs Claus) and I love the yellow on our book cover, a look I'd borrowed from the Japanese edition of our earlier book
Oliver and the Seawigs
! I seldom think foreign publishers actually
improve
on our covers, but the Japanese totally did.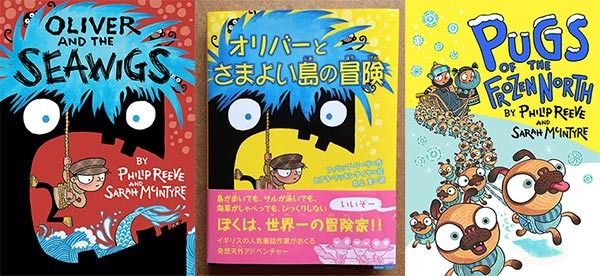 Here's our Pugs cover evolution. (And I just saw that our American publishers have gone public with a
blue cover
.)
Photo by Stuart
Of course books aren't ALL about cover colours and costume. But there are millions of books in the world and somehow we have to figure out how to make ours jump off the shelves. Besides, dressing up makes going on stage much easier somehow. It's like being in a play. This time the excellent
Esther Marfo
sewed my dress to my drawing of it. Here she is in her workshop: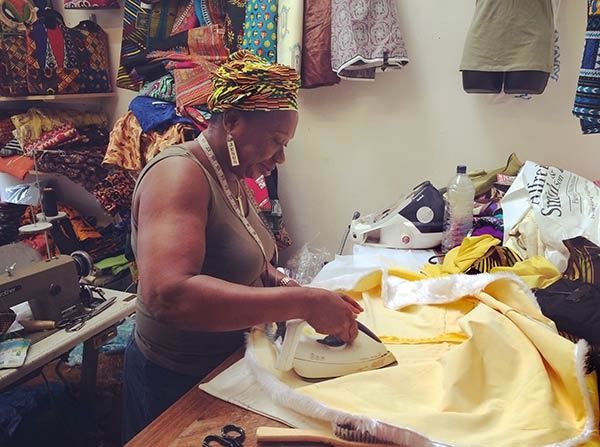 And here's the icicle tiara I made, with plastic soda bottles, a comb, scissors, a candle and a glue gun.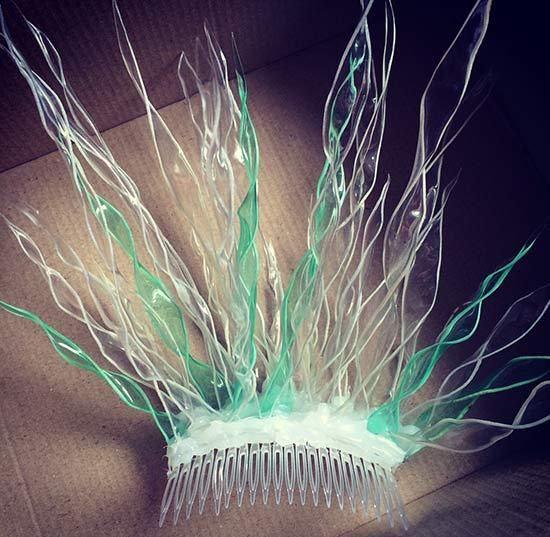 You can learn how to do almost anything on the Internet. Here's a tutorial I adapted to make the tiara. It was a lot of fun to make, and not too tricky, after I'd messed up the first couple icicles.
And my Aunt Joy just happened to give me this dog-paw necklace on my recent trip to the USA, so thank you, Auntie! Selfie with Stuart in our Edinburgh hotel lift:
And yes, we did look a lot like traveling balalaika players. Which is GREAT, everyone loves a good long balalaika album, or two, or twenty-two. Our Oxford University Press designer,
Jo Cameron
, created this terrific album cover for us: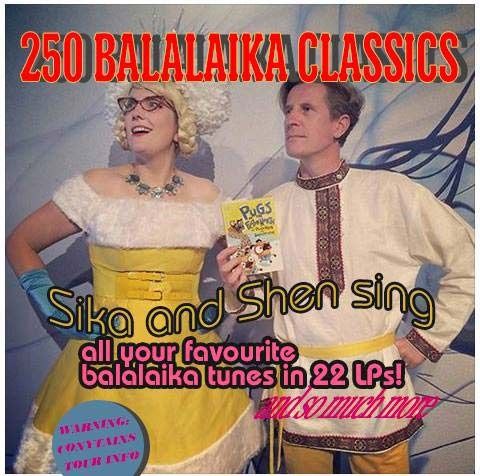 And Philip created a special edition of our standard anti-yeti spray. Very important to take along, when you're journeying to the Frozen North.
(
Click here for more under the cut!
Collapse
)
previous post
for details.) I tried to include everyone's; huge apologies if I accidentally left out your pug!
By my
Pugs of the Frozen North
co-author Philip Reeve (a fart-powered Dartmoor Pugasus)
By Katie (sent by Martin Hand)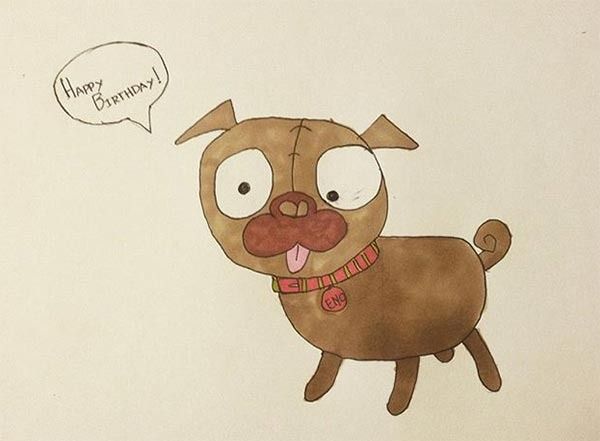 By Sam Reeve
By Jonathan Edwards (@Jontofski on Twitter)
By my
Jampires
co-author David O'Connell (@davidoconnell on Twitter)
(
Click here for lots more under the cut!
Collapse
)
Oh my goodness, if 66 pugs make up a dog sled team, I think we have enough for two teams!! Huge thanks to everyone who took the Birthday Pug challenge! (See