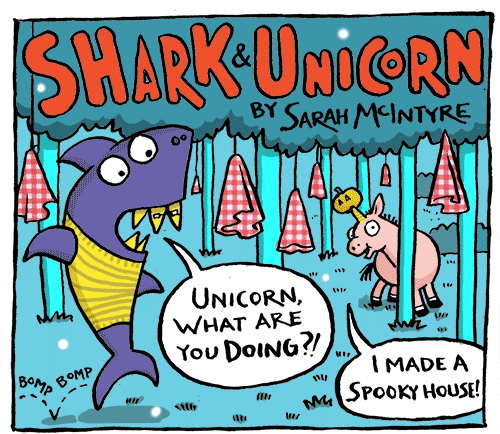 Here's my
Shark & Unicorn
comic strip that ran last weekend in The Funday Times section of The Sunday Times. The film theme for the issue was
The Book of Life
, but I was asked not to use the word 'ghost' or 'haunted'. (Thus the 'spookies'; I had to be a bit creative.)
Actually,
The Book of Life
looks interesting, some very vibrant colours and patterning. I'll include the trailer:
One more thing, I have an
interview with Workspiration
. I spotted quite a few people I recognise on its website, and I hope to get the chance to explore some more of the interviews.
Oliver and the Seawigs
on this year's
Carnegie Medal nomination list
, but something made me do a double-take on the way it was written:
Edit: They've CHANGED the listings! Hurrah!
Now, I feel uncomfortable writing about awards. Partly because they're someone else's business; other people can give awards to anyone they like. Partly because I don't spend a lot of time researching the exact particulars of each award because I'm too busy trying to make good books, and good books that earn enough money to let me keep doing this job. So I'm no expert on the Carnegie and Greenaway medals. But these awards are set forward as the most important of the book prizes and picked up the most by the media, so when I spot something that seems amiss, I feel I need to ask questions, even if they don't directly benefit my own prospects.
Question: Why would the Carnegie list a highly illustrated book with just the writer's name and not the illustrator's name?
(
Click here for more under the cut...
Collapse
)
I was glad to spot
24-Hour Comic Marathon
at this weekend's
Lakes International Comic Art Festival
in Kendal.
The challenge I set myself (besides making a whole book in 24 hours!) was to make a comic book that an adult could read aloud to a child. (Usually comics are rather difficult to read aloud.) So there are bits that might be slightly wordy, but I was doing that to try to make it read better. It was an experiment, so see if you think it works!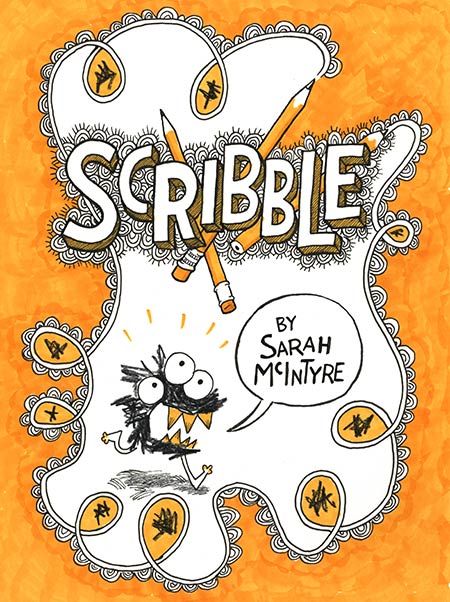 (
Click here for more under the cut!
Collapse
)
Hello! Here's the comic I made for the
There's a Lion in my Cornflakes
(see my
earlier post on that
).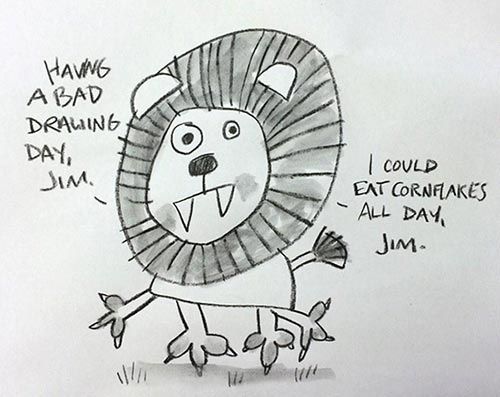 And this one's from asking everyone on Twitter what to draw, and I drew ALL the suggestions and gave them the names of the people who suggested them. There's not a lick of research in any of that, and I forgot what an axolotl was, so I made it up!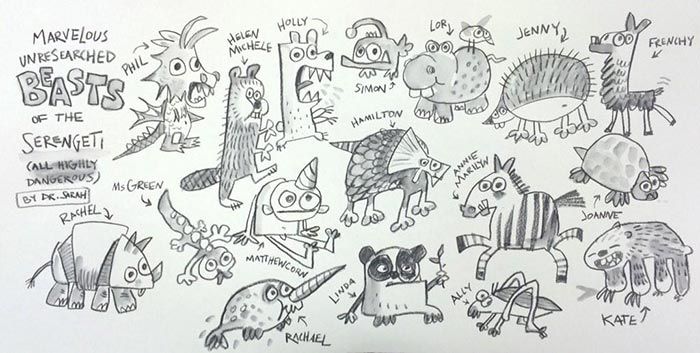 From tomorrow until Sunday, I'm going to be at the Lakes International Comic Art Festival in Kendal
, which I hear is one of the best comics festivals in the country, along with
Thought Bubble
in Leeds, which I'll be attending with David O'Connell in November.
Page 45
(a Nottingham-based mostly-comics shop) will be selling my Scholastic picture books this weekend and I think Forbidden Planet will also be selling some of my books.
I'll be doing two signings, 10-2 on Sat and 10:30-2 on Sun
, so do stop by and say hello! At the end of the week, I'll also be selling a limited number of copies of my
24-Hour Comic book
(that I'll be making all at once, from Wed afternoon until Thurs afternoon) and during the time I'm there, you can pick up a copy directly from me of the
Jampires comic book
that the
Jampires
picture book was originally based on. I think I have about 25 copies of that one and it's £3. I might also do some on-the-spot sketches for people, we'll see how it goes. I'll definitely draw in any of my books!
Eek! I've never done a
24-Hour Comics Marathon
before, I'm curious how it will work. I hope I can stay awake that long. Scott McCloud's going to be at the festival, too, and he's the one who came up with the original
24-Hour-Comic dare
.
You can follow updates as the festival progresses on the
#LICAF
hash tag. Hope to see you there! If you're someone I know from the Internets, let me know, because I'm a bit slow with that sort of thing! It's so gutting to find out later that I've been talking with someone but never put two and two together to realise exactly who that person really was. Say hello and tell me who you are! :)
Yesterday I was having problems drawing, which usually means I'm trying too hard. So I did a couple of pictures where I wasn't trying so hard, and they came out better than the work stuff. OH WELL. This one was in response to Jim Field's illustrations in
first computer programmer
! Also, she is
fun to draw
.
Today's Ada Lovelace Day, celebrating the life of the