Mountains to Sea
that happens on the outskirts of Dublin every year, in Dun Laoghaire, and my co-author
Philip Reeve
and I were thrilled this year to be a part of it! (Because we like to show off, internationally.)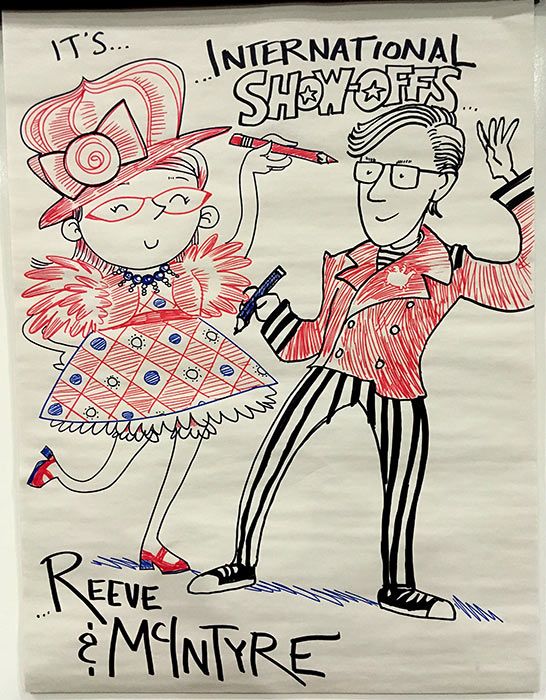 I've just written a couple blogs for BookTrust about
not being afraid to draw badly
, and about
the fun of drawing with other people
. So our very first even played right into that, a big six-way speed draw! Here was our team: former Irish Children's Laureate na nÓg
Niamh Sharkey
,
Philip Reeve
and me: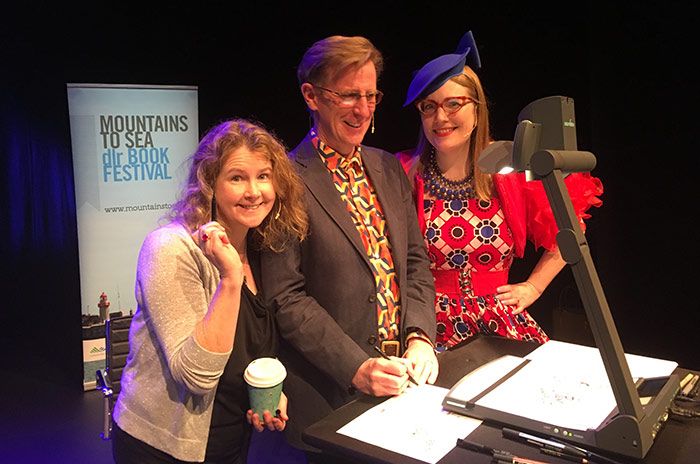 And our opposing team:
Chris Judge
,
Oisín McGann
and
Margaret Anne Suggs
! (You may have
read in the Irish Times
about the Irish fight to credit illustrators when Mags's name got left out of a big award and we all went 'WHAT?!'.)
Anyway, there was no talk about credit on stage because 350 school kids could see exactly who was drawing! And not even necessarily our best drawing, just our FAST drawing. Which is very fun in its own way, almost like playing Pictionary.
Photo by Ger Holland
Here we are, venting our nervous energy backstage with our host (and author), festival coordinator
Sarah Webb
.
(
Click here for lots more under the cut!
Collapse
)
There's an incredibly friendly festival called
Sometimes working as an illustrator can be very lonely. Meeting other people here on LiveJournal and taking part in drawing challenges and Internet memes was a huge boost for me early on in my career. And I still love drawing with other people, every chance I get!
Here's my new blog for BookTrust
, talking about ways to find other people to draw with.
My co-author Philip Reeve recommended the series on Netflix
Dirk Gently's Holistic Detective Agency
, and I'm halfway through. It's brilliant, very funny and terribly unsettling at the same time. And I love the actor
Jade Eshete
who plays Farah Black; she looks amazing, and I had to try drawing her.
Hello, Ms McIntyre.
I am a member of the Society for Science Fiction and Fantasy in Israel, and we hold monthly reading clubs. This month a bunch us of who have kids decided to start a reading club for children, too, and Cakes In Space was selected for the first session. It takes place this Saturday, and we were wondering if you could send the kids a video greeting from the illustrator. We think it would be so cool, they loves the pictures so much. :)
Thanks,
Itai Tzur
I don't usually have time to do this, but my co-author Philip Reeve and I have a good Hebrew publisher/translator named
Gili Bar-Hillel
who's been very supportive, and I was thrilled to get some feedback from Israeli readers! So I sent the book club this impromptu video from my studio:
And Itai and the book club came back with this video, full of questions! I asked Itai and he got permission from the parents to post it here. If you've read
Cakes in Space
, perhaps you were wondering about some of these things, too! (Thanks for translating everything, Itai!)
Here we go!
Yotam's question: Philip Reeve - did you draw him on purpose with lightning on his face?
I did! Philip's a huge fan of David Bowie, and I think he even looks a bit like him. Bowie also wrote famous songs about space, so it seemed very fitting for
Cakes in Space
! (It's not a Harry Potter scar.) :)
(
Click here for lots more under the cut!
Collapse
)
I had a lovely message a couple weeks ago: