Cakes in Space
, my next book with
Philip Reeve
. I'm sitting here with my dip pen and India ink, tracing over my pencil drawing on my light box. It's a little tricky to tell you what's happening here, without giving too much away, but it involves KILLER CAKES.
And my sister posted this video on Facebook, of two highly overcaffeinated cello players in period dress, doing a cover of AC/DC's
Thunderstruck
. What's not to love?
Here's another little peek at what I'm working on, a wild spread from
Drawing chubby mermaids is fun; you can see lots more that other people have drawn
here
. I tried to make it look sort of like an old-time
saucy seaside postcard
. Stuart was most pleased that I'd included
Colin the crab
. Stuart's a big Colin fan; I didn't have him on one page of
There's a Shark in the Bath
and Stuart protested, so I put him in. (This is not Colin, below, this is just some random lovestruck fish.)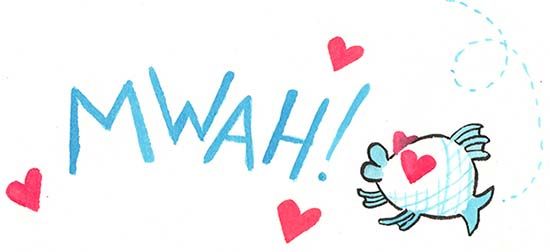 Speaking of seaside postcards, my greatest contact with the British seaside has been
Bexhill-on-sea
, where Stuart's dad lived until he died recently. Stuart was there on the weekend, and he and his brother stopped into the Sovereign Light cafe, across the street from his dad's place. There was a little notice in the menu about it being featured in a
Keane music video
, so this morning, Stuart looked it up on YouTube. We were quite staggered to see that it could practically be a documentary of where Stuart's dad used to live. The video starts out with a shot of his block of flats, goes up and down the promenade where he walked every day, and ends back at the cafe, in front of his flat again. We watched it, and watched it again, and Stuart got quite teary. He's had a hard year and it felt a bit like a tribute to the place he's visited so often, and, in a way, to his dad. You can watch it here:
Direct YouTube link
we've been celebrating Stuart's birtday and I made him a card:
Cakes in Space
, my second book with
Philip Reeve
. Recently I've been drawing some characters called the Poglites. Our main character, Astra, gets her first glimpse of them as they ride up on their scooter:
Usually I put a bit of imaginative effort into our characters, but this time they came ready-made. I first spotted them as chimney pots in the town of
Lynton, near Exmoor
.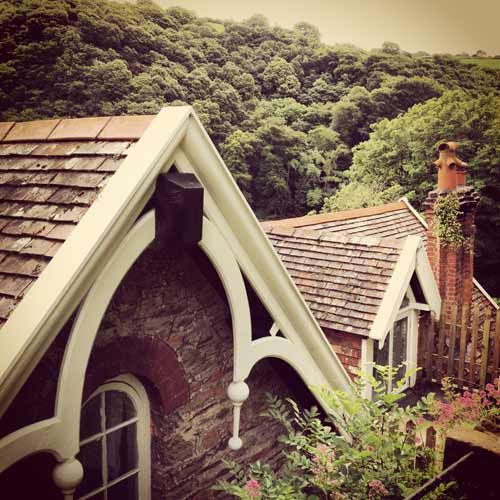 They stand quite proudly in these groups and, truth be told, look slightly sinister.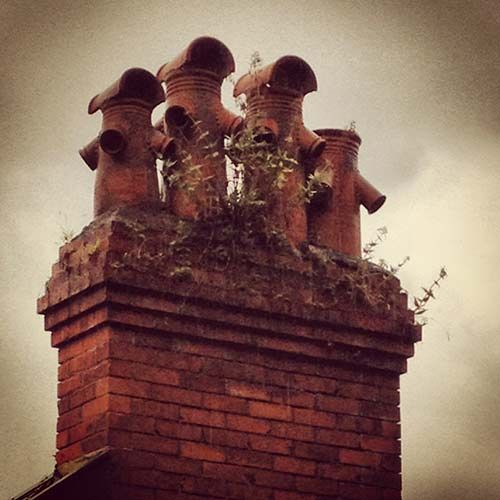 I posted this photo on Instagram and Philip replied that these
had
to be our Poglites. We liked their chunky, low-tech Doctor Who look. Like the Daleks, they might have trouble climbing stairs. Philip doodled this in his sketchbook, and that pretty much nailed it.
While Astra's space ship is very tidy, the Poglites' place is a dump. Here's Astra aboard their ship, when everything in the story gets a bit worrying.
Cakes in Space
will launch this autumn, the follow-up (but not sequel) to
Oliver and the Seawigs
.
Other news: the Emirates lit fest has posted an interview with me, about writing and making books. They were asking about writing, and I was rather pleased I managed to work in illustration and comics. I don't know how popular comics are in Dubai and the Middle East, or even how easy it would be to buy comics in Dubai, the city which hosts the festival.
Click here to read the interview.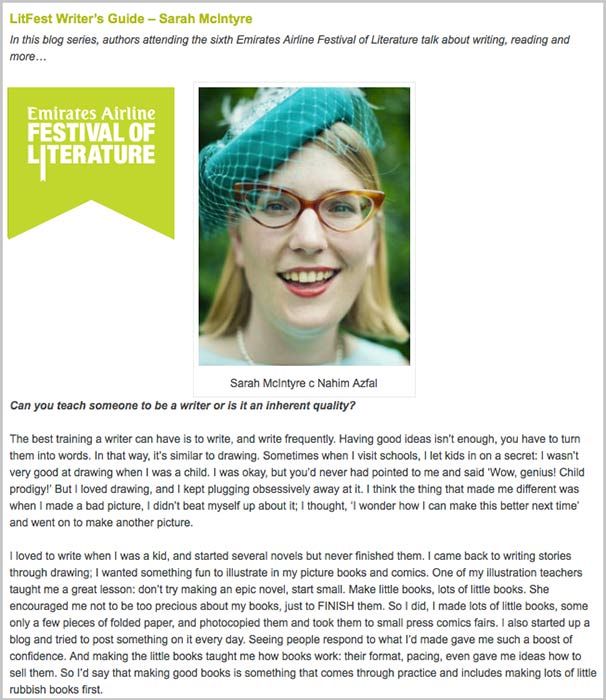 Keep reading here...
And I suppose this folk song is thematically related to
Cakes in Space
; I like it very much. The whole album on Spotify,
The Full English
has been cheering me up as I've been working quite long hours. Hope you like it, too!
I'm still working like mad on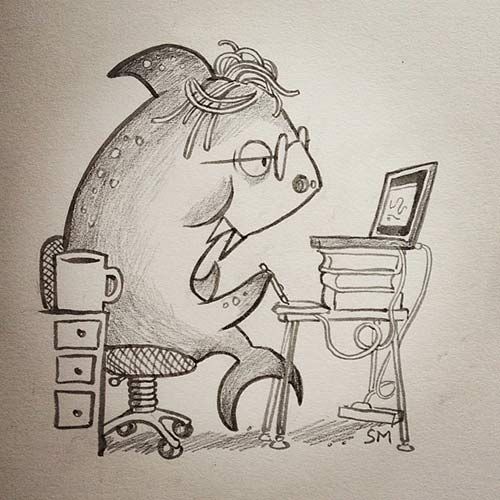 But in the meantime, lots of exciting things are going on! The
Lakes International Comic Art Festival
has announced the two artists who have won the competition to draw 24-Hour Comics with us:
Joe Decie
and
Warwick Johnson Cadwell
. Those guys are two of my all-time favourite comic creators, so I'm super excited. And, if I was a different sort of person, I'd probably feel intimidated, but really, it's just going to be a lot of fun. I'm hugely excited about LICAF this
October in Kendal
. I've never been, but last year everyone was raving about what a wonderful festival it was, and I'm looking forward to taking part in it. You can read John Freedman's article about the latest announcement and see some of Joe and Warwick's work
here at Down the Tubes
.
Warwick has a wonderful, loose, slightly abstract way of drawing that I absolutely love; his odd takes on perspective remind me a little bit of one of my early children's book influences, Satoshi Kitamura, but Warwick's linework is much more wild. Joe takes a much more gentle, watercolour approach and his storytelling is wonderfully witty and surreal.
Stuart and I joined the Reeve family the other day to go see
Jeeves and Wooster
at the Duke of York Theatre in London. It's BRILLIANT, I laughed so hard my stomach hurt. It's ingeniously worked as a play within a play and the actors make me smile just thinking about them. Highly recommended!
Okay, now some other cool things people have pointed out to me on the Internets... Check out this fascinating looking documentary Kickstarter campaign,
She Makes Comics
. I've given it a small backing; think about donating something, even just five bucks via Paypal. It'd be great to see more women comics people in the spotlight. (Thanks to my web designer,
Dan Fone
, for tipping me off to it.)
I saw on Twitter that
Moontrug
is hosting a competition to write and draw about your own Seawig creation. I don't know the amount of the Waterstones voucher prize, but I can guarantee drawing Seawigs is Lots of Fun.
Details here!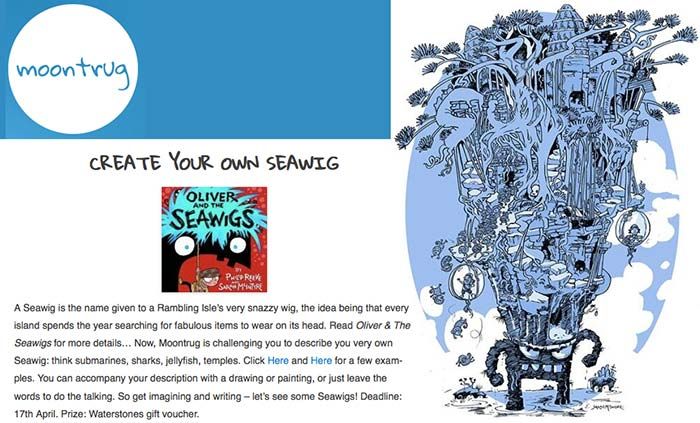 And check out these
amazing playground designs
!
Thomas Knudson
from Danish design studio
Monstrum
takes these constructions to a whole new level. (Link via
Bridget Hannigan
and
Wired
.)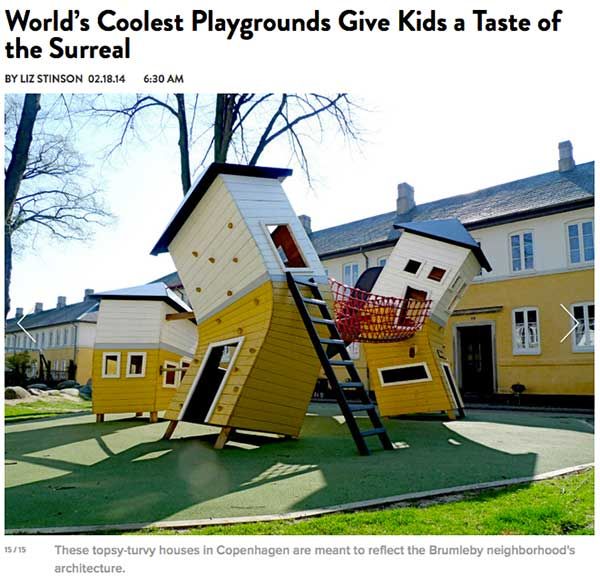 James Mayhew
has posted
a wonderful letter
he received from Moomin creator
Tove Jansson
in 1993.
And here's a video to make you smile: how many goats can stand on a piece of bendy metal? (Link via
Meg Rosoff
and
Tastefully Offensive
.)
A little doodle from this morning: self portrait as shark. This is me today, working hard and clacking my teeth.
Imagine Festival
in the Royal Festival Hall, I got to launch my new Shark Seawig!
My
Oliver and the Seawigs
co-author
Philip Reeve
and I joined the magnificent
Madame Lark
on stage in the central Clore Ballroom for a session of BIG HAIR. Madame Lark totally gets the big hair thing.
We had loads of fun leading families in drawing Sea Monkeys and treated them to our special Sea Monkey sea shanty (also known as The Eep Song).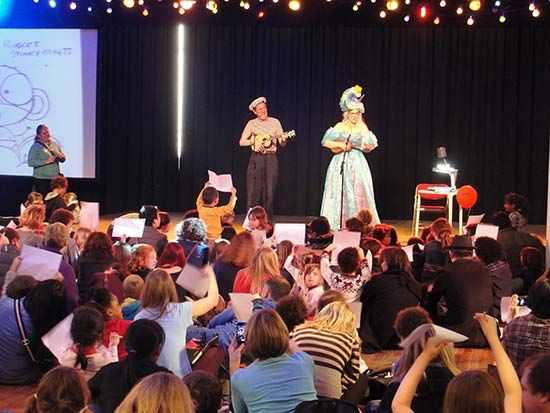 Several people asked me if I'd made the Shark Wig myself, and no, I didn't make my headgear this time! We have some theatre designers working downstairs at our studio and it seemed like a perfect opportunity to commission something. Here's
Laura Drake Chambers
in the studio she shares with
Sam Wyer
, working on the Shark Wig. (Sam made the matching shark tooth necklace.) You can follow them both on Twitter as
@LauraDrakeC
and
@Woodenfingers
.
(
Click here for more under the cut!
Collapse
)
Yesterday at the