Dublin Writer's Festival
has started off with a bang! Or should I say... a GROWL? Today I led a big pack of boys from Scoil Fhursa in reading
Morris the Mankiest Monster
and drawing their own awesome monsters.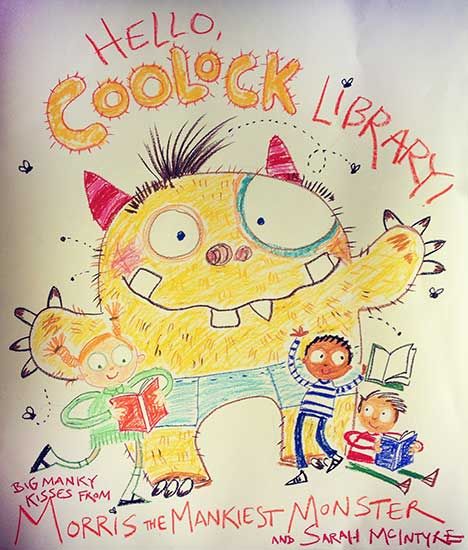 To begin, here's the monster they helped me draw.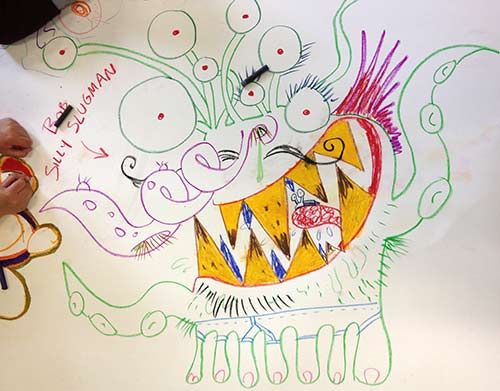 Then they were off! We had a huge roll of Fabriano paper, oil pastels and chunky crayons, and I encouraged them to draw big and bold. And they did!
Big thanks to the teachers, assistants and head librarian
Mags Curley
(far right), and
Irma Grothius
who escorted me there and back.
More monsters! If you want to get involved in the
Get Drawn In
programme this week,
check out the programme here!
More good news:
Mountains to Sea Festival
in Dún Laoghaire just announced their Schools Programme today! And special treat, my fabulous studio mate,
Gary Northfield
, will be doing a
TEENYTINYSAURS event on Friday, 6 September
. Find out about it
on the Mountains to Sea website here!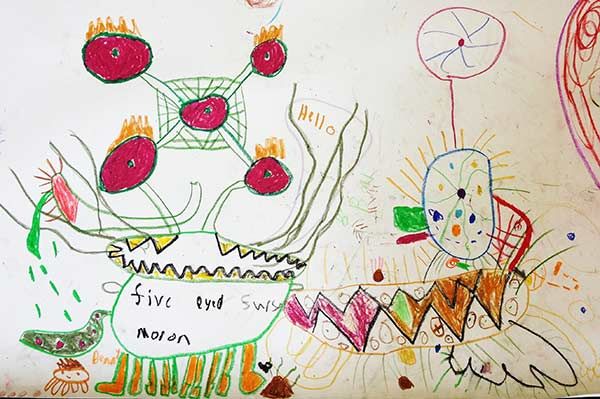 (
Click for more monsters under the cut!
Collapse
)
So
Children's Book Ireland
Annual Conference: Here's my sketch of
Jon Klassen
, author of
I Want My Hat Back
, giving his talk. I love that book so much, how deadpan it all is. Jon said something about his characters in it being bad actors, just going through their lines. Which is terribly funny. Read it, if you haven't.
I'm not quite sure why this Vimeo version of it lists it as R-rated. I suppose it does have a disturbing element to it.
And
Hervé Tullet
with his book's gaping plot hole:
Herve's been introducing me to
Leó Ferré
this evening.
A couple images from today at the
The Sunday Times
, be sure to look out for my comic strip in
The Funday Times
section!

I actually did
two
comic strips, but the editor thought the first one was aimed at a bit older kids (and slightly crude - I'll keep it for another day), so I think we're both happy with this second one.
Here's a quick character sketch I sent her before I started it. The fat pink unicorn is partly inspired by
fat rainbow pony
. The shark, well, I've just finished a shark book. And the skinny pegasus might come in later.
And I noticed on Twitter that our Random House Children's Books publicist
Lauren Bennett
has shown off the covers for our paperback DFC Library books! I've made a completely new cover for
Vern and Lettuce
, and here it is. Ta-DAH!
And here's the set! I'm so excited to see
Jamie Smart
's Fish-head Steve; that one didn't come out in hardback so no-one's seen it in book form ever before.
Find out more about the DFC Libary here!
(
Click for more under the cut!
Collapse
)
Lots of things happening! If you're getting a copy today of
children's book conference
tomorrow! A few quick pics, such as writing/illustrating legend
Hervé Tullet
swimming in a giant pint of Guinness:
(
Click for more photos under the cut!
Collapse
)
Dublin's gearing up for its
Gary Northfield
on the launch of his new book... *drum roll* ...
...
The Terrible Tales of the TEENYTINYSAURS
!
Fleece officers Sarah McIntyre, Gary Northfield, Lauren O'Farrell
We had a small party at
The Bookseller Crow
bookshop in Crystal Palace and there's a big official launch party at
Gosh! Comics
in Soho on
Friday, 31 May
.
Details here
, do come along!
And now, AN EXCLUSIVE INTERVIEW WITH THE CREATOR:
So Gary, you've written and drawn Derek the Sheep and weekly comics for The DFC, The Phoenix Comic, National Geographic Kids and The Beano. What did you wanted to do differently with TEENYTINYSAURS?
I wanted to tell stories about what it was like to be a little kid and wondering what the world is all about. In the book, I could create my own myths for the characters. When I was a kid, we created our own stories. They were based on real things; there WAS a bogey man who lived at the end of the park in an abandoned caravan and we used to tell each other we'd seen him or been chased by him. We made our own myths and legends. And we'd wonder about things like the moon: what was it?
It was great having the space to play with longer stories and large double-page spreads, as opposed to the shorter comic strips I've been doing for weekly magazines.
T
he book's made up of seven dinosaur stories; which one's your favourite?
It's
One Giant Sneeze for Dino Kind
. The little dinosaurs discuss legends about the moon and Thomas and his friend end up trying to get sneezed onto the moon by his Brachiosaurus big brother. I love the legend of Morris the Moon Eater, who was the tallest dinosaur that ever lived. He could lick the moon!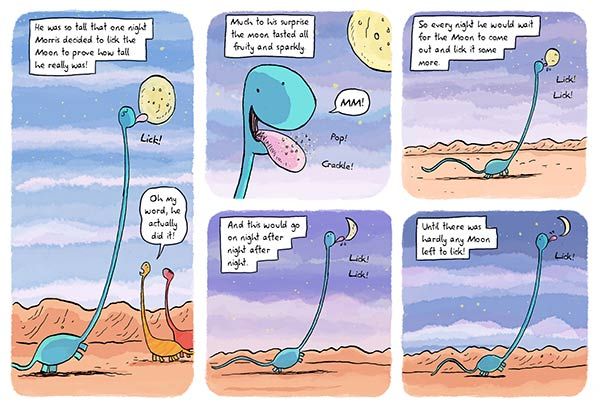 What materials did you use to create the book?
I used a dip pen and Japanese ink. I hadn't used a dip pen that often – a little bit in my sketchbook – but I wanted to do a whole project using it. It's a tough beast to tame, but it gives such a lovely line. And now I'm THE COMPLETE MASTER OF IT. Now I use it for everything I do, such as my comic strip
Gary's Garden
in
The Phoenix Comic
.
(
Click for lots more under the cut!
Collapse
)
The Fleece Station studio is thrilled to present something new and wonderful! Congratulations to our fabulous studio mate