It's quite fun travelling in full costume, it makes so many people's faces light up. Also, I tried travelling with my Bakewell Tart hat in a bag last time and the cherry came off the top, so it's safer just to carry it on my head, all the way to Oxford's
Story Museum
. Which is where my co-author
David O'Connell
and I did our Jampires show!
Huge thanks to everyone who came along and drew with us! I'm lucky, both of my current co-authors can draw, so we can do fun drawing double acts. We taught everyone how to draw a Jampire, but then went on to create other beasties. (Mine here is a Sushipire and Dave's drawing a Ricepuddingpire.)
Photo tweeted by @DragonDentist John McLay
Oh, I must include the lovely poster Dave drew for our event. He gave me such excellent pointy feet.
(
Click for more under the cut!
Collapse
)
I spent a lot of time with these little dudes: Jampire, whom I really ought to name, but who is still 'Jampire', and the Iron Bear, who is probably made of bronze and is really named Paddington, but I just like calling him the Iron Bear. Anyway, I spend a lot of time at Paddington station. And today I was Oxford-bound!
CAKES IN SPACE
landed in North Cornwall! And there was much merrymaking to be had with the Earthlings there, and CAKE.
Photo by Mike Bralowski
(
Click for more under the cut!
Collapse
)
So what's it like to make a whole book in 24 hours?
Last weekend I took part, with six other artists -
Jack Teagle
,
Kristyna Baczynski,
Warwick Johnson Cadwell
,
Dan Berry
,
Fumio Obata
and
Joe Decie
- in the 24-Hour Comic Marathon at the
Lakes International Comic Art Festival
in Kendal.
I've posted the
pages of my comic so you could read them online here
. And you can
read about the 24-Hour Comic dare on Scott McCloud's website
.
I was kind of scared in the days leading up to our 24-Hour Comic Marathon. The longest I've ever worked without going to bed is about 17 hours, and that was miserable. That was when my picture book
You Can't Scare a Princess!
was due, and I started to go a bit mental from lack of sleep. I did those hours a few days in a row and went between feeling horrible and headachy to feeling sort of elated, and thinking that everything was terribly funny and posting a very stupid video song on YouTube. I wasn't looking forward to doing that again.
(
Click here for more under the cut!
Collapse
)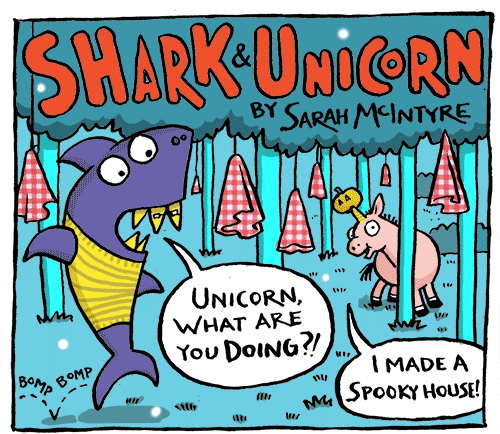 Here's my
Shark & Unicorn
comic strip that ran last weekend in The Funday Times section of The Sunday Times. The film theme for the issue was
The Book of Life
, but I was asked not to use the word 'ghost' or 'haunted'. (Thus the 'spookies'; I had to be a bit creative.)
Actually,
The Book of Life
looks interesting, some very vibrant colours and patterning. I'll include the trailer:
One more thing, I have an
interview with Workspiration
. I spotted quite a few people I recognise on its website, and I hope to get the chance to explore some more of the interviews.
Oliver and the Seawigs
on this year's
Carnegie Medal nomination list
, but something made me do a double-take on the way it was written:
Edit: They've CHANGED the listings! Hurrah!
Now, I feel uncomfortable writing about awards. Partly because they're someone else's business; other people can give awards to anyone they like. Partly because I don't spend a lot of time researching the exact particulars of each award because I'm too busy trying to make good books, and good books that earn enough money to let me keep doing this job. So I'm no expert on the Carnegie and Greenaway medals. But these awards are set forward as the most important of the book prizes and picked up the most by the media, so when I spot something that seems amiss, I feel I need to ask questions, even if they don't directly benefit my own prospects.
Question: Why would the Carnegie list a highly illustrated book with just the writer's name and not the illustrator's name?
(
Click here for more under the cut...
Collapse
)
I was glad to spot