Lucy Yewman
, age 6, for winning Moontrug's top prize for describing and drawing her own Seawig! This one's a corker! Keep an eye on
Moontrug's website
as she's always running good competitions.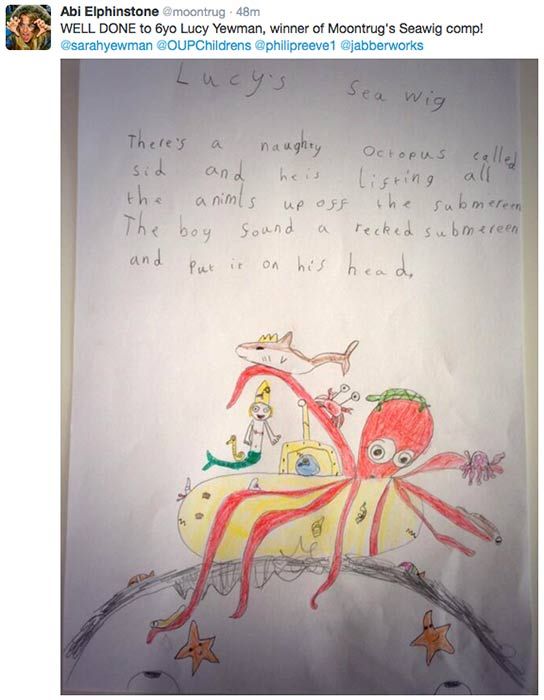 I just remembered, for a dinner at the Bologna Book Fair last year, I designed this Draw-Your-Own-Seawig sheet for all the adults to draw at the table. But I can't remember if I posted it on my blog, so here it is, if you'd like to give Cliff a Seawig! You'll make this Rambling Isle very happy.
WHAT
can you pile on his head? Use drawing, magazine collage, whatever you like!
Download the PDF here.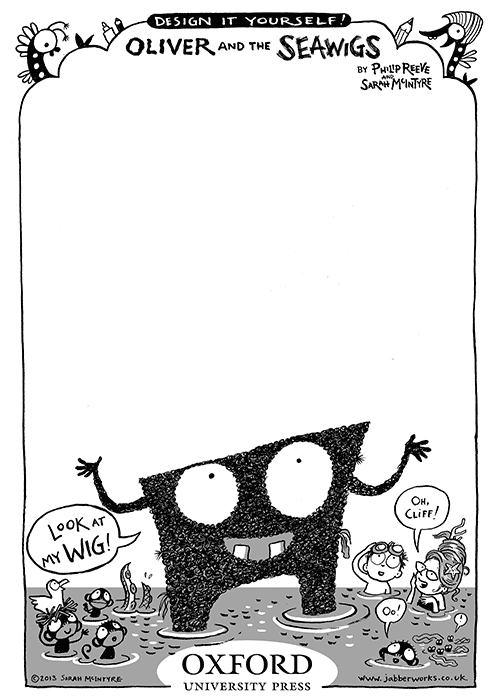 And I'd love to see yours! If you get a chance, tweet me your results (I'm
@jabberworks
), tag me on
Instagram (jabberworks)
or post them on my
Facebook Author page
.
Big congratulations to
You Can't Scare a Princess!
, my picture book with Gillian Rogerson. Thumbnail roughs are called that because often they're very small, just a doodle that lets my editor and art director know how I plan to lay out the page before I draw a more complicated full-size rough in pencil.
If you know the book, you'll see that, except for pages 20-21 (the treasure digging scene), I pretty much followed these layouts in the final artwork.
Top tip:
the grid here looks a bit dull, but if you've ever tried to get a picture book published, you'll know this template is solid gold. It takes most aspiring writers and illustrators
ages
to figure out this basic layout. If you go into a shop and count picture book pages, they'll vary slightly, which is confusing. That's because publishers have a little leeway with how they engineer the endpapers, so you might get some extra pages. But if you want to get published, this is the most cost-efficient way of cutting one big sheet of paper into a book, so
an editor will be far, far more interested in your book if you work to this format
.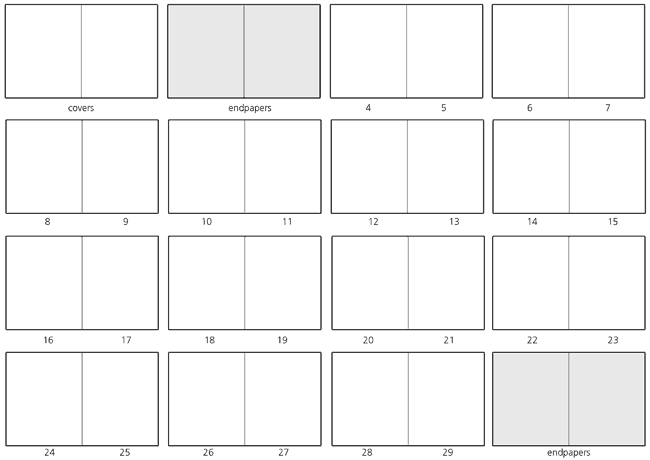 In some ways, it can make your job easier, because you think
Here's the set number of pages I have; how am I going to fill them?
I often print out the grid and write the story right into it. Don't forget, you'll need a title page and a page for all that small-print information, so the words in your story may not really start going until page 6.
Often a paperback will have two more pages than the hardcover version because the endpapers aren't glued down to the covers. Here's
There's a Shark in the Bath
; you can see the paperback, top, has an extra page. In the hardcover version, bottom, this page would be glued down to the cover board, which holds the pages into the book.
You don't have to stick to the template exactly, with the title page on page 5. Sometimes people put the small-print information at the end of the book, and often the story starts right in the front endpapers, not after the title page. (I like to use the endpapers to set the scene for the book.) But if you stray from this format, it's good to have a well-thought-out reason why you've done it. Board books are usually shorter than this, since the pages are thicker. If you want to see the variations, get yourself down to your local bookshop or library and start counting pages.
Some useful terms:
Double-page spread
: When you open a book and two pages look up at you, this is a double-page spread. You can either have a picture or pictures on each page, or you can have one big picture spanning both pages. These spreads can be very effective; think about the size of a child. When they're reading or being read to, the picture wraps around them, plunging them into the world you've made.
Gutter
: This is the middle of the book, where the pages come together. Try not to put any very important things here, such as eyes, or text, because they might disappear down the gap.
Endpapers
: the pages holding the book into its cover. These might be made of a single-coloured piece of paper with nothing printed on it (the cheapest method), decorated with pictures in one colour of ink (mid-price) or full colour (the most expensive).
Pagination
: Anything to do with pages. Traditionally in a 32-page picture book, the front cover is page 1. Left-hand pages are always even-numbered, right-hand pages always odd-numbered.
Bleed
: When you do the final artwork, you'll slightly need to extend the edges of the picture (let it 'bleed') if you're doing a picture that goes right to the edge of the page. So paint your picture a little longer and wider than the page itself, or if you're laying out the page digitally, give extra room around the edges. Talk with your designer; the bleed will be anything from 5mm - 15mm each side. This is in case the printer doesn't cut the paper exactly right, there won't be white bits showing on the edges of the pages. Or if there's a problem fitting text, your designer will have a bit of wiggle room to move things around. (I must confess the term 'bleed' made me smile while I was working on the shark book.)
Right, hope that might be helpful for a few people! I wish I'd been given the 32-page template when I first started making books; it would have saved me a lot of time. You can find a few more tips over on the
FAQ section of my website
.
Other news: this year's
Manchester Children's Book Festival
is all Sea Monkeys! I was thrilled when they asked us to give the entire festival a Seawigs theme. If you're near Manchester on Sat, 28 July, do drop by, learn how to draw your own Sea Monkey and have us sign and draw in your book! (
Booking details here
).
Last thing: one of my university friends posted this video on her Facebook page (via
Sploid
) and it is so, so wonderful. It follows the adventure of two elderly ladies, An and Ria, as they take go on their very first flight. One of them has a laugh that's so contagious, I was laughing out loud while I was watching it.
My desk is a sea of paper, so yesterday I tried to tackle some of the mess and found these thumbnail roughs for
Federation of Children's Book Group
conference had an infestation! Two Oxford University Press publicists, both named Charlotte, both have mothers who can knit and both mothers made wonderfully cheeky Sea Monkeys. Here's
Charlotte Armstrong
, with the Sea Monkey who kept cracking jokes, asking how to get this lady off its bum.
We had several people ask where they could get a Sea Monkey, and the answer is... you can knit one yourself! Or find a friend who can!
Free pattern on my website
, developed by my studio mate
Deadly Knitshade
; do
click over
if you want your very own Sea Monkey.
When
Philip Reeve
and I first started doing
Oliver and the Seawigs
events, we focused more on how we met, and decided to start writing books together. But these days we're having more fun talking about the actual story. Here we are, enacting the scene when Mr and Mrs Crisp meet at the top of Mt Everest.
Photo tweeted by @FCBGNews
(
Click here for more under the cut!
Collapse
)
This weekend the
London Book Fair
. But I was thrilled when writer
Jeff Norton
tweeted the first sighting of a
Cakes in Space
bag! (I don't even have mine yet! But I think it's what that little red slip from the Royal Mail must be about; it's been languishing in the banana bowl for a couple days.)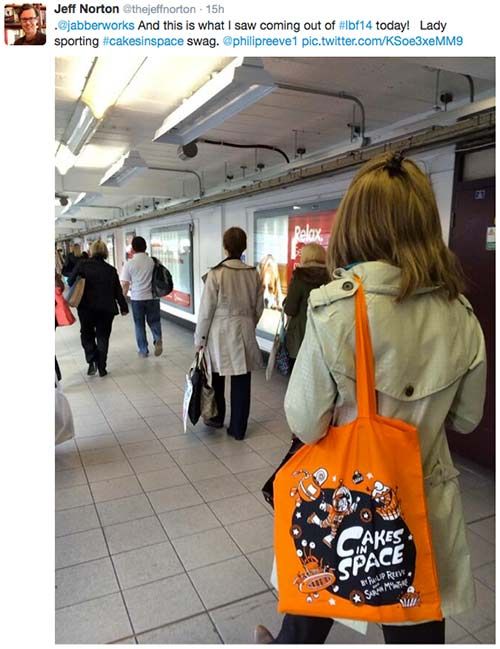 And here's a lovely Sea Monkey Vampire from
Sarah Yewman
drawn by Lucy, age 6. I tweeted back that this character really needs its own story, and my
Oliver and the Seawigs
co-author
Philip Reeve
added, 'The tiny vampire sea monkey on Vampire Sea Monkey's staff also needs its own story'. So we'll see if this happens...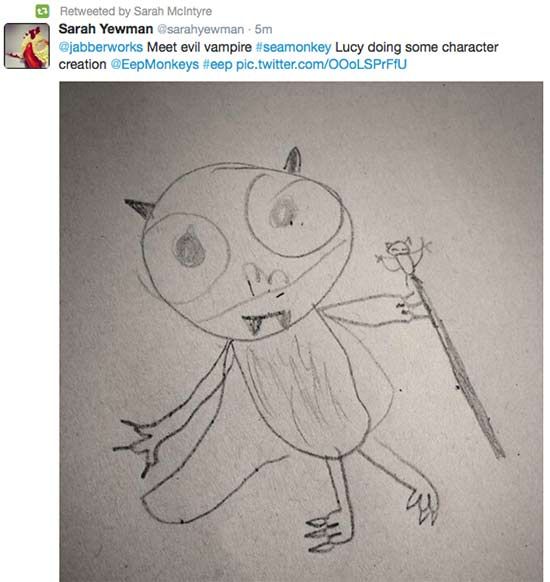 News from Philip, the book cover for the third book in the GOBLINS trilogy has just been released! These books are terrific, a real spin on the way Tolkien portrayed goblins as all bad, with lots of funny bits, although I cried at one part in one of the books. (But I won't tell you which - spoiler!).
Goblin Quest launches with Scholastic UK on the 5th of June
, with decorative illustrations scattered throughout, by
David Semple
. Here's the
Goblins website
.
One of my favourite things that happens on the Internet is when the Goblins start blogging, and
they're back!
Read more...
Also, Reeve & Son have been making a COOKING video:
I've been starting up a new picture book here and trying to meet some tight deadlines, so I haven't had a chance to visit this year's
Paul Klee
and
Jon Burgerman
).
News: Random House in the USA sent me a copy of the proof for the US edition of
Oliver and the Seawigs
. I'm thrilled it's coming out in America! I wondered if they'd make lots of changes, but it looks pretty much the same, but with 'Mum' changed to 'Mom', and they've given it a series name of 'Not-So-Impossible Tales'. Here's a
link to the publisher page
; if you live in America or have friends there, it would be awesome if you could spread the word! :)
And hey,
monster making in The Guardian
with my fab friend and
JAMPIRES
co-author
David O'Connell
! Discover ten tips for drawing your own monster, and if you're aged between 3 - 13, you can enter their monster competition!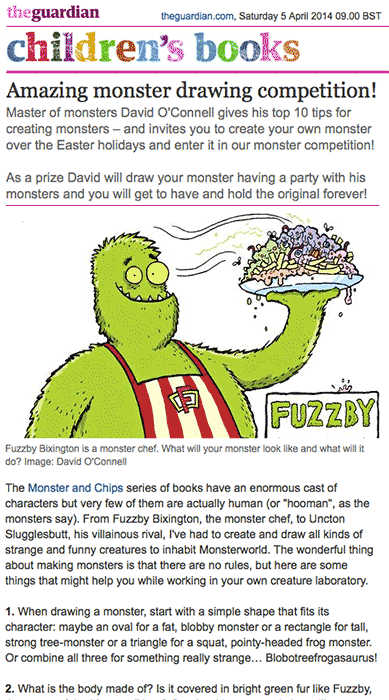 ...Read more
here!
Here's today's morning doodle, taking a line for a walk (inspired by