Top 20 Christmas Prezzie Tips
, and my big find at this year's Thought Bubble comics festival was
Philippa Rice
's new book,
We're Out
. Philippa's a huge hero of mine in her innovative approaches to storytelling and use of comics format, and I'm excited by the wide appeal this book has, to everyone from very young children to teenagers to grown-ups. Very occasionally a book will turn up that I end up buying over and over again and giving away as gifts because it's perfect for everyone, and
We're Out
is one of them.
Readers of all ages will find Philippa's work hugely inspiring, because it's made up of everyday objects, which come to life: bits of cardboard and paper, sticking plasters, plastic spoons, pieces of sponge. Even thought it's sophisticated storytelling and beautiful crafting, it also gives us the feel that we could go away and tell our own stories with the things we find around us. While the characters in
We're Out
do face perilous situations - dodging giant feet on the pavement, a torn limb, not being able to go home - there's a genuine, infectious warmth and joy to the book that I've seldom seen achieved so successfully in comics or picture books.
Philippa plays with dimensions in her book; the characters start out with cardboard Colin and paper Pauline listening to elderly Nanny tell stories about her journeys into other dimensions. They want to find out what it's like to visit the 3D world, and she urges them to get out there, and meets them when they arrive. At the very end of the book, it switches into 3D, complete with 3D glasses, suggesting a step into yet another dimension.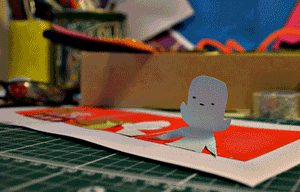 Of course, the book itself is 2D, but it makes the reader think about dimensionality, reminding me very much of a book from 1884 called
Flatland: a Romance in Many Dimensions
by Edwin A. Abbott. I adore
Flatland
, but it's quite theoretical, and this book takes Abbott's more scholarly approach and elevates it to the realm of play and colourful adventure. Studying the two books together would make an excellent school project; I think all libraries should stock both books. There's also a powerful scene when Colin and Pauline try to get back into their flat comic world and find they can't; it reminded me of that scene in
The Magician's Nephew
, when the children jump into the pool in the Wood Between the Worlds and find they can't get back to their own world. This book is made of all the things I love! It packs in a lot of concept, but it works on so many levels; I think even children as young as two years old will love looking at the pictures. And the book's a nice friendly size, 16.5cm / 6.5 inches square, easy to hold and perfect for stocking stuffing.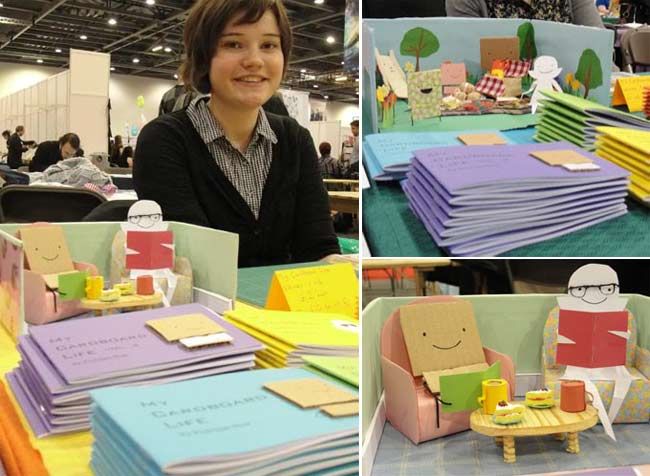 After I saw Philippa at
Thought Bubble comics festival in Leeds
last month, she kindly consented to let me interview her. So let's talk with Philippa!
Sarah
:
I love how you present your work at comics fairs, your table always looks so interesting and inviting with the dioramas you create. They remind me a bit of the peep box made by the little boy in Ezra Jack Keats' book, The Trip. I used to love making those boxes, they were like peering into a little world. Can you remember what inspired you the first time you put together a diorama?
(
Click here for more under the cut!
Collapse
)
I recently posted my
Angel Delight
comes up in conversation - and it does, more frequenly than you'd think - British people always widen their eyes and gasp at me:
WHAT?!! You've never had Angel Delight? This is astounding! How can this be?!!
And on questioning them, the word 'naff' will often come up, teamed with 'childhood memories', and very few people admitted they actually liked it. But this kept happening, and I needed to know. So when I was at the supermarket yesterday, confronted with an astounding array of Angel Delight flavours, I tweeted for help.

And these two flavours - strawberry and butterscotch - were most definitely the
best rated
. You'd be amazed how many people care about this.
So here it started, in the name of scientific cultural research. Oops, after I started adding the milk to the powder, I realised I was supposed to add the powder to the milk. (How could I mess up a recipe this simple? Would it still turn out all right?)
Five minutes in the fridge, then the moment of truth. And it was.... very tasty! I couldn't figure out why everyone talked it down so much after their initial flutter. I had more suggestions from people on Twitter, to chill it with custard creams, pieces of Mars bar, or even mix in a spoonful of peanut butter. (That last one was
Dave O'Connell
's suggestion; he was the final astonished person who finally set me off on my Angel Delight quest.)
(
Click here for more under the cut!
Collapse
)
First things first. Whenever the subject of
Oliver and the Seawigs
by
Philip Reeve
and me has just been shortlisted for the
Blue Peter Book Awards
!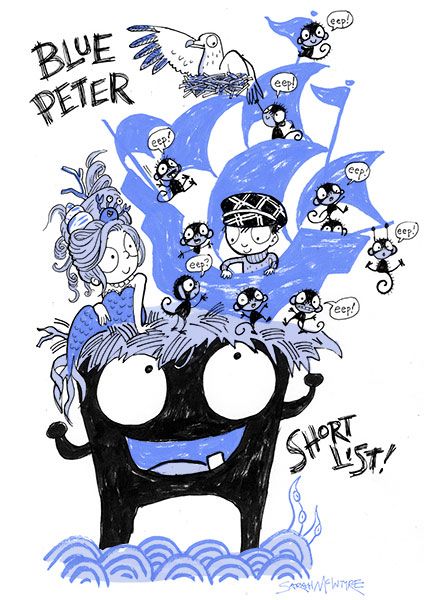 Here are the presenters, Radzi and Lindsey, making the announcement:
And here are the final three books in the
Best Story
category:
*
Oliver and the Seawigs
by Philip Reeve and Sarah McIntyre (Oxford University Press)
*
Rooftoppers
by Katherine Rundell (Faber & Faber)
*
Whale Boy
written by Nicola Davies, illustrated by Joe McLaren (Yearling)

The three in the
Best Book with Facts
*
Marvellous Maths
written by Jonathan Litton, illustrated by Thomas Flintham (Templar Publishing)
*
Tony Robinson's Weird World of Wonders: World War II
written by Tony Robinson, illustrated by Del Thorpe (Macmillan Children's Books)
*
The World in Infographics: Animal Kingdom
written by Jon Richards, illustrated by Ed Simkins (Wayland Books)
(
Click here for more under the cut!
Collapse
)
So exciting!
Oliver and the Seawigs
managed to blag its way into doing a month of work experience at Oxford University Press. So the staff there are documenting his time as a sort of Christmas advent surveillance system: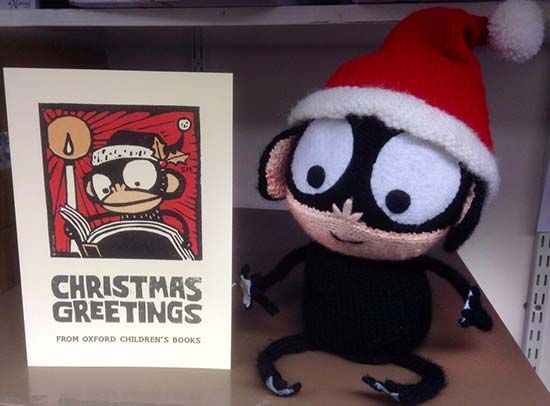 ...Look at it, so well behaved. I hope they realise Sea Monkeys can't keep this up for very long.
OUP, WHAT are you doing? Are you honestly going to let in this little rascal, with all your nice tippy coffee cups everywhere, papers to spill on, computers to hack?

I guess so. Well, I can't decide if the OUP staff are very, very brave or TERRIBLY NAIVE. Be warned. They are documenting what is sure to be their downfall on Twitter as
@OUPChildrens
, under the
#Seawigs hashtag
. Please ring the police or the nearest zoo to Oxford if you see it getting too messy.
Oh, and you can also
knit your own Sea Monkey
...but that would be downright irresponsible.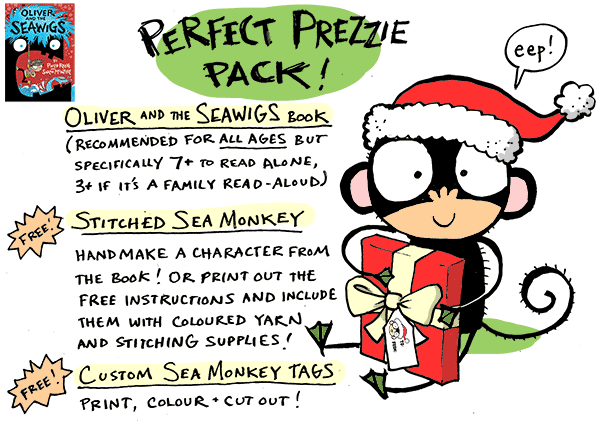 Somehow one of the Sea Monkeys from
Philip Reeve
and I made for Ryman Stationery! They gave me the challenge of drawing my 'dream place'.
The drawing competition ends soon -
Friday, 6 Dec
- but anyone 16 and under has a chance to win £100 worth of stationery supplies. (PENS!) Check out the
details here
Here's the full-length video. Ryman trimmed out the first bit Philip filmed, but it makes me laugh, it looks very children's telly presenter-ish.
Come visit me at my studio in this video