Society of Children's Book Writers & Illustrators
in Winchester: debut author
Kathryn Evans
modeling her Seawig in front of seafaring costume judges
Philip Reeve
and
Jonny Duddle
.
Photo by Teri Terry
And check out the party costumes of organisers
Dom Conlon
(fish bones in the beard!) and
George Kirk
(giant squid, with Seawig!).
Photos by Philip Reeve, George Kirk & Candy Gourlay
The SCBWI Conference is a great chance for long-time friends and total newbies to meet up, celebrate their books, learn how to make and pitch new ones and generally muck about.
(
Click here for more under the cut!
Collapse
)
Here's my favourite photo from this year's conference of the
Guardian Children's Fiction Prize
ceremony. Big congratulations to
David Almond
, who scooped this year's prize with
A Song for Ella Grey
! (Here he is with writer
SF Said
and me.)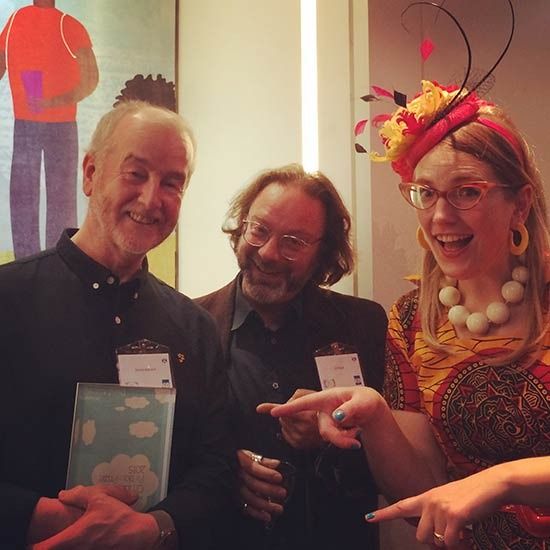 David's books reworks the myth of Orpheus, whose wife Eurydice has died, about how he travels to the underworld to bring her back. (You can read a
Guardian review by Marcus Sedgwick here
.) I don't think anyone was surprised David had won, only that he hadn't won the prize earlier! (You can only win it once;
Philip Reeve won it for the fourth book, A Darkling Plain
, in his Mortal Engines quartet, so our books are disqualified.) I haven't yet read
A Song for Ella Grey
but I'm excited to dive in. (Click
here to see the books on the prize longlist
.)
Other highlights of the evening: Seeing illustrator and writer
Michael Foreman
and his hot-off-the-press new book spanning his career,
A Life in Pictures
. I think the last time I saw Michael
was in 2008
, one of the very early book events I went to, as a reviewer. He has an amazing career and he'd only just seen the first copy of this book; Philip and I felt honoured to get a peek.
Seven Stories centre in Newcastle will be hosting a year-long exhibition of his work
, tied in with the launch of the book, so if you're up there, do go along to see it! Here's a peek at some of his work
on the Guardian website
.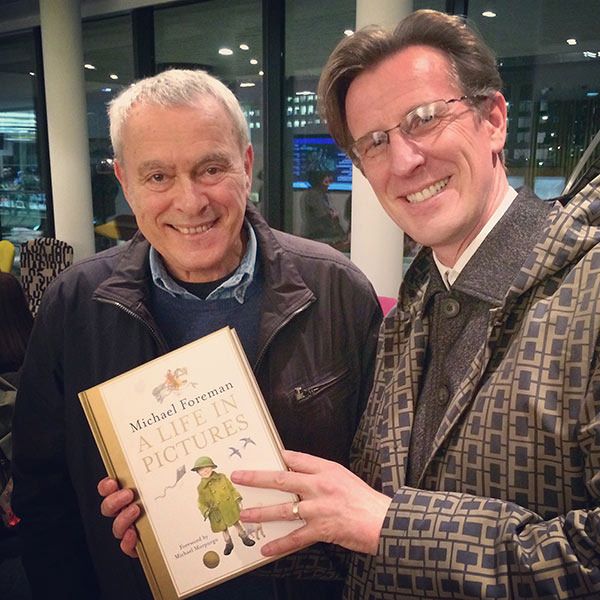 Second highlight,
An Island of Our Own
-shortlisted author Sally Nicholls brought along her new baby and I got to give it a cuddle. :) I've read
An Island of Our Own
and really enjoyed it, particularly the way she portrayed the Internet. So many stories I hear about kids and the Internet are about its dark side, but Sally focuses on the amazing power of the Internet for good, and how the young people in the story interact with it.
(
Click here for more under the cut!
Collapse
)
This was a busy weekend! I'll blog next about the pirate shenanigans at the Society of Children's Book Writers & Illustrators Conference next, but first up, Thursday night's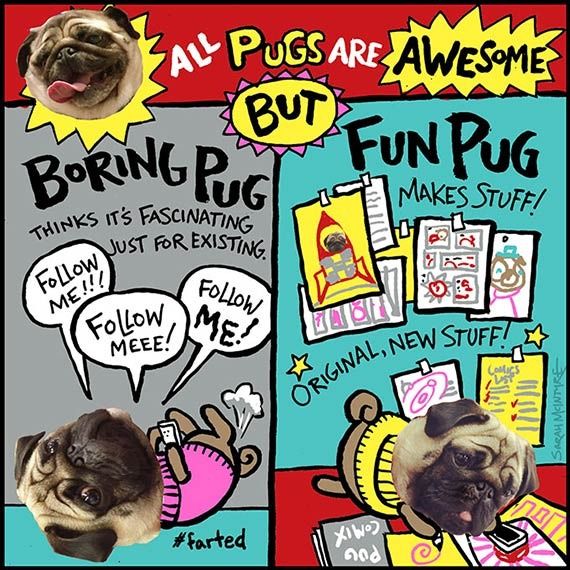 Went for a morning coffee today with Stuart and did a joint portrait drawing. :)
Ha ha, fortunately this incessant 'follow me!!' thing in the comments isn't a problem on LiveJournal, as far as I can tell. Or Twitter or Instagram even, really. But on PopJam, it's definitely a Thing.
Cecily Milway
is going to school for book week dressed as Astra from
Cakes in Space
. (Big thanks to her
writer-illustrator dad
for tweeting the photo!)
The other thing is that I've joined
PopJam
and they're going to give me a shout out this afternoon! If you're on PopJam, come find me at 'SarahMcIntyre'. And my co-author
Philip Reeve
joined just last night, so you can look out for him at 'Philip_Reeve'.
I found out about PopJam at
Zoom Rockman
's party from PopJam Content Producer
Melisa Hasan
('melisa'), who encouraged me to join. And my first friends there were Zoom ('Zoom_Rockman') and
Jamie Smart
('FindChaffy')! The app is free to download, and it's very creative and drawing-based. I haven't had a lot of time yet to explore it, but it seems really exciting. Also, PopJam has an 11pm bedtime, which is actually rather healthy.
At least two fun things are happening today! First,
Zoom Rockman
make and publish his own comics for a long time - since he was about 11 - so I was keen to see his solo comics show, launching his Zoom Comic Issue No.11, which opened last night at lovely Westminster Reference Library, right next to London's Leicester Square.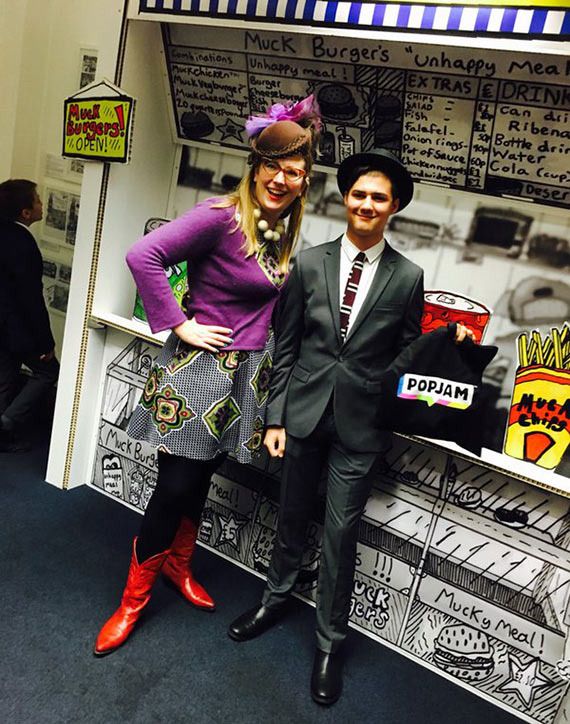 Photo by Melisa Hasan, Content Producer at PopJam
Zoom doesn't just publish his own comics, he gets the whole idea of presentation and makes amazing props to go along with his comics. Check out this burger stand! His family are furniture designers, so they have good access to cardboard and Zoom makes the most of it.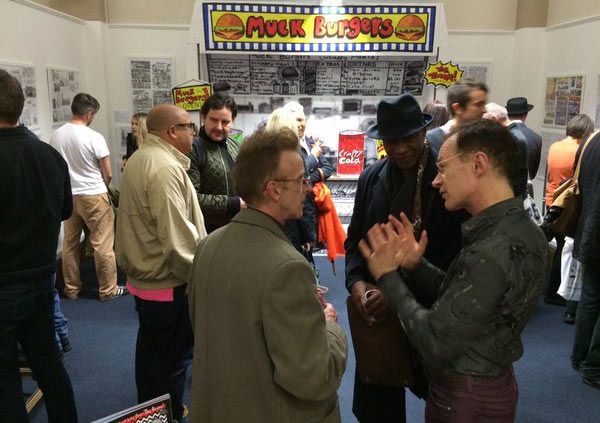 If you're in central London, do drop by to see Zoom's work, right from his very first comic! It's helpfully labelled, and he can get away with all sorts of logo-related issues, at least until he turns 16. (He has an agent and there was at least one solicitor in the gathering, so possibly longer than that.) :)
(
Click here for more under the cut!
Collapse
)
I've been watching