Brighton
and I hardly ever go, unless I make elaborate plans to stay the night, because it seems far away. But people in publishing who live in Brighton are ALWAYS making the trek up to London for evening events. I started imagining I was like one of those north Londoners who won't go to events in south London, which is just silly. I felt like a wimp. So I finally went, just for an evening.
Here's a doodle of the
Dartmoor Pegasus
over
Brighton Pavilion
. (My
Seawigs
and
Cakes in Space
co-author,
Philip Reeve
, created the original fat Pegasus, is from Brighton and often tells me stories about it.) First stop was
Liz Pichon
's house, where I got to have a peek in the writing shed where she creates the
Tom Gates
books! She apologised about it being messy but I said she hadn't seen my desk. Liz's books are leading the way for books for so-called 'middle grade' readers in the way they bring together text and lots and lots of drawings.
Tom Gates is right up there with Wimpy Kid and Captain Underpants and if you haven't seen the books, definitely check them out. I suspect the success of Tom Gates is one of the reason our publisher was so interested in publishing my highly illustrated books with Philip. So Liz is a bit of a hero, really.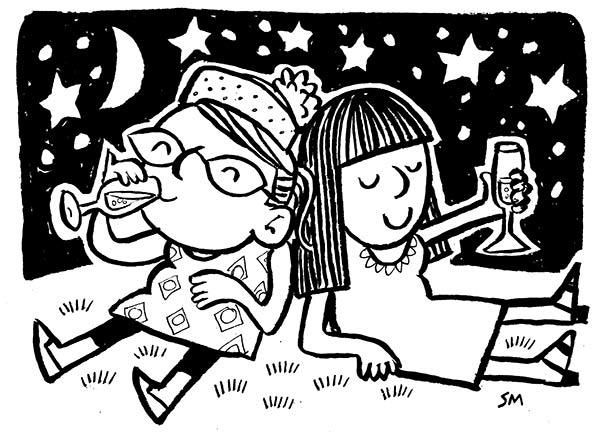 (
Click here for more under the cut!
Collapse
)
Sometimes I get invited to events in
#PicturesMeanBusiness campaign
?'
I've heard some good feedback that it's starting to make a difference, that people in publishing are more aware of the impact they can make on illustrators' careers by crediting them for their work. But important lists of illustrated books keep popping up with illustrators' names omitted, from book-loving people you'd think would know better, and they usually assign the blame to incomplete or faulty digital data.
So how's it going with the whole metadata issue? Are we any closer to sorting out the problems?
On Wednesday, I met up with
Jo McCrum
and
Nicola Solomon
from
Society of Authors
,
Loretta Schauer
from
Society of Children's Book Writers & Illustrators
, journalist
Charlotte Eyre
from
The Bookseller
magazine and
Andre Breedt
from
Nielsen
, the company which compiles and provides the majority of book data. Andre Breedt was incredibly helpful and supportive of the campaign, and explained to us some of the bare bones of how the book data system works, and spent time thinking with us about ways we could try to improve the situation for illustrators (and translators). Here are some of the things I learned, and some conclusions we drew from the meeting, about what we all need to do to make things work better:
* Illustrators and illustrator agents: you need to be more attentive with CONTRACTS.
The best way for a illustrator to get his or her name on the front cover of a book is to get that promise
in writing
. Illustrators, you or your agents need to HAVE THIS DISCUSSION with your publisher. (This is particularly important if you're illustrating educational material, so-called 'middle-grade fiction' or 'illustrated chapter books'.)
Don't wait until you've finished illustrating half the book to finalise this stuff. Don't work on the promise of a contract. Get it before you begin working or it may be too late; you may get a nasty surprise when the book comes out uncredited to you.
A phrase recommended in your contract by the Society of Authors lawyer at the meeting was
'front cover credit with due prominence'
. You can haggle with how big the lettering needs to be, but at least your name will be on the front cover. If you've done a lot of illustrations and the publisher refuses to put you on the front cover, this is a big deal, a blow to your branding, and may mean you have a harder time getting festival appearances and paid author visits. In that case, you need to decide (with your agent, if you have one):
1. If the publisher insists on not crediting you at all, will the publisher pay you a significant extra amount of money to compensate for this?

2. If you can come to another arrangement (say, your name on the title page, back cover, etc), are you happy with the pay and do you think the credit accurately reflects the amount of work you've contributed to the overall book?

3. After negotiating this, is the job still worth it, or should you turn it down?
The most important thing is that you're clear about this important negotiation point from the beginning and the decision isn't some sales team afterthought.
* Book charities and organisations, people who run award schemes, booksellers, journalists
: assess your own practice. You may be in a rush, but don't blindly accept what you're given when you cut and paste data. If you're making the effort to single out the books for recognition, take the time to make sure you're correctly crediting the people who made them.
You may need to look at an actual copy of the book.
* Publishers
: assess how your data works. To get illustrator data right, we need you to do three things:
1. Be sure you're using standardised data (more about this in a moment).

2. Be sure you (or your intern) fill out the box that asks for the illustrator's name (or 'populate the field' in data-speak).

3. When you request data, be sure to ask for the field that includes the illustrator data. If you don't ask for it, Nielsen won't force it on you.
Let me unpack those a bit.
(
Click here for more under the cut!
Collapse
)
People have been asking me, 'How's it going with the
Philip Reeve
's upcoming novel,
Railhead
. (Look at me, being all railway and ambassadorial in gold braid and hat. Also slightly overheated.)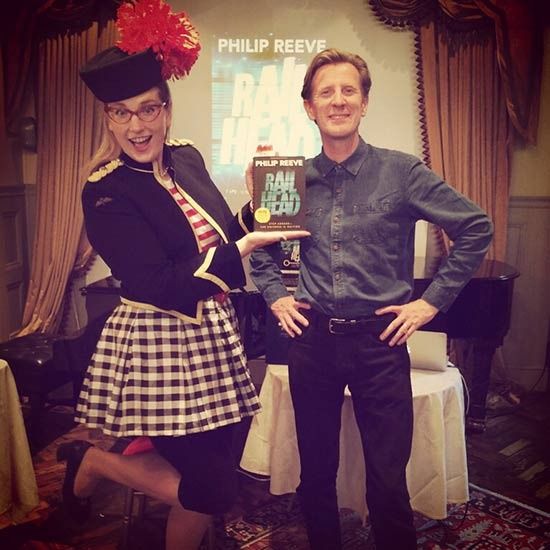 Funnily enough, I used to go to lots of ambassadorial events when I first met my husband, when he was working for the British Embassy in Moscow. Back then, I was very studenty and didn't really have any dress-up clothes, so I pretty much wore black jeans, a velvet shirt and Doc Martens everywhere. All the foreign service wives had perfect English-bought clothes for every occasion and I always felt a bit awkward and gauche. So it was nice to be going to an ambassador event when I'd stopped caring about not blending in and could look like a twit with the greatest of joy, ha ha.
Anyway, back to the book, and I'm really excited about this one. Here's a snapshot of one of the posters on display at the event:
(
Click here for lots more under the cut!
Collapse
)
One more thing:
Railhead
is Philip's solo book (I'm not a co-author), but there's been a lovely review of our joint book,
Oliver and the Seawigs
by
Stephen Holland
of the excellent
Page 45 comics shop
in Nottingham. Stephen's a legendary reviewer, so I was hugely flattered to see that he'd taken time to focus on Seawigs, which isn't even a comic! I love reading his reviews: they're so exuberant, and he comes up with the most original descriptions and observations. And it's wonderful to see a review that talks so much about the illustrations (it's the first time I've ever seen someone describe something in my picture as 'wonky-woo', YESSS. Thanks, Stephen! You can read the
whole review here
(scroll down a bit).
Yesterday I got to be a RAILHEAD AMBASSADOR at a special early-preview event for
Susanna Clarke
's novel, illustrated by
Portia Rosenberg
, of
Jonathan Strange & Mr Norrell
. And I've had fun dashing off character sketches before the start of several episodes. Here's Lady Pole, played by
Alice Englert
, who spends much of her time being forced to dance, under enchantment:
If you don't live in Britain, you might have missed all the fuss. Here's the
website
and the original trailer:
And the two magicians, Norrell and Strange (played by
Eddie Marsan
and
Bertie Carvel
), who are both obsessed with magic, but go about dealing with their obsessions very differently:
(
Click here for more under the cut!
Collapse
)
Last night I was all a-flutter, waiting for the final episode in the BBC's seven-part mini-series interpreting
But our friends' daughter, Tess, was a real trouper, and I thought I'd post some of our sketchbook drawings we made together.
Keeping a travel sketchbook with a child turned out to be a great way to keep myself getting to precious about my drawings. I never knew when Tess would come in with glitter pen or a fat blob of red ink. And it didn't really matter.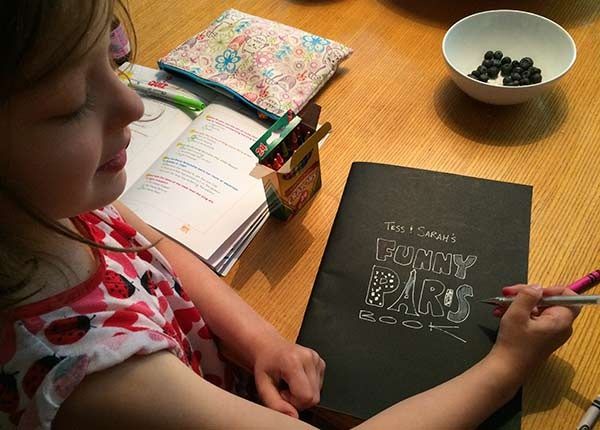 I was a bit nervous about letting Tess use my Pentel brush pen because most kids I know are pretty heavy-handed with their pen tips. But Tess got the hang of it on the second brush stroke, and had fun echoing the grape vine texture around the top of the cafe where we were eating. (We had a late lunch at
Chez Prune
, which I'd visited years and years ago with my friends Mags and Mano, and it was still good food, with nice waiters who let us practice our stumbling French).
(
Click here for more under the cut!
Collapse
)
I wasn't sure how a 5-year-old would hold up over days exploring Paris.