November 11th, 2012
Lucy Knisley
, and it doesn't look too much like her, but lino cut is not an exact science, so I'm not too worried about that. Here's the inked-up block: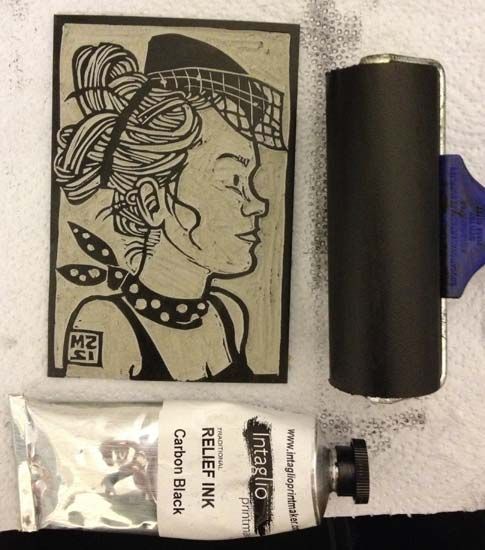 And the first print! I assume the ink is called 'relief ink' because that's what I feel when I see all that cutting didn't come out too badly.
It's so fun having a house guest who loves to draw. Here's a painting Lucy made of the two of us watching the U.S. election results and Obama's speech. (Taken from her
Tumblr blog
.)
Lucy also played this song on my ukulele while she was staying with us, and you can see a video of it here!
(
Click here for more under the cut!
Collapse
)
I just made another lino cut portrait! This one's of comics artist
Details here
. And you can read about all the speakers
here
!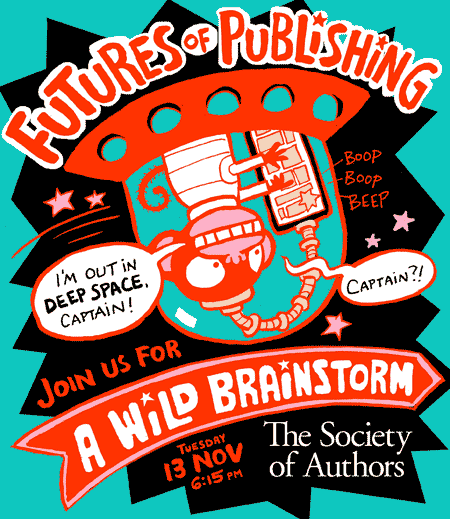 We're hoping to bring the whole audience into the discussion for much of the session, so I thought I'd give you a look at some of the questions we'll be asking the panelists, to see if it sparks any of your own ideas
:
* What are your experiences of self-publishing? How do you get the word out there that there's something to buy?
* What are some exciting things you've seen by people who are innovating in storytelling/ fundraising / boundary pushing? In children's publishing and elsewhere?
* What do you think will happen to print, with this big digital surge forward? What are some benefits you've seen with digital formats? Might there be a print-loving backlash, with more emphasis on beautifully crafted books? Or collecting?
* What are some good ways to get things printed? (Bring along actual names and website addresses!)
(
Click here for more questions under the cut!
Collapse
)
Hi, everyone! There are still a couple more places for the Society of Authors Futures of Publishing brainstorming session this Tuesday in London, with Jamie Smart, Nana Li, Gary Northfield, Alex Milway and me.
Leeds Thought Bubble
, the action never stops. So this weekend saw the launch of
The Strumpet
and
ink+PAPER
comics magazines at Orbital Comics, and the next day, Comica Festival's
COMIKET
!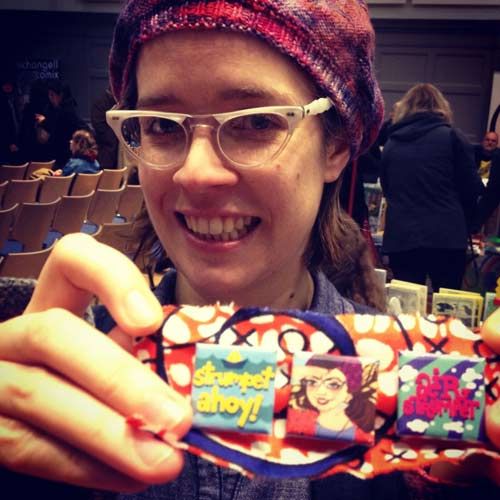 Here's The Strumpet's co-editor
Ellen Lindner
at Comiket with badges. She and
Jeremy Day
worked hard to get this issue of the magazine successfully running with support from fans
on Kickstarter
. This time, it's travel-themed!
And here's the fab
David O'Connell
at his stand with
Jade Sarson
, and the latest issue of
ink+PAPER
. I did a strip for Issue 2, with Dave editing, and can't wait to see who made it into Issue 3! (
Here's the shop if you want to buy either ink+PAPER or The Strumpet online
.)
I was very pleased to see
Zoom Rockman
and his younger brother, Ace, selling the latest copies of The Zoom. I first met Zoom at an earlier Comiket and was so impressed by his business skills that I asked him to join our professional comics team at London's
Pop Up Festival
. He also had a front-page appearance
in The Independent magazine
. Hurrah! Comiket isn't specifically a kids' event, and some comics on sale won't be appropriate for children to buy, but if a kid or a group of kids have the gumption to book their own table and run it, there's nothing to stop them selling alongside the adults. It could be a brilliant class or comics club project. (
Check out Zoom's comics on his website
.)
Photo by Kate Lennard (Zoom and Ace's mother)
So here's the loot I picked up during the day:
One of the most fun things about Comiket is watching fellow creators do live drawing on stage. I'd been reading
Steven Appleby
's comics for ages in
The Guardian
, but it was great being able to put a face to a name.
(
Click here for lots more pics under the cut!
Collapse
)
There's been SO MUCH going on in London with comics this week! And next weekend is