'Yes, but what is it?' I ask him. He can't really describe it. 'But it's nice with ham,' he says. I look it up on
Wikipedia
, which tells me it's the same thing as pease porridge, and that it can be eaten hot, cold, or in the pot nine days old. Oo, and it also says this is part of 'Jigg's dinner', the favorite meal of Jiggs, the central character in George McManus's comic strip,
Bringing Up Father
.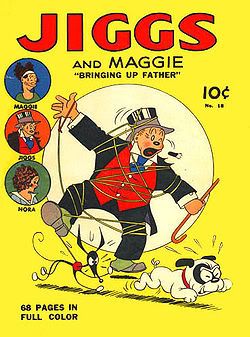 I am guessing this is another one of Stuart's post-war mystery mushes, that only have nostalgic taste value. But I am hoping I am wrong, I'll keep you posted. (For more edible and semi-edible mysteries, have a look at
benchilada
's foods he tries
'so you don't have to'
.)
I bought a ham this weekend and Stuart had a sudden brainwave and declared we couldn't have boiled ham without pease pudding. So he bought two tins.