Sofonisba Anguissola
, the more intrigued I am. Apparently her success made it possible for a lot more women to pursue careers as artists, and her work looks amazing. Here's my copy of her painted self portrait (see
original here
). This one I did in Pentel brush pen and a Winsor & Newton Promarker.
We're still going strong with
@StudioTeaBreak
drawing challenges on Twitter; do jump in!
The more I find out about Italian Rennaissance portrait painter
Pug-a-Doodle-Do!
here!
Her interview includes a link to free download from my website of a couple pages from
Pug-a-Doodle-DO!
. Feel free to draw on them, use them at home, in schools, libraries, wherever people might want to make pug comics! (Here's the
direct link to my site
.) Philip and I would love to see your comics, especially if you can tweet them at us with the hashtag
#PugaDoodleDo
!
In other news, a theatre in Brighton is putting on a play called
The Ministry of Biscuits
that Philip Reeve wrote at the same time he was working on
Mortal Engines
!
Click here to find out more on his blog.
Lana Lê from the Kid Can Doodle blog has interviewed me about
read an interview about the book with Alan MacDonald on me
on the
#Lollies2017
blog tour, by Kate from her 'Along Came Poppy' blog:
(Thanks, Kate!) And if you're a parent, teacher or child, you can
vote for our book
, too!
The Prince of Pants is up for a Lollies Award! You can
Pug-a-Doodle-Do
book launch: take one excellent co-author...
Photo by Dave Warren
And Britain's finest pug, BENNY BEAN:
Photo by Dave Warren
Add the fabulous booksellers at south London's indie children's bookshop
Tales on Moon Lane
, including
Jo Cocadiz
and
Jennifer Bell
:
Photo by Dave Warren
Mix with much cuddling of celebrity pug: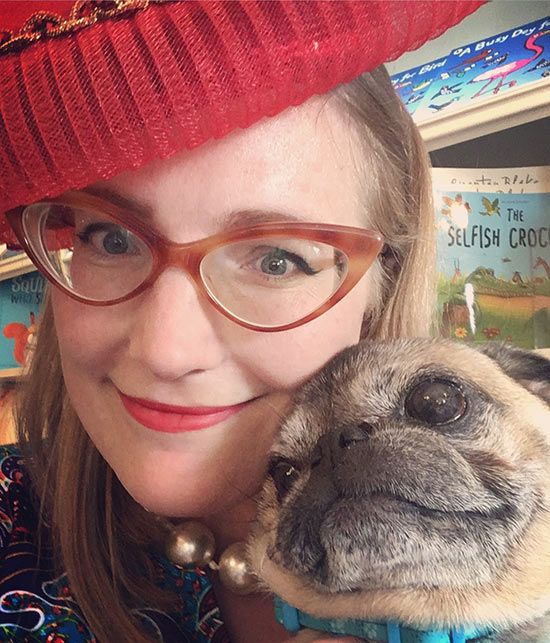 (
Click here for lots more photos under the cut!
Collapse
)
Recipe for a
PUG-A-DOODLE-DO!
We honestly had so much fun making this:
To come up with good material for the book, we knew we'd have to be able to bounce ideas off each other, so Philip came to London and sat right at my desk with me, and we worked like this. (We included a picture of it in the book so people could make up details.)
Putting together an activity book's more complicated than you might think! We wanted to include characters from all four storybooks we've created, and how to get the balance right. So we had a working lunch with our editor
Liz Cross
and our designer
Jo Cameron
, who came with lots of different colour pens to keep things organised! (I was very impressed with her pens.)
(
Click here to read more under the cut!
Collapse
)
Hurrah, our new book's officially out today! It's called