Paul Cornell
, Fairford in Gloucestershire had its first Festival of Fiction last weekend!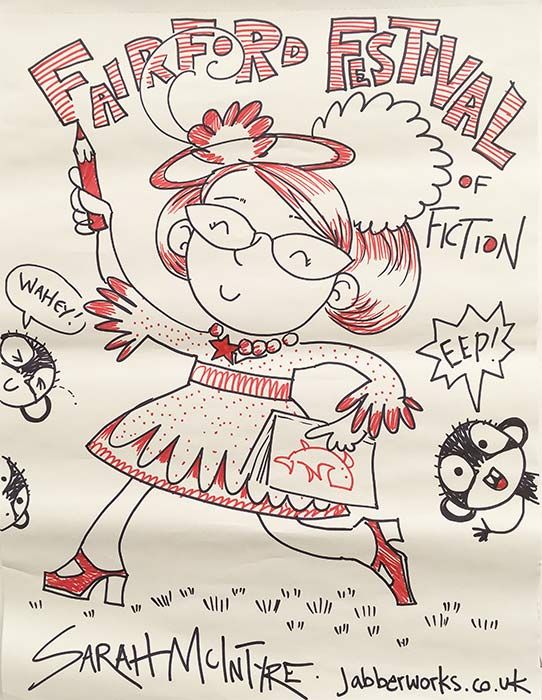 I was thrilled take part and get to hang out with these fab people! The guy on the left is
Marek Kukula
, Public Astronomer at the Royal Observatory Greenwich, and on the right, writer and BBC documentary producer
Simon Guerrier
.
My event was first thing Saturday morning, so Stuart and I went up early on Friday as a sort of mini holiday to Gloucestershire. Fairford turned out to be a gorgeous town, so we were glad we did! (That's Paul on the right.)
Fairford has an abundance of large hares, so Marek and I took turns STARING THEM DOWN. As you do. (They looked pretty freaked out by it.)
Stuart and I got to sit in on Marek and Simon's talk, discussion their joint book,
The Scientic Secrets of Doctor Who
.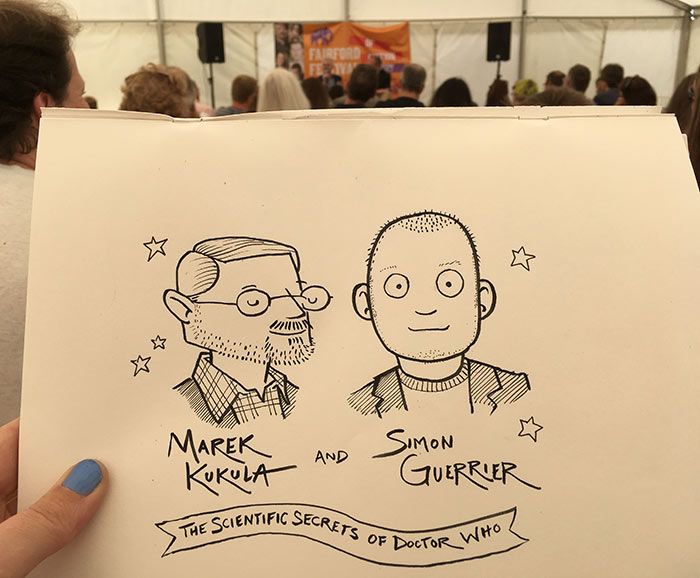 (
Click here for lots more under the cut!
Collapse
)
Thanks to writer
As a young illustrator, I noticed that people who love illustrated books were getting into a bad habit. They were forgetting that every time there were pictures in a book, there was a person who had made those pictures. They'd write an ecstatic blog review, full of pictures, of a book that was mostly pictures and forget to mention the illustrator's name. Writer would tweet the artwork for their book covers and fans would shower the writers with praise about the art as if the writers had made it themselves. An illustrated book would go up for an award and only the writer would get a mention in the listing. Once a teacher proudly tweeted a photo of a bulletin board she'd created with her class, featuring
Superkid
, my picture book with Claire Freedman. Each kid had drawn their own version of the main character I'd designed, and on the board, they created a version of the front cover I'd spent at least a week painting, but with one big difference... the teacher had included only Claire's name in the display, with mine left off. ...
WHY?
I wondered.
Read my whole article over on the BookTrust Writer-Illustrator in Residence blog!
Hay Festival
in Hay-on-Wye in Wales! This year I had three tasks: promoting
The Prince of Pants
(my picture book with Alan MacDonald),
Jinks and O'Hare Funfair Repair
with
Philip Reeve
, and talking up my
BookTrust Writer-Illustrator Residency
. Here's Philip doing his best booming LORD KRULL voice:
I did a 30-second blog for the Hay festival and
Paul Musso
shot a portrait of us:
Hay seemed more bustling than usual this year - perhaps because it was its 30th anniversary or maybe just because it's so much fun for book lovers - and the shops stocked more of my books than usual, which was very heartening! All of our events were full, and I heard good reports of similar experiences from other writers and illustrators I talked with.
Whatever audiences sizes, the Green Room has always been great fun, never quite knowing whom you're going to run into. I got a hug from Queen lead guitarist
Brian May
! He was lovely, asked us about our books and was happy to pose for a photo.
(
Click here for lots more under the cut!
Collapse
)
Photos from the
Burgh House & Museum
in Hampstead, northeast London, for a celebration with independent bookseller
Daunt Books
. They'd run a children's short story competition and compiled the stories by the winners into this lovely book!
Here's illustrator
Jim Field
, who created the cover! I'm a massive fangirl of Jim's work; if you don't know it, check out his books, he's brilliant.
(
Click here for lots more under the cut!
Collapse
)
Yesterday evening, I frocked up to go to lovely