1. The first thing I'd make a mad dash for is
Philippa Rice
's new book,
We're Out
, which I'm planning to review soon on this blog. Lovely, warm-hearted, stocking-size comic book that will inspire kids and adults to get making stories with the bits and bobs lying around them. Available from
Philippa's shop
.
2.
Pens!
You can't go wrong with good pens. People are always getting frustrated that their work doesn't look good enough, and sometimes that's because they're using rubbish materials. Get them something nice to work with. I love
Pentel's brush pen
. It comes with a couple cartridges, but if you think the person will use it often, you can get another envelope of
four replacement cartridges
. I love
Seawhite sketchbooks
because they're cheap and cheerful and the paper's good for drawing. Sometimes if you give a person a gorgeous sketchbook, they won't actually use it because they'll think all the drawings will have to be amazing. Give them a stack of these sketchbooks and let them draw lots of quick, easy, fun drawings and not worry about them being perfect. They come in several size, but A4 fits in a rucksack and A5 fits in a handbag. And
Faber Castell Pitt pens
come in a handy pack of four different tip sizes, which are also lovely for drawing.
(
Click here for more under the cut!
Collapse
)
I thought I'd compile a list of some of the yummiest things out there this Christmas - stuff I've geeked out over this year - in case it inspires you in your Christmas shopping. (And no, it's not just my books.) These are things you might get for children or teenagers but end up keeping for yourself.
Judge Dredd
because, y'know, you have to try everything.
I thought I'd draw
The Phoenix Comic
on Issue 100!!
It's such a wonderful comic, and has put forward top British creators, drawing the sorts of comics they want to draw, not having to fit their work into previously established characters. Brand-new characters, fresh stories, it's all there.
Jamie Smart
has done a blog post, showing some of the early development work for his genius comic strip,
Bunny vs Monkey
.
Read it here!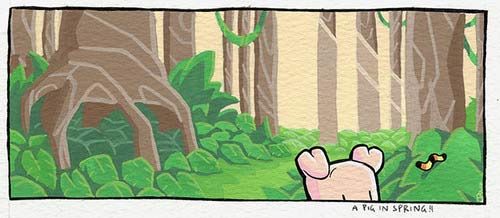 A Phoenix subscription makes a
wonderful Christmas prezzie
(roughly gauged toward ages 7/8+), either in weekly print or digital format. And I'm telling you this because I really believe it's something worth supporting, not because I work for The Phoenix - I don't. But I'm always thinking of new ideas of things I'd love to do for The Phoenix, and it kills me that, so far, I've only had time in my schedule to contribute one four-page comic (
Issue 44
, with Philip Reeve). But they go through a lot of comics material, they're always needing new stuff! So if you're a top-notch comics creator, do consider submitting your stories. Check out the details, over
on The Phoenix website
.
Huge congratulations to
It was created by
Alison Mutton
of Alene Illustration in Australia, and you can see more photos over
on her blog here!
I'm totally smitted, she got Iris JUST RIGHT: her chubbiness, her hair, even her expression. And she even has a tiny Colin the crab in her hair!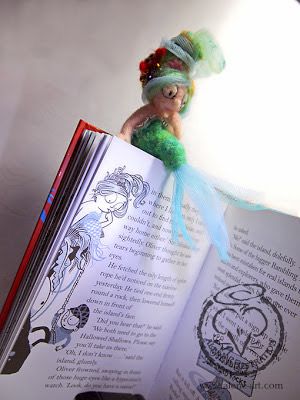 So much
Seawigs
loveliness on the Internets! Check out these two excellent stitched Sea Monkeys by
Jo Morris
(
@jannamar58
on Twitter). (You can
download the free pattern from my website
if you like.)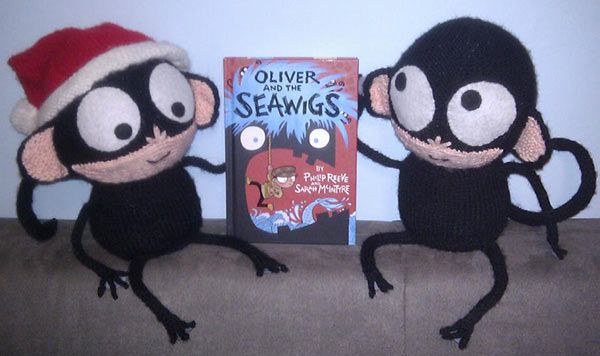 Calling everyone near
Cambridge
: the fabulous
Emma Vieceli
is starring in the Cambridge Operatic Society's performance of
South Pacific
! Its running for three more nights (tonight, Fri and Sat), don't miss it! Emma has an amazing voice, besides being brilliant at drawing.
Book your theatre tickets here!
And now, asking for
help from book bloggers
: my lovely Yorkshire friend
Darry Cunningham
has written lots of thought-provoking comic books about science, medicine and mental health. His book
Psychiatric Tales
has touched, and helped inform, a lot of people who struggle with mental illness or have friends or relatives who do.
Psychiatric Tales
is great for adults and teenagers, but for the first time, Darryl and Blank Slate Books have come out with comic books that are also suitable for children,
The Uncle Bob Adventures
. But since Blank Slate's a small (but high-quality) indie publisher, and Darryl hasn't done children's books before, he doesn't have the contacts to submit it for reviews. If you're a book blogger, would you be interested in reviewing the books?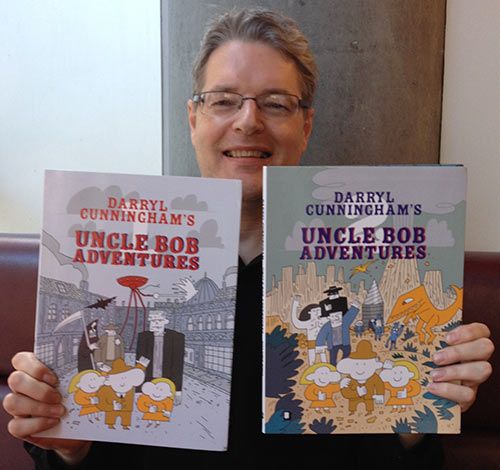 You can either contact Blank Slate directly to discuss it
through their website
, or email them at blankslatebooks dot co dot uk. Or get in touch with Darryl on Twitter at
@AcmeDarryl
or Blank Slate at
@BlankSlateBooks
. Blank Slate also publish our
NELSON
collaborative book (for grown-ups) which is, if I say so myself, rather fabulous.
Look, it's a felted Iris the mermaid! Isn't she the cutest thing ever?!
Katie Clapham
's indie bookshop,
Storytellers, Inc
. Iris is very excited! Here she is, in her beach boudoir, with an obliging Sea Monkey reading
Oliver and the Seawigs
and Colin the crab, ready to autograph. (He thinks he's the star of the book, and it's true that he appears in almost every illustration.) Ah, and there's Cliff, the rambling island, waving in the background.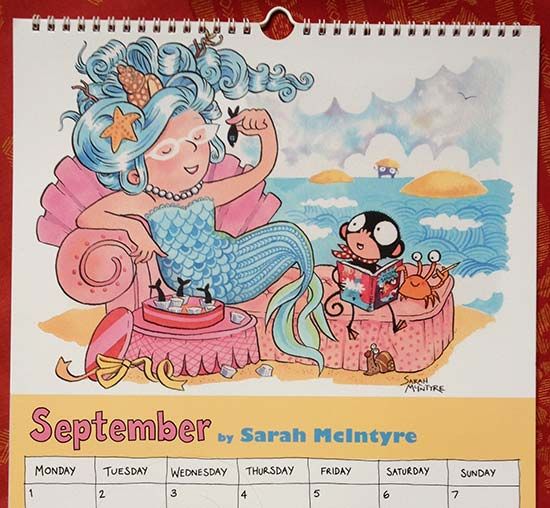 Check out this stellar line-up! I'm very pleased to be listed among these amazing illustrators:
David Lucas
,
Louise Yates
,
Sue Hendra
,
Garry Parsons
,
Quentin Blake
,
David Roberts
,
Clara Vulliamy
,
Leigh Hodgkinson
,
Mick Inkpen
and
Jessica Ahlberg
. (If you don't know their work, check out their websites!) The calendar's quite large - 42cm x 30cm (16.5in x 11.7in) - and comes very reasonably priced at
£10
.
Find out here how you can buy it
from the Storytellers, Inc bookshop or at several other indie bookshops!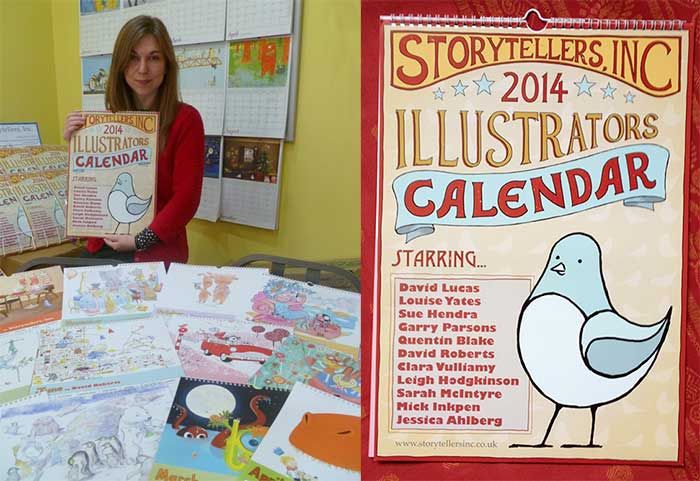 (
Click here for more under the cut!
Collapse
)
Hey, I'm allowed to talk about this now! Iris the Mermaid is starring in a lovely new calendar, designed for