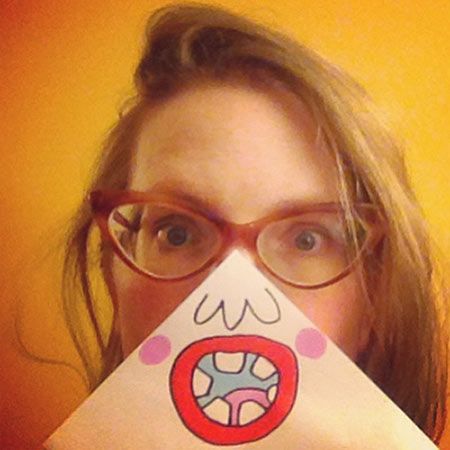 Ha ha, the Internet is just SO INSPIRING. Lookit you, Pikachu...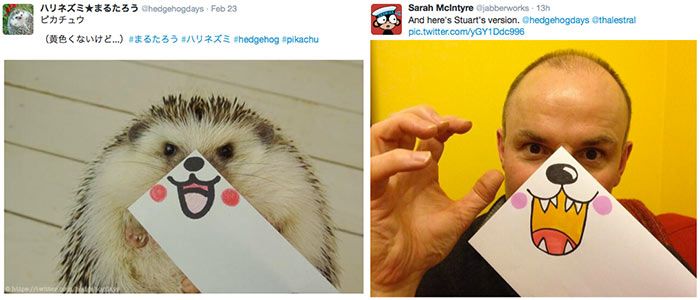 Did you see that the
Phoenix Fest
tickets have just gone on sale? I'm not leading a workshop this year, but I did last year and it was BRILLIANT. If you're anywhere within three hours of Oxford, I'd say get over there for this. Fab workshops by the likes of
Gary Northfield, Jamie Smart
and more...
Saturday 3rd May 2014 at The Story Museum, Oxford
!
Booking details here.
Here's
my write-up from last year
, when it was the Oxford Children's Comics Festival.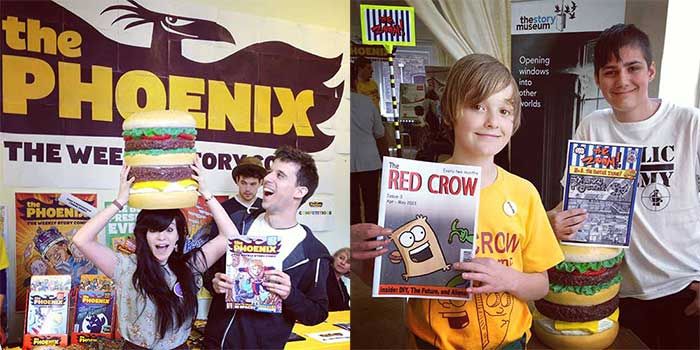 Look, it's a no-makeup selfie!
Cambridge Lit Fest
! Here's my
Oliver and the Seawigs
co-author Philip Reeve with me and Children's Events co-ordinator
Sabine Edwards
.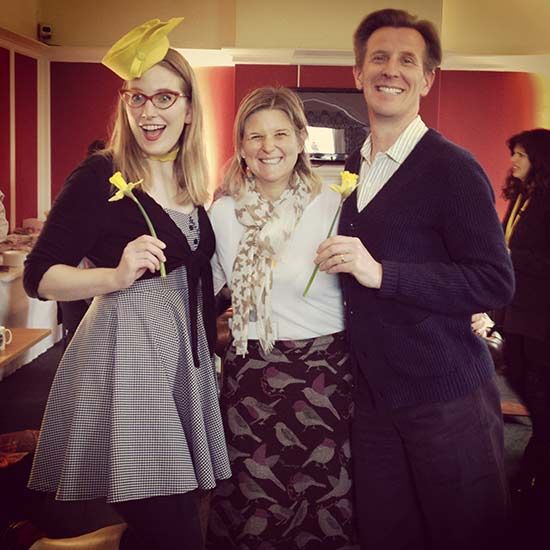 I got a lot of compliments on my hat, so I thought I would share its humble origins in case you fancied owning one, too. (Also, the bucket handle made a rather fine matching choker necklace.)

(
Click here for more under the cut!
Collapse
)
Cambridge was all yellow and daffodils this morning for the
You can see
a little comic I made about him
a few years ago. And thanks, Daniel Beckett, for your drawing this morning:
Actually, my grandpa
WAS
a bit of a cyborg, he was always thrilled about the latest gadget that would make him more mobile. Last time I saw him, he almost crashed into a parked car because he wanted to show me how fast he could go on his red Little Rascal. He was endlessly optimistic, a terrible flirt, and so wanted to look good right up to the end that he had all his teeth replaced with new shiny implants a few months before he died.
Grandpa had wonderful people - Mongolian ladies - looking after him at his care home, very near where my aunt and mother live. My aunt and mother (and supporting them, my uncle and dad) were tireless about visiting and taking him to hundreds of hospital appointments and helping him with his treatments. Someone from the care home called my aunt before he went, so my aunt was able to be with him. She says that it was very quiet and he just stopped breathing, so it was as good an ending as could have been hoped for.
My grandpa died today. He won't want to rest in peace; he'll be busy zipping around on his celestial scooter trying to impress the LADIES.
Here's my comic strip that appeared in yesterday's copy of
The Funday Times
(a section of The Sunday Times.) It's supposed to tie in with the film
Rio 2
, but the only real connection is a blue flying thing.
Here's a little peek at the work in progress, and the final printed version. (Thanks for tweeting the photo,
@Lorna_May_D
!) I did the pencil rough on the plane to Dubai and - my poor editor - it was almost illegible.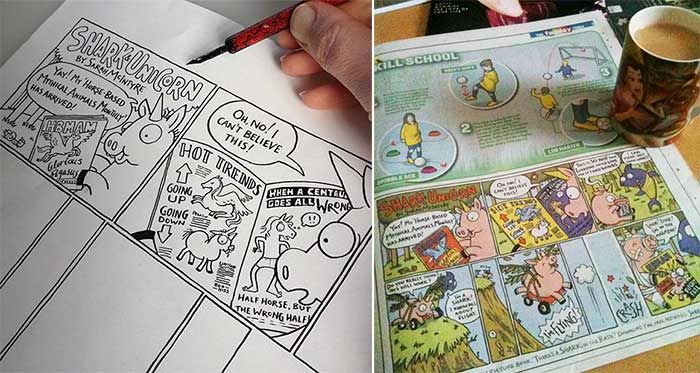 There's a big discussion going on right now over on the
Awfully Big Blog Adventure
, analysing the sentiment:
'Sure, the book is awful, but at least they're reading something'
. It's worth reading, particularly for the comments. I commented, but it's right at the end, so you'll most likely miss it, and I was responding more to things in the comments than the original article. So here's my mini article:
Why I hate 'proper books':
I keep encountering this term 'proper books' and I hate it so much. Often it's used in a discussion that puts down books which have illustrations in them or stories told in comics format. I wish we could stop using the words 'proper books' because it means different things to different people. Visually literate, well-read people may use it to judge a book fairly among its peers. But well-intentioned adults who know less about books borrow the term to shame kids away from books that are perfectly good, only because they don't understand that kind of book. They may have leafed through a single poorly made comic book and decided they didn't like comics. Or have recollections of being shamed in childhood for reading books with pictures when an adult deemed them too old for that.
What does 'proper' mean, anyway, that makes it a better word than 'good'? Proper implies a certain serious, stiff-collared, sitting-up-straight-at-the-desk educational worthiness. Not an experience that involves curling up in a safe place and getting lost in a world.
Proper
, blegh.
Let's stop saying 'proper books' altogether. Anyone with me on this one?
Poor Unicorn! It's all Pegasus this season.