Zoom Rockman
make and publish his own comics for a long time - since he was about 11 - so I was keen to see his solo comics show, launching his Zoom Comic Issue No.11, which opened last night at lovely Westminster Reference Library, right next to London's Leicester Square.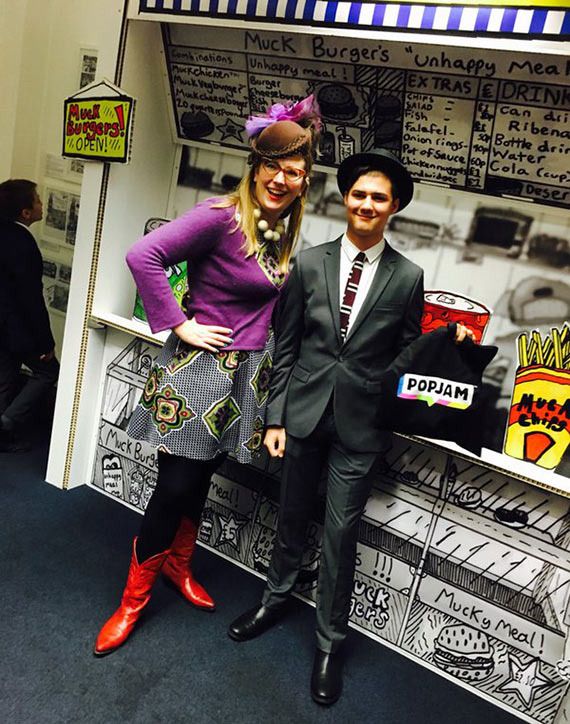 Photo by Melisa Hasan, Content Producer at PopJam
Zoom doesn't just publish his own comics, he gets the whole idea of presentation and makes amazing props to go along with his comics. Check out this burger stand! His family are furniture designers, so they have good access to cardboard and Zoom makes the most of it.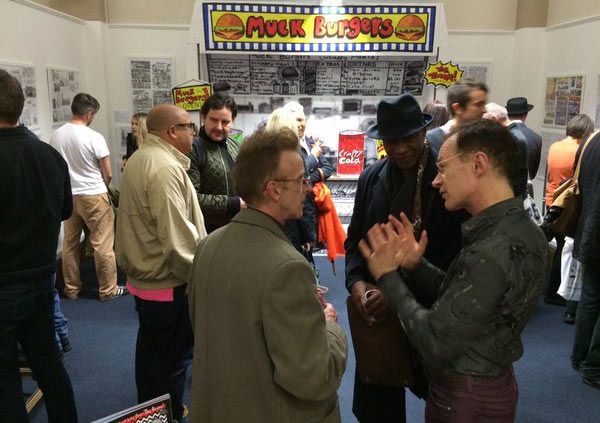 If you're in central London, do drop by to see Zoom's work, right from his very first comic! It's helpfully labelled, and he can get away with all sorts of logo-related issues, at least until he turns 16. (He has an agent and there was at least one solicitor in the gathering, so possibly longer than that.) :)
(
Click here for more under the cut!
Collapse
)
I've been watching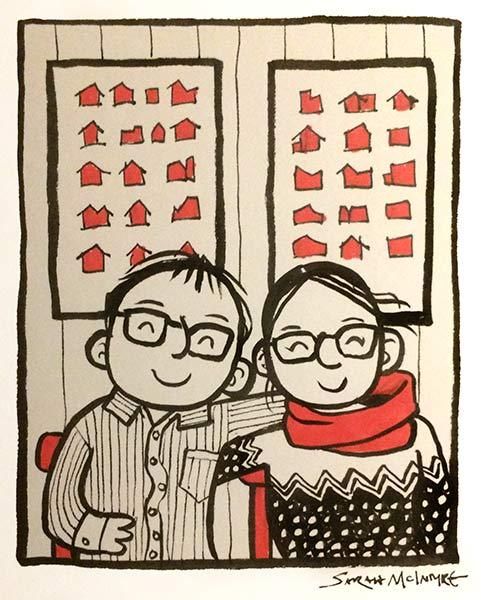 Here's the lovely architect couple,
Ingvar Torbjørn Øritsland
and
Eli Aarskog Monsen
, who let me stay in the flat above their art gallery.
I got to talk with radio presenter
Egil Houeland
! You can listen to his interview with me
here on the Radio102 website
. (Egil introduces me in Norwegian, then we switch to English.) The title translates as 'Norwegian kids are funny'.
On my last day I did a public family event and everyone drew a T-Rex! (You can get more drawing tips on the
Dinosaur Police webpage
.)
Such wonderful T-Rexes, I took pictures of lots of them:
(
Click here for more under the cut!
Collapse
)
One last Norway blog post!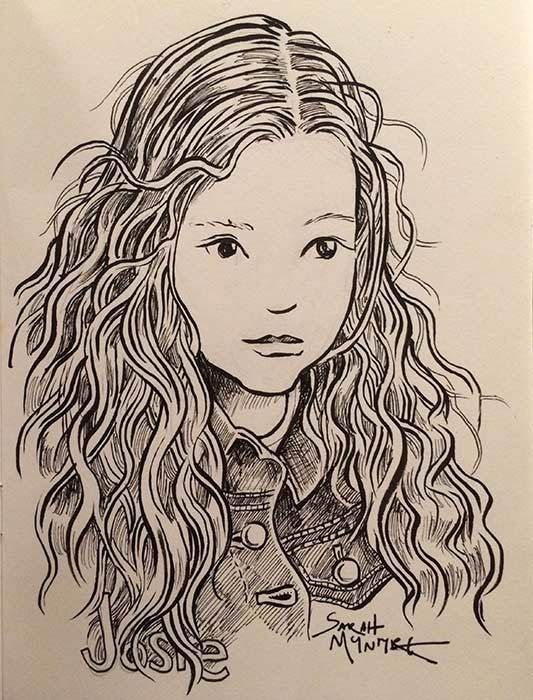 Lyndy Cooke (from the Hay Festival):
And
Rosie Goldsmith
. We both love the colour red.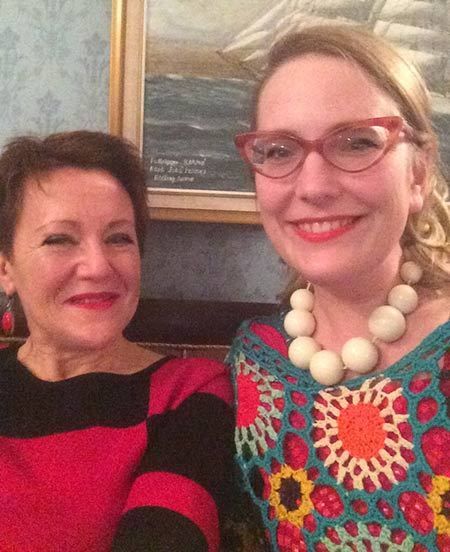 Here are some drawings from the SILK Festival Green Room last night! I'm doing one more family picture book event today at the Skudeneshavn Culture Centre at 10:30, then a book signing in the town bookshop from 1:30-2:30, and back to London tomorrow.
Odd Karsten Tveit
was sitting very still and I could draw him. Apparently he's a bit of a legend in Norway for
not breaking stride while reporting in the middle of a gun battle
.
And here's Odd in the festival Green Room with Uzbek writer
Hamid Ismailov
.
And here's my favourite drawing of the day, a taco-eating monster, by a girl at Sørhåland primary school. Norwegians really love their tacos.
(
Click here for more under the cut!
Collapse
)
Last night I sat through a lecture in Norwegian, which was great, because it meant Norwegian war correspondent
To be honest, of all the week's events, I was most nervous about this one because of the age range; kids this age can be very sensitive if they feel they're being patronised in any way, and the last time I worked with Norwegian kids this age, they were quite sullen and wouldn't say anything at all, even if asked a direct question, for fear of speaking poor English in front of their classmates. But this time it was a lot better. The students weren't obvious candidates, studying hairdressing, interior design and other things not entirely connected to illustration, but they were much better humoured.
All but one or two of them wouldn't volunteer any ideas, but at least they didn't glare at me or get upset. And when I asked if anyone had any questions, they didn't, until class was over, and then a small core group of them came and talked with me privately, and turned out to be quite enthusiastic, and very interested in illustration and comics.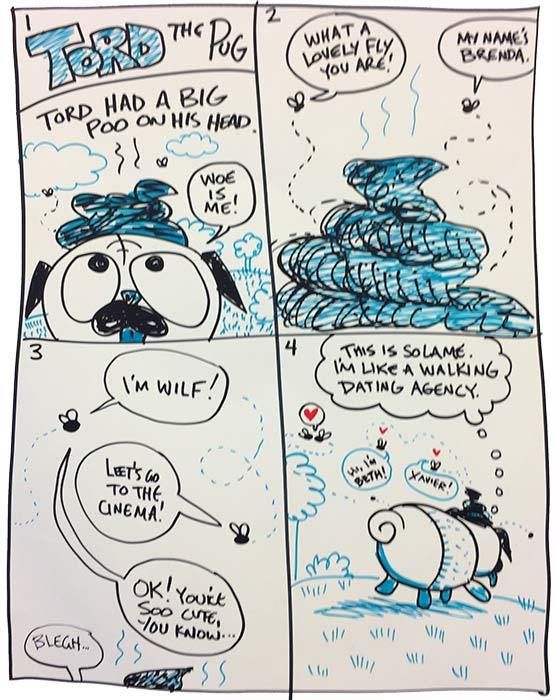 So I went away feeling much better about the day, that I hadn't been wasting time on them. We kept the subject matter quite light; I didn't want them to take their comics too seriously and stress out about them.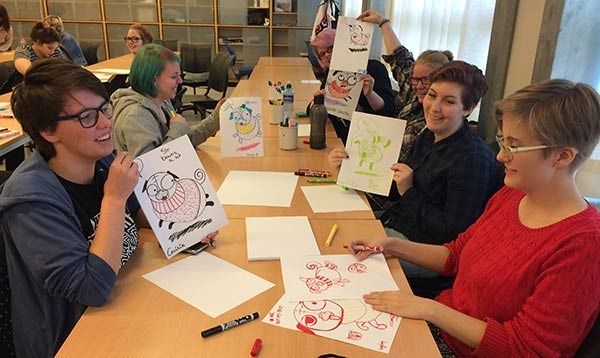 We did the same
Pugs of the Frozen North
activities that I'd done on previous days with younger kids, but I figure it's something I'd have fun doing even as an adult, so I stuck with it.
(
Click here for more under the cut!
Collapse
)
Today I visited a Haugaland vocational college in Haugesund, on the Norwegian mainland and made lots of pug-themed comics with 16- and 17-year-olds there. Here's a quick-draw comic I made on the flipchart: