#MeetTheArtist
meme going around, so
@StudioTeaBreak
is jumping in with it today. Here's mine:
And my lovely studio matey
Elissa Elwick
's:
Check out more here
on Twitter
, on
Instagram
and on
Facebook
. (Why not draw your own?) :)
There's this fun
Blue Peter Book Awards
judges, one of the books we picked for the shortlist was the gritty and gripping
SURVIVORS
, real-life tales of people who went through terrible ordeals to stay alive in the wilderness. The smooth artwork was a real counterpoint to some of the rather shocking accounts (could you saw off your own arm with a blunt pocketknife?) and I interviewed talented illustrator
Kerry Hyndman
for BookTrust. This is the unedited version and you can read the shorter, snappier version over
on the BookTrust website
.

* Congratulations on your shortlisting for the Blue Peter Book Awards! That's exciting! Did you grow up watching Blue Peter? Do you have any favourite memories of it? (I grew up in the States, so it's interesting to hear Brits tell me what they remember!)
Thank you, I'm so chuffed to be shortlisted! Yes I did, my brother and I would watch all the time. I remembering entering a drawing competition about energy saving lightbulbs and then desperately trying to see if my picture was pinned up on the studio wall - sadly I don't think they showed it so it's great to have finally had my work shown on Blue Peter - it was definitely worth the wait!
* Your Survivors book with writer David Long really stood out from a lot of the other new non-fiction albums in shops right now. Many of them are quite sanitised and pretty, and while this is a beautiful object, it's also intensely GRITTY! (Someone saws off his own arm, someone has a wound full of maggots, someone staves off dehydration by wrestling a shark and drinking its blood, etc.) What were your thoughts when you first got the manuscript?
I was so excited about the book when I first got the brief. As a snowboarder, cyclist and someone who enjoys a good old hike, I loved the prospect of getting to research and draw all the amazing scenery. I love mountains, and snowy winter scenes are my favourite to draw so I got stuck in right away with those stories. I also really enjoyed the challenge of trying to capture the peril in each scene without making them too gory or gross. This was particularly tricky with the guy who saws his arm off and the doctor who operated on himself, but hopefully my images aren't too traumatic!
(
Click here for lots more under the cut!
Collapse
)
As
Stephen Collins
,
Katherina Manolessou
&
David O'Connell
at the Royal Festival Hall! Come draw with us!
Details here.
Find out more about the #PicturesMeanBusiness campaign at
picturesmeanbusiness.com
.
What a line up: Guardian cartoonist (and soon to be children's book writer-illustrator!)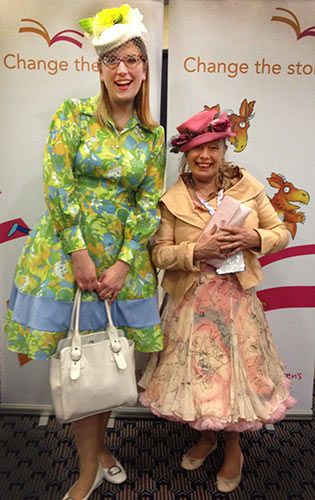 A sad day, I'm going to miss grande dame of picture books
Babette Cole
and her anarchic, irrepressible humour.
She lived by her own set of rules; I was a bit scared of her, she might say or do ANYTHING, but I loved her, too. She was a flash of bright colour in the world of books, and probably one of the people I saw most often at festivals and parties. She often left me dizzy and bewildered, but always laughing.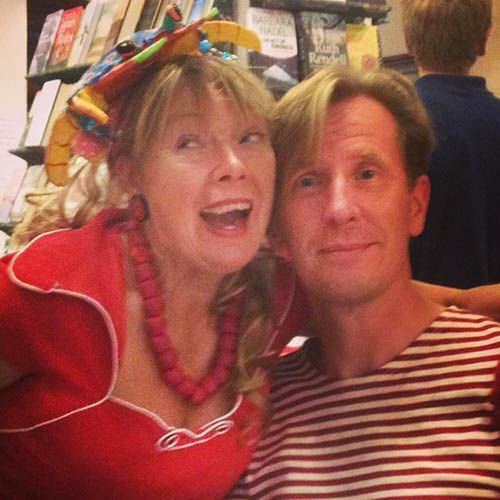 2013, Daunt Books, with Philip Reeve at the Oliver and the Seawigs launch
When I heard the news this morning that she'd died, I couldn't find any official mention of it from a news source and I had a sneaking suspicion that it might have been a prank on her part; I thought, perhaps she's had a few drinks with the lads and, giggling wildly, thought she'd get one of them to leak the news she'd died, so they could watch everyone talking about her and writing nice things. I held out hope for most of the day that I'd get to see her again, but sadly the rumours were true.
2013, London Book Fair
My favourite of her books is
Mummy Laid an Egg
, with children's diagrams of their parents having wild sex in unusual ways, including on a skateboard, on a space hopper and sky diving.
Her painting style was anarchic, too; rough, un-prettified and bonkers, in a way that suited her irreverent work hilariously. And I love that even well into her sixties, she was competitively jumping, riding sidesaddle. The first time I met her was when she was a speaker at the Bologna Book Fair conference of the Society of Children's Book Writers and Illustrators in 2008. She'd been asked to talk about illustration, but she mostly talked about horses. No one could tell Babette what to do. she was one of my heroes; I can never be like her, but I love how she threw herself passionately into everything right up to the end. Condolences to her friends, family and husband, James Gutans (aka 'Tree Elf').
I doubt she'll rest in peace, I hope she'll get to a heaven with a stable full of unicorns staffed by a team of hot grooms.
2013, Babette's tribute to Oliver and the Seawigs
(
Click here for lots more photos under the cut
Collapse
)
Here's the original painting. If you get a chance,
read about Romaine Brooks
, she had a fascinating life. And see other #PortraitChallenge interpretations
here on Twitter
! I hope I get some more time to try it again, with the pooches.
Here's another one by
Rainbow Orchid
creator
Garen Ewing
:
I couldn't resist today's @StudioTeaBreak #PortraitChallenge - Evelyn Crow, after Brooks' 'Una, Lady Troubridge' (1924)
One more thing, huge congratulations to
The Phoenix Comic
for five solid years of awesome weekly comics!!
Photo taken by Jamie Smart
You can spot my name and Philip Reeve's; due to time constraints (comics take so long to make!) we only managed one strip,
Jinks & O'Hare Funfair Repair
in
Issue 44
, but it went on to spawn a
whole book
a few years later. Amazing
Jamie Smart
managed to have comics in every single issue!! You can either subscribe to The Phoenix Comic weekly magazine
here
or buy compilations of its strips in books (or single issues) in
its online shop here
.
Here's my ink study for today's @StudioTeaBreak drawing challenge: