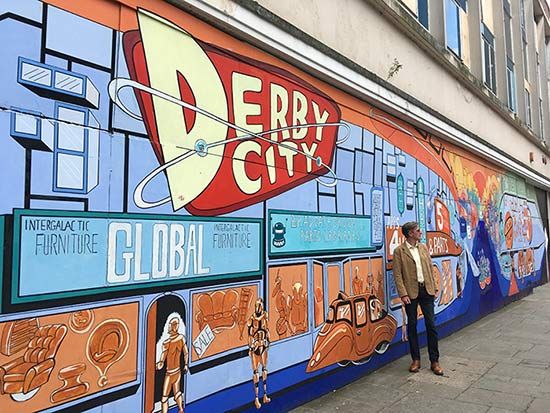 Yes, I think we've landed in Derby...
Hey, look! Our book festival stage doubles as a Ruth Rendell set!
(
Click here for more photos under the cut!
Collapse
)
Hey, Reeve, are we in Derby yet?
really
on fire about reading. When I met Year 4 teacher
Claire Williams
at a UKLA conference and she sounded enthusiastic about using
Pugs of the Frozen North
with her class, I never knew just HOW much she was going to run with it. We stayed in touch, and she advised me on how to put together book-themed challenges for classes. And then she went away and did a whole project with parents, showing how when parents and kids work together on book-related projects, it really fires up the kids!
If you're working with kids, definitely read Claire's report - with lots of photos - about how she used
Pugs of the Frozen North
together with parents and children:
click here for the PDF
.
(
Click here for lots more under the cut!
Collapse
)
Sometimes you meet a teacher who's
New BookTrust blog!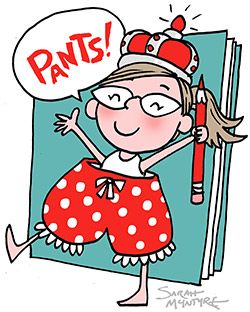 Have you ever wondered how picture books are made? I've written a step-by-step guide from sketches to final artwork, how I illustrated
The Prince of Pants
after I got the funny text written by
Alan MacDonald
.
Click
here to read my whole BookTrust Writer-Illustrator in Residence blog post
!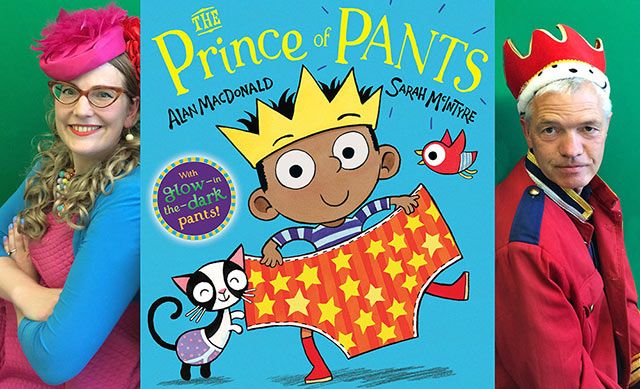 Thrilled about the new choice of BookTrust Children's Laureate!
Lauren Child
's work represents a wide range of creativity, spanning from writing and illustrating picture books to teen novels. Her drawing style contrasts significantly from the previous fabulous Laureate
Chris Riddell
's work. With the way they make images, both use incredible skill but while Chris's line work is incredibly intricate, like 'Wow, I could never do that!', Lauren takes inspiration from children's drawing and her work with its mix of deliberately wobbly line and collage may be much more accessible: 'Wow, I could do that!' I love that she's going to encourage children to explore and experiment with stuff they make. She hasn't stuck to one way of working, either; I remember my surprise when she came out with
The Princess and the Pea
, where she'd built fascinating little film-style sets and photographed her figures inside them for the final book images.
Lauren has a keen sense of design, colour, pattern and layout, and her line work has a rough energy and humour that I've absolutely adored for well over a decade. I think the first book of hers I read was the Charlie & Lola book
I Will Not Ever Never Eat A Tomato
and the cheeky playfulness of it made me so happy. And her work pushes boundaries; I wrote my MA Illustration dissertation on
Who's Afraid of the Big Bad Book?
and the way she played with metafiction.
Lauren doesn't do much social media, but BookTrust have set up a new Twitter account,
@UKLaureate
, and Lauren has a
Facebook page here
.
Big congrats, Lauren!! You can read
Caroline Carpenter
's
article in The Bookseller
about Lauren's plans for the next two years.
Read more of the article on The Bookseller website....
You can watch Lauren talk to a group of school children
here on BBC Scotland Authors Live
. And here's one of many Charlie & Lola videos, inspired by her books:
Paul Cornell
, Fairford in Gloucestershire had its first Festival of Fiction last weekend!
I was thrilled take part and get to hang out with these fab people! The guy on the left is
Marek Kukula
, Public Astronomer at the Royal Observatory Greenwich, and on the right, writer and BBC documentary producer
Simon Guerrier
.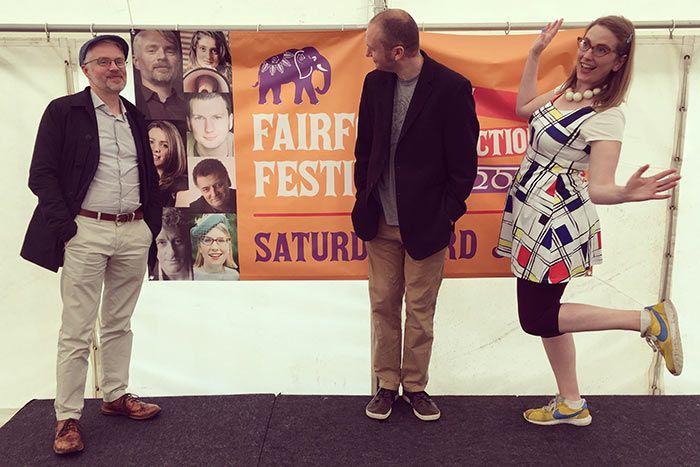 My event was first thing Saturday morning, so Stuart and I went up early on Friday as a sort of mini holiday to Gloucestershire. Fairford turned out to be a gorgeous town, so we were glad we did! (That's Paul on the right.)
Fairford has an abundance of large hares, so Marek and I took turns STARING THEM DOWN. As you do. (They looked pretty freaked out by it.)
Stuart and I got to sit in on Marek and Simon's talk, discussion their joint book,
The Scientic Secrets of Doctor Who
.
(
Click here for lots more under the cut!
Collapse
)
Thanks to writer