My latest book with
Philip Reeve
,
Pugs of the Frozen North
, doesn't come out with Oxford University Press until September...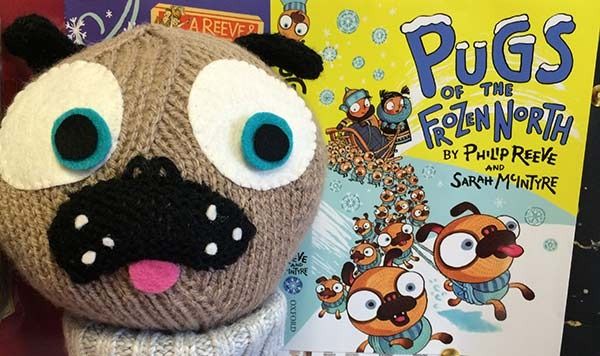 ...but people have been asking to get
a head start on making their own pugs
in preparation for the book's arrival. After the success of the
knitted Sea Monkey
for
Oliver and the Seawigs
, the fabulous
Lauren O'Farrell
(aka Deadly Knitshade) came up with a new Pug pattern, and she assures us that this one's even easier to make!
**You can download it free, here on my website.**
This pug's named Tuggle and we love him. But there are
66 pugs
in the book, so there will be lots of names to choose from (and you can come up with your own, of course). Lauren's a champion knitter and worked in the same studio room as me until she outgrew the space, about the time that she was knitting the world's largest solar system for the Science Museum. She knows all about exploring the outer reaches of knitting, but this pattern is actually very simple.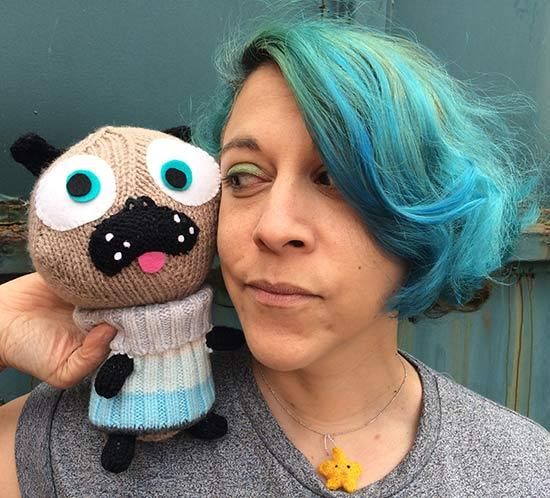 So Tuggle and I are pals - I've never had a dog before! - but Philip's poodle on Dartmoor, Frodo, can't quite decide what he thinks about this pug invasion. SIXTY-SIX there will be, Frodo... all the companions you could ever want!
If you knit a pug, please do
share a photo!
We'd love to see yours, and let us know its name. (Philip and I are on Twitter as
@philipreeve1
and
@jabberworks
and Lauren is
@deadlyknitshade
. And we have a
Reeve & McIntyre Facebook page here
.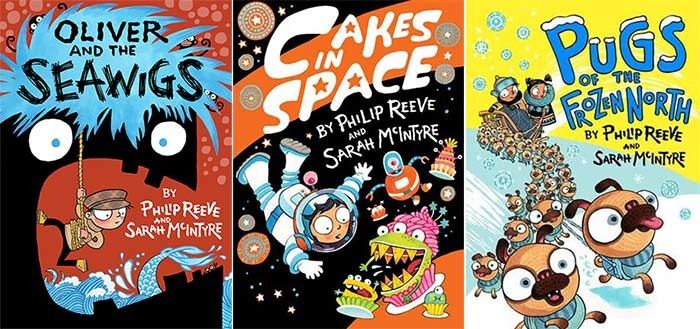 You can also explore the activities we have online for
Oliver and the Seawigs
and
Cakes in Space
. And you can find out what else Lauren's made
over on her website
. You can see a great short video showing all the Knitted Pug pieces coming together
in this blog post by Lauren
: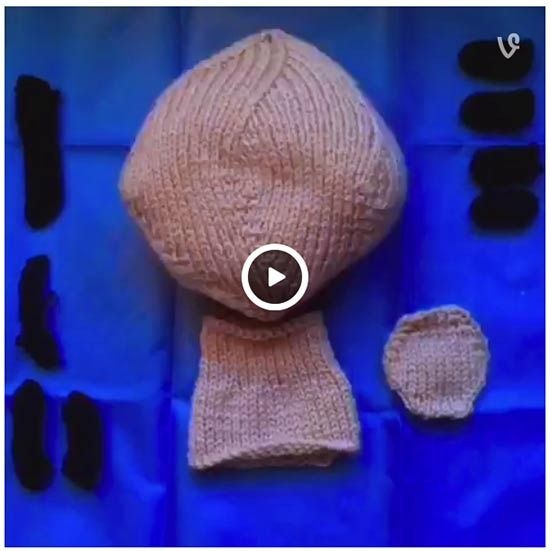 Now who wouldn't love to have a little knitted pug for a friend? Can you knit, or do you know anyone who does?
Look, we have a new little star in the studio! Our very own Sea Monkey!
We really ought to be more worried, because when there's one Sea Monkey, there are always lots more near by. True fact: when you are at sea, you're never more than nine feet away from a Sea Monkey.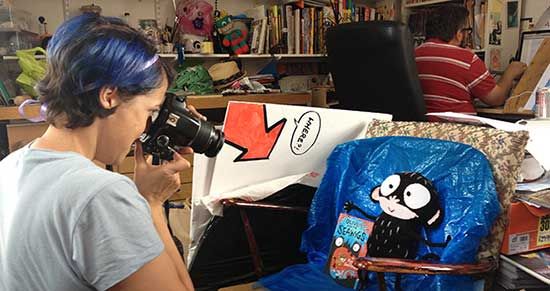 You, too, can stitch your own Sea Monkey! Or a whole jabber of Sea Monkeys, if the urge overtakes you! There's no better prezzie to give along with a copy of
Oliver and the Seawigs
:
* If your friend likes knitting, you can print out a free copy of the pattern and tuck it into the book.
* You can present both the Sea Monkey and the book together, what a fabulous, cuddly gift that would be!
* Or you can just make the Sea Monkey, if you like! Send photos! :)
Here's a peek at the start of the pattern, which you can
download from my website
:
A big thanks to my studio mate
Lauren O'Farrell
(aka
Deadly Knitshade
) for putting together this pattern, and thank you, Oxford University Press, for commissioning it! If you subscribe to her free
Stitch London
newsletter, you can get lots of updates like this, and there's even an
Oliver and the Seawigs
giveaway. (Once you've subscribed, you can look at the archive of newsletters and it's in the most recent.)

Deadly Knitshade
and her accomplice,
The Fastener
, have been getting up to with their graffiti knitting!
Go look at Ms Deadly's
whole amazing blog post about this yarnstormed road!
And you might know The Fastener by another name. She's the one who created my amazing be-tentacled hat that I wore at the Bologna Book Fair! (
Hat photos here
.) You can get a few peeks at our Fleece Station studio in the video:
Follow
@deadlyknitshade
and
@thefastener
on Twitter!
Can I credit my studio mate with bringing spring to south London? Check out what
Lauren O'Farrell
(aka
Deadly Knitshade
) came out with a book of kooky little London-themed patterns to knit? Well, her new book,
Stitch New York
, has just launched! Hurrah, Lauren!!!
Lauren wasn't expecting
Stitch New York
to launch until January, but... surprise! Now if you have any NYC-loving friends or family, this could be just the Christmas prezzie you're looking for.
(
Click here for lots more under the cut!
Collapse
)
Remember how my fabulous studio mate,
Then my fab studio mate
Lauren O'Farrell
(aka Deadly Knitshade) said she wanted one! So here it is. But I won't have a chance to colour it today, and then thought, why not let other people try it? Extra points and laughs for making it ***SUPER SPARKLY GLAM!*** (If you don't know what a chibi is, have a look at this
Google Image search
. It's basically a super-cute, childish character in the style of many Japanese comics and animé characters.) Background, no background, crazy rays of light, added unicorns, whatever you like.
Click on the pic for a larger version
Here's some colour guide photos, if you want them. Or you can make them up. But do have a
peek over on Lauren's website
, she's been up to all sorts of amazing things lately, including a
Little Knitted Sarah Lund from The Killing
. (Sort of a knitted chibi.)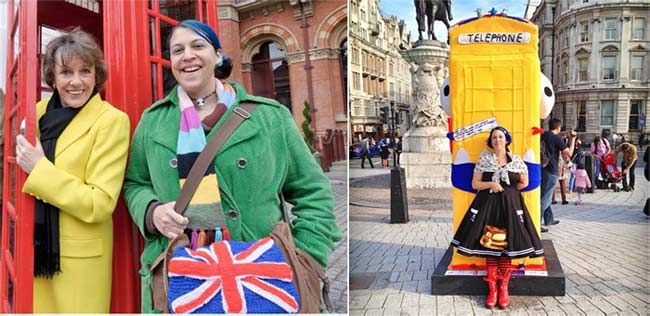 ">
And here's one of our other studio mate,
Gary Northfield
! He's sitting in his garden, just like in his amazing
Gary's Garden
comic strip in
The Phoenix Comic
.
If you colour them, please either post it in the comments section or send them to me at sarah at jabberworks dot co dot uk
! I'll post 'em up here with a link to your blog or website (if they're not too rude)! (Oh and here's the one of me in
black and white
, if anyone wants to try that one.)
Click on the pic for a larger version
(
Click here for a bit more under the cut!
Collapse
)
Yesterday I drew this chibi portrait of myself during my tea break. I don't normally like this sort of drawing very much, but it was great fun.