Here's my launch party review for Write Away, which Nikki Gamble will post on her site as soon as she gets back from her whirlwind visit to Denmark.


What kind of book would you come up with after living for three months in one of the best rooms in The Savoy? The historic London hotel gave celebrated novelist Michael Morpurgo this chance and, after prowling about the place, he choose an elegant, black, art-deco sculpture of a cat as his story's hook.

In a glittering evening of champagne and top-notch canapés (including chocolates sculpted in the shape of the Savoy's cat), the two Michaels -- Morpurgo and veteran illustrator Michael Foreman -- discussed their latest book with Harper Collins, Kaspar, Prince of Cats. Bouncing off questions supplied by writer Nicolette Jones, the two of them talked and joked about their many years of working together in an intimate gathering of publishing colleagues and friends, including Judith Kerr, Jacqueline Wilson and Damian Kelleher.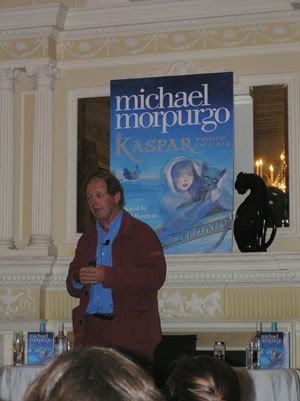 Morpurgo explained that the Savoy's cat already had its own story, involving thirteen people at dinner and a death. But Morpurgo decided that story had been told, and he didn't particularly want to write a story based solely around superstition; so he gave the cat a new story, beginning at The Savoy and culminating in the cat being the only feline survivor of the Titanic shipwreck. For the book's main character, Morpurgo created a young, orphaned bellhop who sleeps in the hotel attic and, like the rest of the staff, lives in fear of sacking by the grim, skull-faced head housekeeper. Morpurgo said his stay at the hotel made him intensely aware of the gap between rich and poor, and the hard stories of so many of the staff, who have come from more than 30 countries and are working long hours to fund their studies or to send money home to relatives. He understood that this divide hadn't changed much since the early 19th century, and uses this contrast as one of the central themes of the book. He said he tried to break up the story with light elements, but 'I'm better at the sad that I am at the funny.'

Of course, everyone there wanted to know what it was like living at The Savoy for three months, and Morpurgo described a 'bed as big as Ireland', with 'about 25 pillows' and windows overlooking the Thames, a view which Foreman captures very strikingly in his lavishly painted end papers, which he drew while sitting on hotel's roof. While Morpurgo had breakfast in bed every morning and drank vast amounts of coffee at his complimentary breakfasts, Foreman gave a wry smile and said he'd 'had a breakfast.'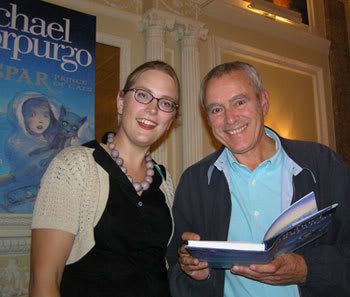 To Morpurgo's protestations ('Oh, is he grumbling again?!'), Foreman claimed that this was the most difficult book he's every done with 'the other Michael', which is saying a lot, since the duo have done so many books together that neither can accurately remember how many. Since The Savoy was closing for refurbishment very soon after Morpurgo's residency, Foreman had to do almost all his visual research before the story had even been written, meaning that vast amounts of it went unused. His other challenge was creating the double-page spreads at the beginning of every chapter. Foreman explained that he usually gets to choose the most exciting part of the chapter for the spread, but with this book, he had to paint whatever came first. ('So you had to draw a few boring pictures', laughed the interviewer. 'This is not going well!' cried Morpurgo.) For his Titanic illustrations, Foreman said his research drew heavily on images from Kenneth Moore's 1958 film A Night to Remember. He explained that the historical details were superb and the film set the same tone he wanted to capture, one of objectivity and restraint, unlike the recent romantic film with Kate Winslet that he 'couldn't bear to watch'. During drinks, guests browsed five or six pieces of Foreman's framed original artwork which were displayed on easels around the room.

One of the highlights of the discussion was listening to Morpurgo and Foreman describe their long relationship of cross-fertilisation. Morpurgo said that at least half of his books are inspired by images, and that Foreman rings him up two or three times a year with solid book suggestions, knowing that Morpurgo will be interested and hop on board. Morpurgo described one occasion, when he was escaping a family gathering at Christmas and pretending to work upstairs in his study while actually watching television. He found himself becoming fascinated by a programme showing the first-ever underwater film footage of polar bears swimming, when suddenly the phone rang. It was Foreman, telling him to turn on the TV to watch these swimming polar bears... and a new project was launched.

Jones put forward the slightly difficult question to Morpurgo, asking if his stay at The Savoy had influenced the integrity of his writing, seeing as The Savoy came out pretty well from the book. Morpurgo claimed that he had shown a grittier side of the hotel as well as its grand side, and argued that the hotel was a legitimate historical setting in itself, citing the hotel's vast archives which he used for his research. He shared the residency with three other writers, including Fay Weldon, on the condition he would organise one literary event a month, which included a tea party with Judith Kerr (involving enormously high tea cake stands). No one can doubt the cleverness of The Savoy in fueling one of Britain's leading writers in the creation of new myths about itself. Morpurgo relished the idea of making new myths; about the sculpted cat's new story, he said, 'In a hundred years, I want people to believe THAT story was the truth.'