Susan Burghart
and Mike Czerski. Here's a picture of Susan with her dad, Vern. I've always wanted to meet Vern, because Susan's told me so much about him, and I sort of based my comic strip sheep, Vern, on him. Actually, on three Verns: an old family friend named Vern Westburg, Susan's dad, and I went to see the play of
Vernon God Little
at the Young Vic that, I swear, was the funniest thing ever.
Susan and Mike got married in the church that Tolkien used to attend, the Oratory Church of St Aloysuis, which was cool, and the organ music was top-notch.
I wore a hat! Very exciting...
This came out blurry, but I like it all the better for it.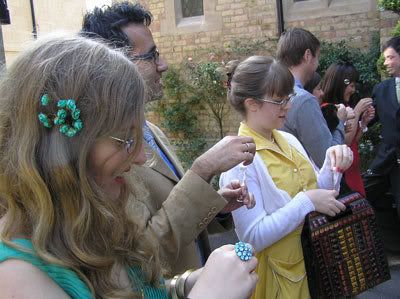 Here's the gang from art college, including Miriam Bance, Ellen Lindner, Jo Wong and Cristina Petrucci.
My parents have just arrived and showed me this funny
Jib Jab link
about the election.
Just dashing off a quick post here between Oxford and France... We just came back from the wedding of my fab illustrator friend