We had good fun at our comics panel for the DFC at the Bath kids lit fest on Saturday. Here's Bob Etherington (writer of Monkey Nuts) basking in the joy of the liquorice allsorts jar and lava lamp luxury of the VIP lounge. Apparently comics people don't usually get VIP lounges, so we thought we'd better document it.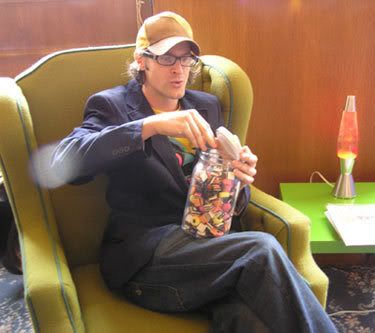 I got to meet Vivian French in the lounge, which was cool. (She wrote a book called The Thistle Princess, which was beautifully illustrated by my first illustration teacher, Elizabeth Harbour.) The Bath venue was SO lush, this huge room with giant chandeliers and an intimidating sea of seats. (I'll post photos later, they're in my dad's camera, which doesn't seem to load to my computer.) We had a good turnout and the kids there asked really perceptive questions about making the comics, I was impressed. Here we are in the pub afterwards: me, Bob Etherington, Lorenzo Etherington (Bob's brother, who draws Monkey Nuts) and John Aggs (who draws John Blake for Philip Pullman and writes The Boss):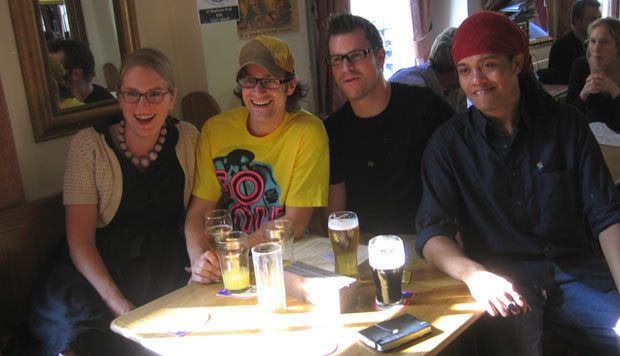 Here's another one of my dad and my publisher David Fickling (the one in the red dickie bow) and our DFC web designer Tom Fickling. They sat off to the side and had a long intense discussion about books and airplanes.



Since my parents and Stuart came along, we made a weekend of the trip. Here's a sketch I did of a remarkable Vivienne Westwood dress at the Costume Museum:


My parents wanted to go to the sung service at Bath Abbey on Sunday morning, and I drew a couple of the choirboys: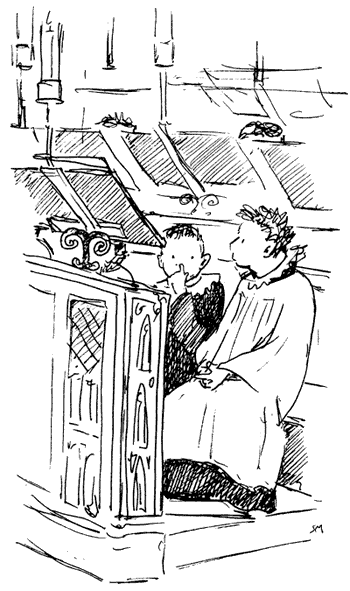 Here's a rough drawing of my parents on the train ride back to London. They moved around a lot, and the proportions are all wrong, but I still kind of like it.



And it was great coming back to this fan pic by John Rowley in my inbox. Thanks, John!