Today's morning sketch is a mixed tribute to Winsor McCay, Maurice Sendak and Fougasse. It's also me trying to gear myself up to launch into a huge pile of work today. I think I'll treat it like flying a Lancaster bomber (even though this airplane doesn't look anything like a Lancaster.) I'll do it with all the sound effects, that should keep me going. And ensure I never share a studio with anyone. Yes, I've realised, no louche comments on this picture, please...

Artwork: I'll sell the original artwork for this strip for £40 + £5 registered mail postage (a little bit more for postage if you live outside the UK) via Paypal. The image is 17x14 cm.

Latest briefing from DFC headquarters: If you haven't yet subscribed to the DFC (shock, horror!), you can buy it for one week only in 647 branches of Tesco, from Wed, 26 Nov - Tues, 2 Dec. Here's the cover, which is different from the cover sent to subscribers, but it will have the same comic goodness inside. If you live in Britain, go see if it's in your Tesco, buy a copy and let me know what you think!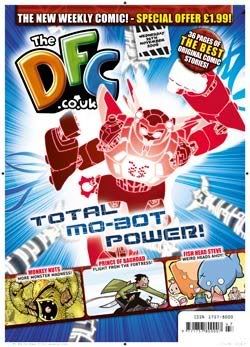 I'm sure there will still be tickets for the Comica panel I'm doing at the ICA with other DFC people next Sunday, do come along!

Today is the 80th birthday of Mickey Mouse. I just heard Brian Sibley on Radio 4 discussing Mickey, and he gives him a tribute here on his blog. (You might remember Brian Sibley as the guy who co-wrote the BBC radio adaptation of Lord of the Rings with Michael Bakewell. And he reviewed the first issue of the DFC here.)

Writer and illustrator Alex Milway went along to the studio aka retrospective screening I flagged a few days ago and gave a write-up here. Interestingly, one of the animation directors turned out to be a guy he often sees on the train on his way to work, who live just up the street, but whom he had never talked to. And the guy knew Alex's work with mouse characters, but hadn't figured out who Alex was, either. Small world!