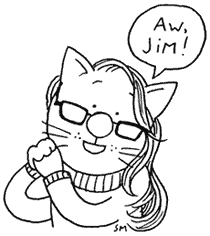 Hey, look! The DFC's Jim Medway of Crab Lane Crew just drew a comic about our night at the ICA, where we met Matt Groening. I showed it to
tozocomic, who said Jim's turned me into a Furry! Cool, ha ha...




Thanks for letting me post that, Jim!
Here's Jim's blog and a few words on the subject by Mo-Bot High's Neill Cameron.

Richard Bruton discusses the DFC six months after its launch on the Forbidden Planet blog here.

At some point I really want to go away and read all of Ryan Estrada's webcomic, Aki Alliance, looks good.

And Bristol-based illustration gallery Images of Delight is plugging its wares for Christmas; I'm particularly taken with Chris Riddell's ink drawings for The Da Vinci Cod and other illustrations to unwritten books. (Scroll down below the bio to see individual images.) Someone please, please buy me Wuthering Tights!