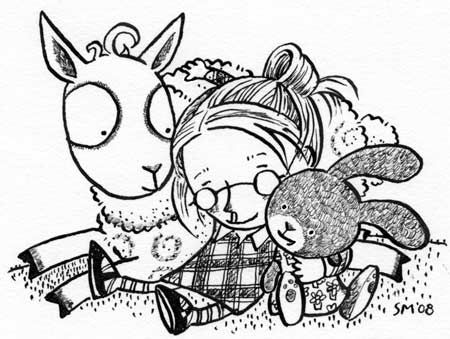 I've never had so many deadlines flying thick and fast around me (well, except for maybe senior year at university) and I'm feeling SO tired. So I thought I'd take a break and get a hug from Vern and Lettuce (they're very accomodating that way) and try out my new manga pen nibs. I'm still trying to get the hang of them but I'm amazed at what thin lines they can draw - everything in this picture was drawn with the same nib; cool, eh?

I just had a look at
mr_sadhead's post and took on that meme which quotes the first sentence from each month's LiveJournal entry. It does make for a kind of interesting summary of what I've been up to in 2008:

JANUARY: The two clouds and the airship are real, the others I added to the photo because it made me laugh, seeing all these clouds and stars in my living room.

FEBRUARY: I saw Lucy Knisley's post about Hourly Comic Day today.

MARCH: Here's my entry for Matthew Reidsma's High Maintenance Machine contest.

APRIL: I came back from Italy last night to find Stuart had made me a supper of spaghetti bolognaise, which I thought was incredibly sweet of him, and also a slightly amusing choice of food.

MAY: Here's lucky Shoo's shed.

JUNE: Here's a picture I'm working on for my friend
knitfish.

JULY: For my morning sketch, I thought I'd try something in this genre since I've never done it before, and it made me laugh at my ineptitude.

AUGUST: This morning I just made a few tweaks to yesterday's tree sketch to see what might happen.

SEPTEMBER: Animal cruelty! But Vern is fighting back (with Lettuce's help, because Vern is not very good with the computer).

OCTOBER: Another day of London sightseeing with my parents: Today we took the bus from Greenwich to Oxleas Wood, then walked three miles through the woodland to a beautiful English Heritage property called Eltham Palace.

NOVEMBER: This picture is for fellow DFC contributor Gary Northfield, who is feeling under the weather.

DECEMBER: I got a bit obsessive trying to find the magic parcel!