This picture pretty much sums up how I've been feeling this week.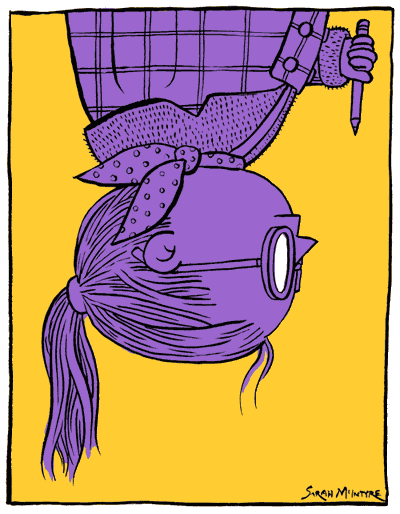 Don't forget Zinefest this Saturday!
Contributors include Ellen Lindner, Jeremy Dennis, Lizz Lunney, Charlotte Percival, Sarah Lippett, Rosie Brice, Karrie Fransman, Erica Akerlund, Lady Lucy, Flo Brooks, Carolyn Alexander, Kate Dickinson, Jenny Linn-Cole, Kate Evans, Liz Greenfield, Leonie O¹Moore, Carol Swain, Tanya Meditzky, Francesca Cassavetti, Isy Morgenmuffel, SarahRay, Sally-Anne Hickman, Laura Stimpson, Karoline Rerrie, Sarah Lynch, Lucy Sweet, Siobhan Bowers, Rachael House, Lee Kennedy, Jess Bradley, Heather Middleton, Jackie Batey, Iro Tsavala, Siobhan Britton, Mireille Fauchon, Emma Welch and Susie Rumsby.




And I just realised that the Alternative Press Fair on 1 Feb is the same day as Hourly Comic Day, and I'm thinking maybe I can combine the two. Hmm. (Here's the hourly comic I made last year.)

I went to my friend Ellen's house for the Obama inauguration and she got really into it with cutout letters over the telly. I brought a big bag of Toll House chocolate chips that my American auntie sent and Ellen made chocolate chip cookies, which was the most American thing we could think of.