Stuart doesn't really like posing for drawings, but he said it was okay if I drew him while he took a nap. I would've spent more time on it, but then his head lolled round to the other side, so that was that.



On Friday I went with
tozocomic to see Quentin Blake give a talk and slideshow at the Institut Français as part of their Youth Festival. Before the talk, we were browsing in the comics section of their library and I found this book with lovely pencil and tonal work and wanted to try getting the same effect in Photoshop. (Andrew Wildman - of the DFC's Frontier - tipped me off how to do it.)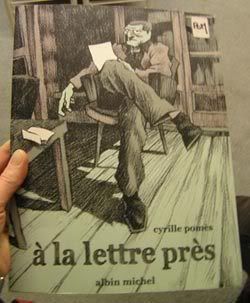 One more thing, last night I had home-made pasta for the first time ever! I got all excited and took pictures of Skip cranking it out on his shiny cool machine. And here I am modelling just how long the noodles were. Skip says they're not actually that long, that he will make them even longer next time, which is something to think about.