I'm coming up to another book deadline, so things have been a bit frantic here. But a few quick notes and non-book things: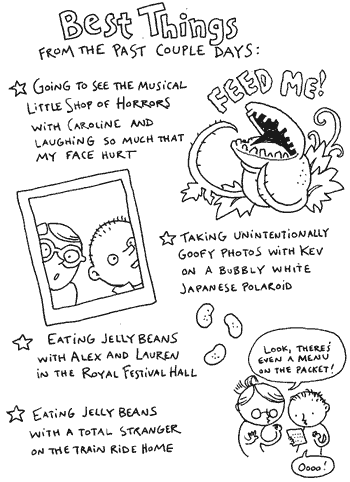 That guy in the polaroid is Kev Hopgood, who is a bit of a hero of mine because he manages to support a big family by making comics. And he is a hero of a lot of little boys because he draws Spiderman and Iron Man and cool stuff like that. And the other person is screenwriter Lauren Sabel with her bubbly Japanese camera.




If you're anywhere near London's South Bank, be sure to have a look in the Royal Festival Hall at the exhibition of illustrations from Portugese children's stories, as part of the Imagine Children's Literature Festival, 12-22 Feb. The pictures that stuck out the most to me were some intricate cut paper designs by Gémeo Luís, but there was a lot of amazing artwork there.




I was at the Royal Festival Hall for drinks with the London division of the Society of Children's Book Writers and Illustrators. If you live in the UK and you're looking to meet up with other people in the field and get tips and just make friends and stuff, do think about joining SCBWI, it's a good organisation and has fun events and conferences.

Other things:
Thanks to illustrator Jennie McLaughlin for the link to the Observer photo and article about Lauren Child's kitchen. (I love nosing around people's houses.)

And this is a bit nutty and probably totally irrelevant to anyone not named Sarah, but if you're listening to BBC Radio 4 today at 11am, keep an ear out for a half-hour radio documentary about the fab Sarah Party I went to last year, with about a hundred cool women all named Sarah. Wacky, huh.