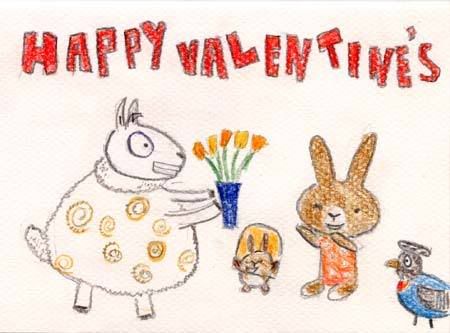 Isn't this the cutest thing ever?! Stuart gave me this Vern and Lettuce card at breakfast this morning. He spent ages making it!
It cracks me up how Vern looks slightly freaked out, like Lettuce might hit him if they're the wrong kind of flowers, heheh. And Stuart's also drawn Gerard the posh pigeon and one of the bunnies doing an astronaut impression with the glass cover of the clock from Gerard's house.

Here's the card I made. And the other exciting thing... my colour proofs for my picture book with David Fickling arrived this morning! It's basically a facsimile of the real book, with soft covers, just how it's going to look when it's put forward for foreign rights sales at the Bologna Book Fair at the end of March. And it looks fabulous!!! It even has a special font that the designer, Ness Wood, and I made together. (Well, I wrote it out, and she did all the hard work of turning it into a font.) I can hardly wait to tell everyone about it!