Hey, I'm getting some little badges made for the Thing next weekend!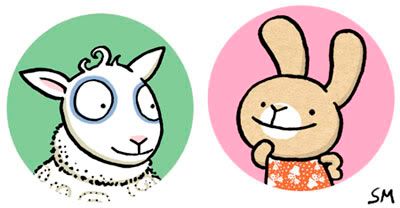 DFC Issue 42 arrived today with its striking Donny Digits cover by Woodrow Phoenix, obviously. I don't want to dash through this one, I am going to savour it tomorrow, since there are only two more DFCs left to read, [sob]. But man, don't it look good! I think the DFC's grown up a whole lot since the first issue. Even the fan art is amazing this week: Moosa Weekly by Cai Dickinson. In fact, Woodrow and I make photocopies of several pages of Moosa Weekly when we were up at DFC Headquarters because we were so impressed with it. Cai sent in pages and pages of comics with amazing layouts and sophisticated colouring, I could learn a few things from it. Right now Cai sells it at school for 40p on Fridays. But keep an eye out for that name!




SCBWI Illustrator Series still has a few places left! I sadly can't go to the masterclass with one of my favourite illustrators and lino cut experts, Chris Wormell because it's on 25 April, the same day as the Crystal Palace Children's Book Festival. But both events will be amazing. Also there's a Portfolio Review masterclass on 20 June and ... this is exciting, Making the Graphic Novel: A masterclass on the practices and principles essential to graphic novels with Kev Hopgood. If there's anyone who knows to to turn making comics into a legitimate, family-supporting business, it's that guy. It's not til 10 October, but best to book it fairly soon so you don't miss out!

Don't forget to check the Family section in the Saturday Guardian for Super Animal Adventure Squad and Vern and Lettuce! Hey, the weather hamster is predicting sun tomorrow! Maybe I can take my super-valuable DFC to Greenwich Park for a read.