Hurrah for the UK Web & Mini Comix Thing! Here's my table with my two fantastic table-mates, David O'Connell and Woodrow Phoenix. I'd stayed up way too late the night before, bashing together my mini comics, but we had a great time and got to see loads of fabulous comics people. This was the first time I stood behind a table at the Thing (and my second-ever table, after the Alternative Press Fair), so I didn't pick up as much loot as I did the last two years, when I had more time to wander around. But I still managed to buy and trade a few things: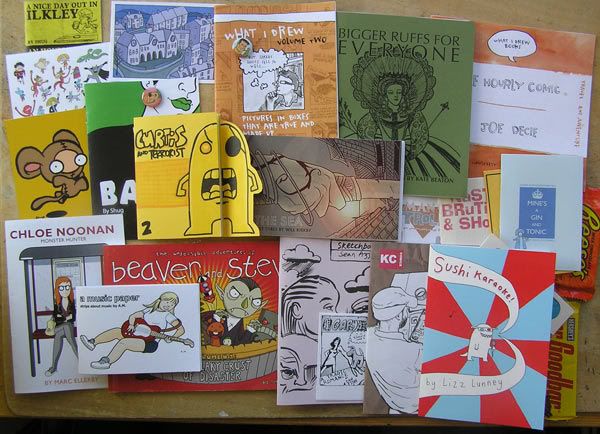 Barbs; A Nice Day Out in Klkley by Shug -
shug_comics
Cards by Darryl Cunningham -
tallguywrites
What I Drew, volume 2 and The Hourly Comic by Joe Decie -
joedecie
Bigger Ruffs for Everyone by Kate Beaton -
beatonna
Curtis and Terrorist 2 by Oliver Lamden
The Sea, part 3 by Will Kirkby -
chamonkee
Chloe Noonan: Monster Hunter by Marc Ellerby -
burnt_jamb
Mine's a Gin and Tonic; Nasty, Brutish & Short; Man & Troll; Nice Cat Evil Cat and badges by David O'Connell -
tozocomic
A Music Paper by Alastair Maceachern
Beaver and Steve 2 by James Turner -
eruditebaboon
Sketchbook 1 by Sean Azzopardi -
seanazz
Kendal Calling by Jim Tyson
Gary the Blu-tac Dog by UK comics news Bugpowder's Dan Fish
Sushi Karaoke by Lizz Lunney (Is she on LiveJournal or did I just dream that?)

The DFC's Super Comics Adventure Squad had a good turnout: James Turner, Emma Vieceli (
emmav), Dave Shelton, Laura Howell, John Aggs, Gary Northfield, Woodrow Phoenix and me. (Find links to all those fab people on our new group blog.) Ellen Lindner -
ellenlindner - was doing a brisk trade, selling all her copies of her new novel, Undertow (I've written about it here.).


I wasn't thinking too much about my camera, so I missed a lot of pictures I would have like to have taken, including the amazing Wanted posters behind the table hosted by Will Kirkby, Lou and
yunni. And I got to meet the amazing Warwick Johnson Cadwell for the first time, but also missed getting a photo.


DFC's Gary Northfield & Dave Shelton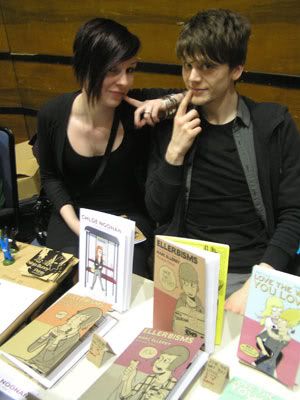 I was excited to meet Swedish Anna who appears in Marc Ellerby's comics, yay!
Hugh 'Shug' Raine, Joe Decie and Al Maceachern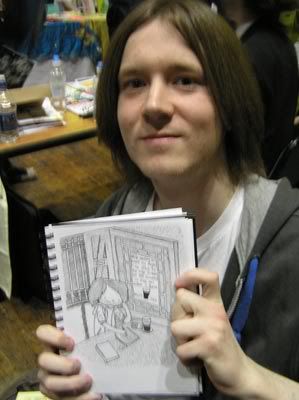 Dale O'Flaherty with his brilliant sketchbook -
daleof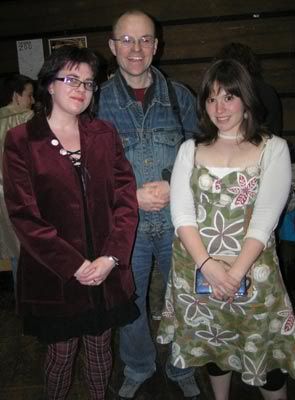 DFC's Laura Howell, Stuart and Kate Beaton. Kate came all the way over from Canada to exhibit, and I managed to get in early to nab a copy of her comic, which unsurprisingly sold out very quickly. If you haven't seen her history comics, do go have a look, they're brilliant:
beatonna Kate bought a copy of Airship, which made me feel happy. She must have been well tired after flying over and being mobbed at the fair, but she put in a great appearance, along with Scary Go Round's John Allison.



This was Stuart's first time at a small press fair, and he didn't quite know how to begin. But he emerged from the fray, triumphant, with one comic he'd bought, Train to Shanghai by Rob Jackson. I hadn't heard of Rob, and the comic looks good, so I look forward to having a read of that. (After Stuart, of course.)


Laura Howell's a big fan of Kate Beaton's and managed to get a drawing of Tesla, the celibate scientist.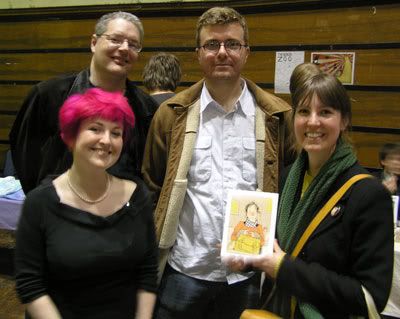 squirmy,
tallguywrites,
bandersnatch_02 and Maartje Schalkx. I was very glad to be able to give Maartje the portrait I'd drawn of her.

bandersnatch_02 with contraband brought all the way from America. (Thanks, Ben!)
Two of Oxford's Caption comics festival co-ordinators, Selina Lock (
girlycomic) and Jay Eales, with their latest Girlycomic anthology (which I mentoned earlier at Zine Fest here).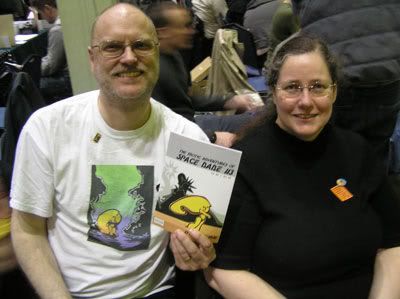 Convention stalwarts John Maybury (Space Babe) and Siobhan Hillman from the Comics Creators Guild.



Jeremy Dennis holding a signed copy of a picture book by Woodrow Phoenix.

Also no photos, but a big thanks for stopping by, to Oxford's
jinty and
tortipede,
cdave,
harveyjames,
mondoagogo, Piley,
mangazebra,
phlebas, Mark Stafford, the peanut-butter-and-jam-superheroes guy and his dad that I met at the Cartoon Museum, and those who had their own stands:
smurf_uk,
ryclaude,
moovok and
venkman_project. (Let me know if I missed you out!) Please do send me a link if you post a write-up or pictures!

Thanks,
ztoical, for organising a great drinks session afterward! Ireland was well represented.