I saw this elderly gentleman in a cafe yesterday who managed completely to ignore the fact there were four children running madly around the next table and one of them projectile vomiting.




Go have a look over at the DFC's Super Comics Adventure Squad's new blog: Dave Shelton, Garen Ewing, Gary Northfield, Neill Cameron and Wilbur Dawbarn have started a Dinosaur and Monster Draw-off! I think I will jump in at some point.

Related to James Turner's most recent post, we have the sad news that the Saturday Guardian will no longer be running The Comic section, so that's the end of Super Animal Adventure Squad and Vern and Lettuce on Saturdays, boo. You can read hi-res versions of James' strip on the Guardian website, but I guess because mine wasn't an ongoing story, they didn't feel the need to post it. Ah, well. Moving on...

Forbidden Planet International blog have been wonderful in their coverage of the DFC, with Richard Bruton reviewing every single one of the 43 issues. You can read numerous recent posts on the subject here. Thanks so much for your support, FPI!

So are you coming to the Oxford Literary Festival next Saturday for the DFC panel with David Ficking, John Aggs, the Etherington Brothers and me? We're going ahead with it, David's got Plans. 12 noon, it's £5, book your tickets here.

The Crystal Palace Children's Book Festival has a programme! It's going to be amazing family fun, click on the images to see a readable version of the flyer. (Thanks, Alex Milway, for putting that together!) Participants will include the DFC's Kate Brown, Gary Northfield, Woodrow Phoenix, Emma Vieceli, Garen Ewing, and also Ellen Lindner, Alex Milway, David O'Connell, Tom Percival, Viviane Schwarz, Kim Toohey, Migy and more.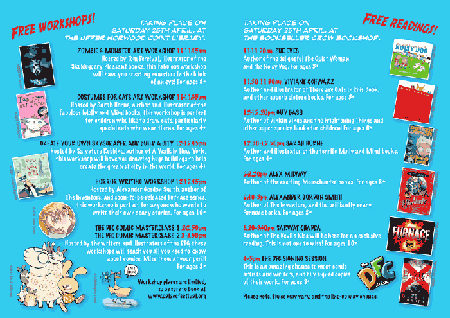 Lots of people are posting write-ups of the UK Web & Mini Comics Thing. I was chuffed to see Irishman Dale O'Flaherty included me in the many fab portraits he's drawing of people who were there. Thanks, Dale!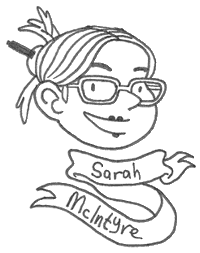 Read Joe Decie's write-up here and see his anthology entry here
David O'Connell also contributed to the Thing anthology here
More reviews from comics translation website Comix Influx, also from Jenni Scott, Kate Beaton, Anna Mondo, James Harvey, Jim Tyson, Shug Raine and Cliodhna Lyons. And surely more to follow!