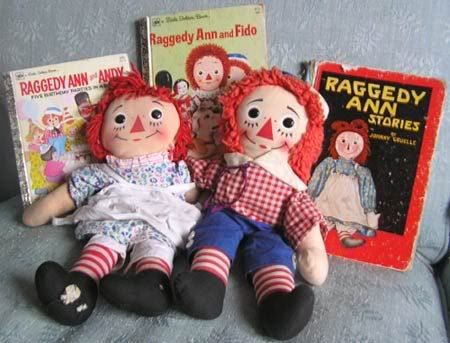 Last night my neighbour friend pulled out all my toys and was asking about these two worn-out dolls at the bottom of the box. I showed her some of the book that went with them and decided to take a photo to see if anyone else remembers
Raggedy Ann and Andy
.
(Ooo, I see they have a Wikipedia entry!)
They really are very ugly dolls, but so plain that they're rather loveable. (Or maybe that's just nostalgia kicking in. Speaking of which, I'm a bit smitten with
tozocomic
's purdy
red tin robot
.)
James Harvey
(
harveyjames
) has been running his Activity Week and getting lots of contributions. I really like his floating cats, so I put in a drawing for his challenge to pick one of the cats and turn it into a lady. (You have to figure out which one I picked, it's not very difficult.)
Event!
If you'd like to get a drawing from me,
Gary Northfield
has been kind enough to let me come crash at his table for a couple hours on
Saturday, 23 May
at
London's MCM Expo
. (I can let you know exact times later, but I'm guessing I'll be there just after lunch.) I went last year and it was the best people-watching ever, so many amazing costumes! Actually, it's worth
visiting that post
to read
Kate Brown
's Essential Manga reading list. Come see Gary's stuff, it's amazing, and then get a drawing from me, too! I'm hoping Gary will want to do
another collaborative picture
, that was good fun. Other
DFC people
who will be there include organiser
Emma Vieceli, Laura Howell, John Aggs, Nick Abadzis, Kate Brown
and
Tony Lee
. (
Other artists and writers listed here.
)