(No, this is not Lettuce the rabbit, but I am not sure, because she's wearing a mask she borrowed from the Kuniyoshi exhibition.) Also, her arms are longer.

I just cut off on a phonecall with my sister. American cell phones have this crazy feature where they actually get CHARGED to accept a call, not just make one. Nuts, hey? So I tried to go on Skype, but then I remembered I erased my hard drive and would have to reload it. Except they no longer make Skype for computers as old as mine, so that's the end of the conversation. The jerks!

So anyway, my sister tells me her painting degree show at the University of Washington went well, and she just got back from the Friends of the Nib show at the Cafe Racer in Seattle, where she got to see the fab guy who is
dlasky. Here's her snapshot of David with his picture: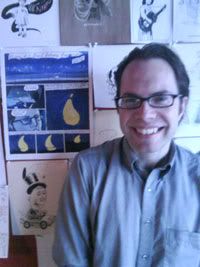 Have you seen, the DFC's Etherington Brothers have taken over a comics shop, revamped it and and set up a snazzy new website? Worth checking out, and Lorenzo has a new book of sketches out now. (Here's their regular website.)

Hey, cool, Granta have run another comic in their latest edition. They had a few pages by Alison Bechdel last time, and this time it's by Chris Ware. His contribution's only a double-page spread and a title page in a big book of mostly text, but at least it's being included with the other new writing, always a good sign.