Last night I went back to Camberwell to see this year's MA students (some were part-timers on my course) and have some Christmas drinks. Paul on the course sent me a
photo
of the best-ever illustration tutor,
Janet Woolley
and me, so I did this watercolour sketch from that. Another student named Jenny very carefully decorated a gingerbread man and I didn't realise I wasn't supposed to eat it until I'd bitten the head off and seen the napkin underneath it said 'to Jan with love'. Oops.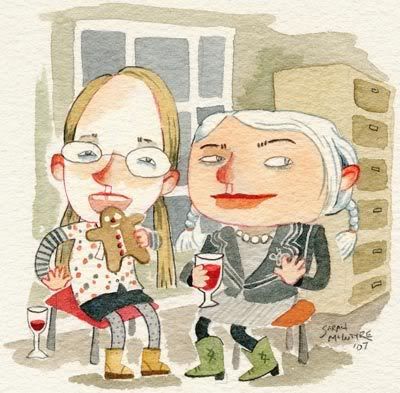 Afterwards, I went to the AOI's exhibition at the
Coningsby Gallery
but none of the people I thought were going to come actually came, and it was a roomful of tight groups and I felt like a bit of a wally until the lovely Annika showed up. But that time it was a mob scene so we decided noodles in Chinatown was a better plan.