I've been doing a bit of gift wrapping as of late and needed some tags. So here's my latest design.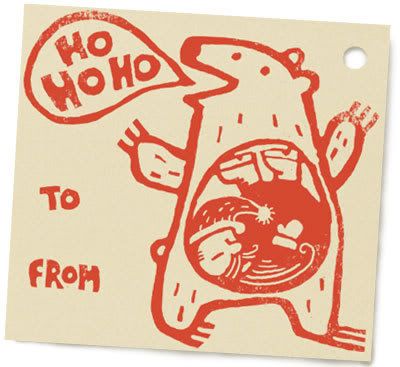 A friend surprised Stuart and me with tickets to see the London Philharmonic Orchestra play this evening at the Royal Festival Hall. The concert was great, really varied, with Vaughan Williams and Stravinsky, and this premiere of a percussion concerto by an American composer I hadn't heard of, named Jennifer Higdon. (The conductor, Marin Alsop, was also a woman, which was cool since I'd never seen a female conductor.) The percussion concerto was nuts, but really, really exciting and fun to listen to. This xylophonist/drummer ran all over the front of the stage slamming on different instruments like a kid with a sugar high let loose in a music shop. And it was fun hearing the backup xylophone player having a battle of the bands with the plinky top strings of a harp played really loud.
(Ha ha... aren't I such a cultured music critic!)
;-D The composer sat a few rows ahead of us and looked dead chuffed when she came on stage after they finished, and the sugar-high kid gave her a big sweaty hug.