February 29th, 2008
Yesterday I got paid £155 plus bus fare to sit still for two hours. These are my notes from the meeting, at my former art college. It was funny because when I was in college, the most I ever got paid for a meeting was £7 in beer tokens, and it's making me think that sitting in meetings is much more lucrative than an illustration career.
I rushed off from the meeting to central London for a very intense discussion with my agent. I'd been planning to go to the launch of Leila Rasheed's first book,
Chips, Beans and Limousines
. I mostly missed the launch, but luckily there were still a few people hanging around. I've only read the first few chapters on the train, but it looks like a smashing girlie read.
(Here's me with the book.)
I ran over to Oxford Street to buy a black ribbon for the vintage
dress
I bought last week (to cover the hole in the side, which isn't so mendable after all). They didn't have black ribbon at John Lewis, but the clerk referred me to this amazing habberdashers I didn't know about, an old shop front with three floors of ribbons and trimmings, called
MacCulloch & Wallis
. Then I ran off to the opening of
Cristina Petrucci
's first solo exhibition, in a Covent Garden spectacles shop (which I must return to because they had some really amazing specs). Do stop by and see Cristina's intricate theatre-costume-inspired drawings if you're in the area, at
29 Floral Street
.
And
reidsrow
's comic made me laugh today. I really love his work.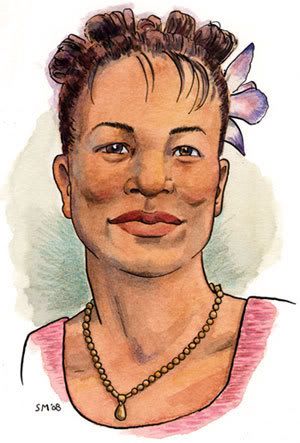 My father-in-law just remarried, and I needed to come up with a wedding gift now that they're back from Thailand. The two of them are very hard to shop for, so I painted a picture. But it was SO difficult; I was working from a bad flash photo taken in a restaurant, so I didn't have much to go by. And I didn't want to stylise it too much, because I wasn't sure she'd appreciate that. They've been together for eight years. She and I don't have much in common, but she's a lovely person and we get along very well. She's practically my age, which probably helps.
Here's a good date for the diary if you're in London: Paul Gravett's launch party next Thurs, 6 March for
Manhua! China Comics Now!
. It's an exhibition he's curating for the China Now festival at the London College of Communications. See
Paul's website
for details. I'm sad I won't be able to go; I already booked a ticket for another event, but I'm not sure I made the best choice.