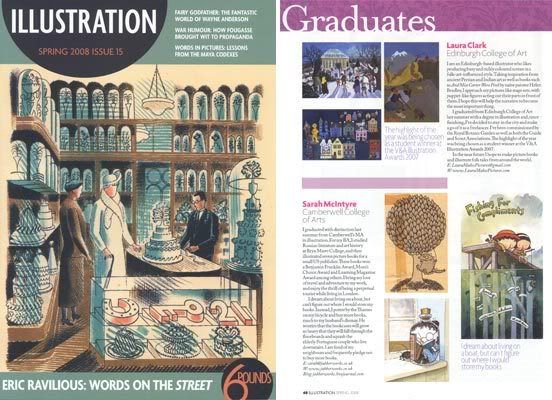 So exciting! Not only does my work appear with three other graduates in
Illustration Magazine
, it's their best-ever, loveliest edition, featuring some of the illustrators I love most, such as
Eric Ravilious
, Cyril Kenneth Bird (better known as
Fougasse
), and
Winsor McCay
. These are the exact illustrators whose posters I bought and stuck on my bedroom walls in college, amazing! There's also a interesting looking article on ancient Mayan codex illustrations, a look at 20 spreads from the sketchbooks of
Emma Chichester Clark
and an interview article on
Wayne Anderson
. Don't miss this one!
My new reps,
United Agents
just posted
my profile
on their website. It's fun browsing around that site, and I always get distracted by the list of actors. I sent in several profile pictures, and interestingly the one they chose was a very informal one that Stuart took of me in a restaurant near Seattle. But the coolest thing about it is that in the original photo (below, left), I'm sitting next to my friend Kim Henwood, who was a total rock in my first break in picture books, before I went to art college. She used to work with my first publisher, and when things seemed especially bleak, she was the one I could call and burst into tears on the phone. Not only would she be okay about it, but she'd help get me back on track and make me realise things were going to work out. Her name never appeared on book covers, but she was definitely the person who held everything together. She's remained a dear friend and it seems symbolically so fitting that she's sitting next to me in the agency picture, even if you can't see her.

Now I should do some work, but I think I will have to take a break for tea and go read this gorgeous magazine...