May 18th, 2008
I needn't have worried! Stuart and I went for a sunny walk this morning across the park to the station to pick up a newspaper and spent at least five minutes trying to find the strip. We finally spotted it, in black and white and the size of a postage stamp! So nothing given away. And it really is a good write-up, I can't help but be pleased about that. Well done to 10-year-old Jacob Moreton who wrote the article.
Independent on Sunday, 18 May
-
Read the online article here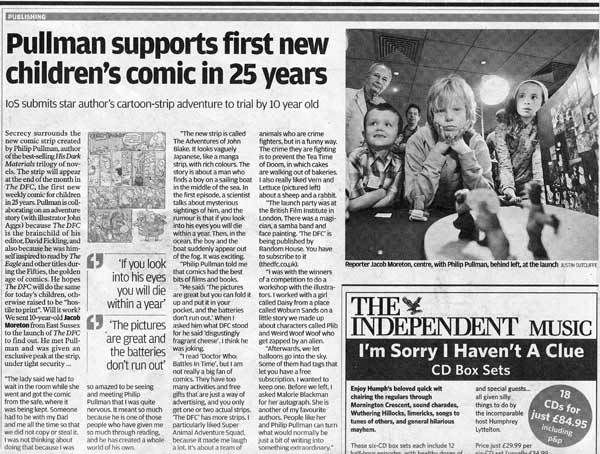 I had an ecstatic phone call from David Fickling on Friday, saying all sort of nice things, and that someone from the Independent had loved Vern & Lettuce and wanted to run the strip in the newspaper. How exciting! I agreed to let them run it and we spent ages discussing which strip to let them have. It slightly niggled in my mind that I shouldn't be giving anything away that's going to appear in the DFC, but the lure of having an A4 colour spread in a major newspaper proved too much for me.
Here are Lettuce, Vern and three of the bunnies with my good friends
Esther and Samuel
, who love what they've seen so far in the DFC. They are very cool people. Samuel joined my book club a few years ago, when he was nine, even though it wasn't really meant for children. I had spread the word among my friends that I was starting up a book club, and when Samuel asked if he could be in it, I said I didn't think I'd be able to set up a separate club for kids. But every time he saw me, he'd ask again, and now he's been coming for about three years. About a year in, he started bringing along his little sister, and they both talk about the books they've read in the first half hour of our meeting before heading off again. So, of course, they're the first people I wanted to introduce to Vern and Lettuce!
They were very stoic in the photo shoot; Samuel started streaming tears from hay fever and Esther and I accidentally sat on an anthill. We've all decided we don't want a career in modeling.
Here's another picture from
Draw Vern & Lettuce
, this time by
Lindsey
!