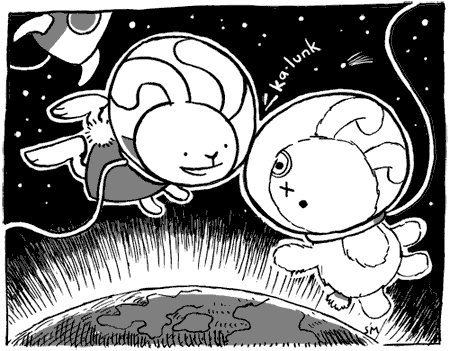 Here's another bit of
comics love
from Lettuce, with Jessica McLeod's
Space Rabbit
, over at
tiny_monster
. It's not easy cuddling in zero gravity, with big bubbles over their heads, but they're having a good go at it. (I'll do two more if anyone wants.)
I've just written a review of
Alexis Deacon
's picture book
While You Are Sleeping
. I think he's one of the best illustrators alive right now, so don't miss his work. (Here's his
website
.) I also spotted a new review there for
A Midsummer Night's Dream
, a Manga Shakespeare book by
Kate Brown
.
Neil Gaiman
just announced he has a
new website
for his upcoming
The Graveyard Book
, which has some lovely gallery pictures of work by
Chris Riddell
and
Dave McKean
(and some spooky music that has to be switched off after about five seconds or its short looping will drive you crackers). I love some of the things on
Chris Riddell's website
, particularly his comics
A day in the life of Chris Riddell
and
Winegums... why Chris became an illustrator
.