I was really tired this morning and made myself draw something without thinking about it, just letting the nib wander over the paper. (I'd hate to see this psychoanalysed!)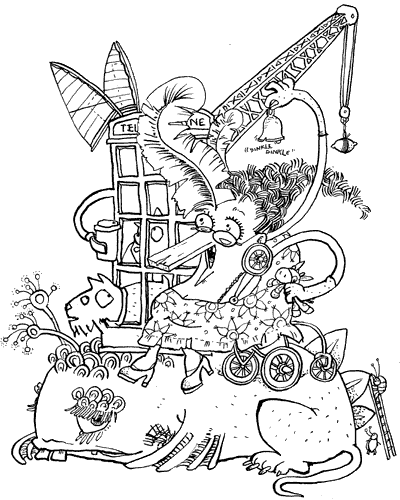 I think I'm still tired from last night. I went to the rowing club but there was no one around to row, so I thought I wouldn't waste the trip and practically killed myself battling the ergo rowing machine (
like this
). But then a bunch of people showed up and I was put in a boat with three other strapping men and had to keep up. It was actually a much better row than Saturday's, but I came home so tired it hurt. Like, when you can't even fall asleep because you're too tired and you just moan a lot.
Write Away has posted two more reviews of mine:
I had a lot of fun reading
Chief Rhino to the Rescue
by
Sam Lloyd
. I'm sure it's a tribute to
Curious George
but it's also a cracking good read on its own.
And I wasn't sure what to say about
Women of Paris in Pictures
by
Quentin Blake
so I probably wrote too much.