July 3rd, 2008
Firs some bragging about my former tutor at Camberwell in MA Illustration,
Janet Woolley
: She just sent some photos of a mural she did of a whole pack of scientists for the newly refurbished atrium of the
Royal Institution
. Here's a picture of the queen peering at her work. Jan said there was another photo of the queen running away, apparently in fright, but she didn't send me that picture (darn). You can see more of Jan's work on
AOI portfolios
.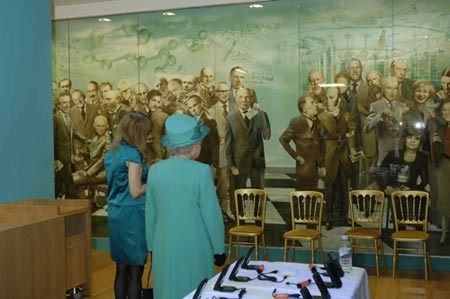 And I mentioned how I met LSE professor of bioethics
Sarah Franklin
at the
Sarah Party
. Where I come from, we'd call her 'one smart cookie'. She e-mailed to say it's interesting I work with sheep (one, in particular, the dashing
Vern
) because she's a 'definite sheep watcher'. She's written a book about Dolly the sheep called
Dolly Mixtures
. Vern thought that was well worth checking out: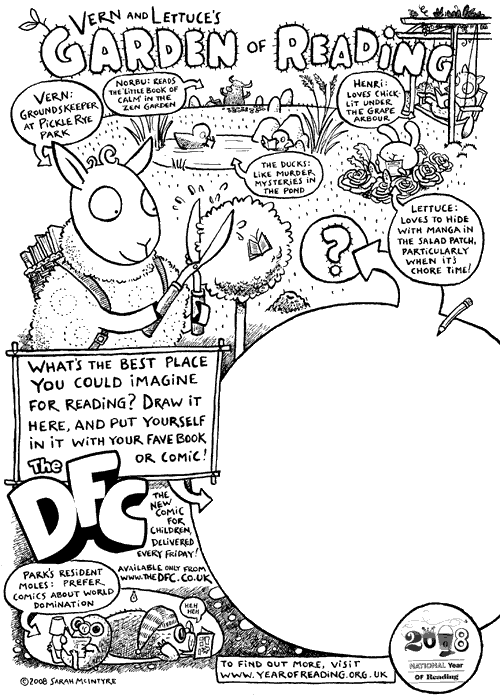 Click on the picture if you want a larger image to print out.
This sounds interesting,
Hampton Court Palace
has just built
The National Year of Reading Garden
within their lovely grounds. It's all about creating marvelous little nooks and crannies where people can curl up with books, as much about where we read as what we read. That sounds good to me! It includes a pool of knowledge, a bookworm track, a magical misted forest (sounds like it would make the pages go crinkly to me) and a salad leaf lawn. (I don't know what that last one has to do with reading, but at least you can snack while you're doing it.)
Lindsey at DFC publicity just commissioned me to bang up this sheet real quick for it, that was fun.
Hey, if anyone wants to draw themselves in their favourite place to read, I'll post it here!
(Don't feel you need to use my worksheet, unless you want to, of course.)