July 7th, 2008
Here's something I drew (rather sloppily) last night for a meme by
beatonna
, on the topic of
a conversation with your younger self
. (
Have a look at lots of them here!
) She's Canadian Kate Beaton, and she's been doing some great comics lately based on historical figures.
On Saturday the 5th, I went to a barbecue with two other American Saras to celebrate the 4th of July. It seemed appropriate to do it a day late since we're all kind of cheating on the whole Independence thing by sleeping with the redcoats. Here's an amazing cake that Sara baked. She gave us some extra cake to take home and we only managed not to eat it on the train ride back and then it was gone.
(Sara's
Busted
dysentery t-shirt refers to the old video game
The Oregon Trail
.) And here's a photo of Ants on a Log, the peanut butter and the cream cheese versions.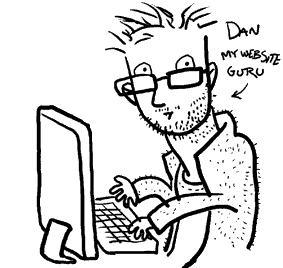 Here's a plug for my friend
Dan Fone
, who did a lovely job building
my website
, one for my sculptor friend
Eddie Smith
and just finished the website of another friend,
Cristina Petrucci
. Here's a Flash one he did for
Purple Flame Media
. If you're interested in some website building, he can work with you to build something very simple or very complex, depending on your budget. With my site, I wanted to be able to change things myself, so Dan built it in the most simple HTML code possible and patiently taught me how to use it.
Send him an
e-mail
for a quote if you're interested. And get in quick, before he's booked up solidly!