July 15th, 2008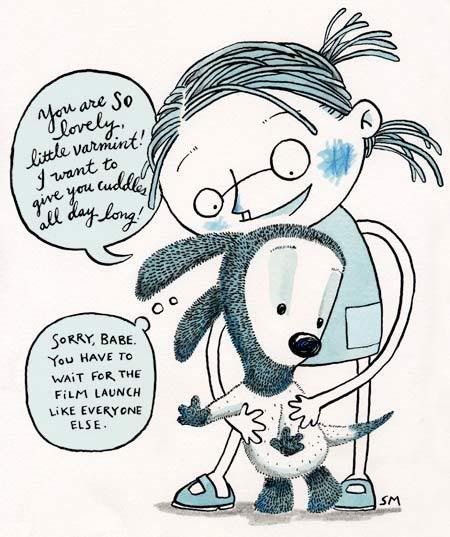 Exciting news, I got an e-mail from
Marc Craste
last night saying that
Studio AKA
have finished making
Varmints
! It's a film based on Marc's picture book collaboration with Helen Ward (
book launch link here
) and is set to be a total knock-out amazing piece of animation. You might remember Marc Craste from his Bafta-winning animation,
Jo Jo in the Stars
. Hooray, Marc and everyone at Studio AKA, I can hardly wait! You can see
a trailer here
.
Other news,
Garen Ewing
continues with his
A-Z of Comic Strip Characters
.
And I try to get a whole lot of work done this morning, whooie.
Edit
: Fresh in this morning! A sketch from Mags in Brussels, of Manoëlle with her book. (I said
here
I'd post drawings of people in their favourite place to read. Thanks, Mags!) :-)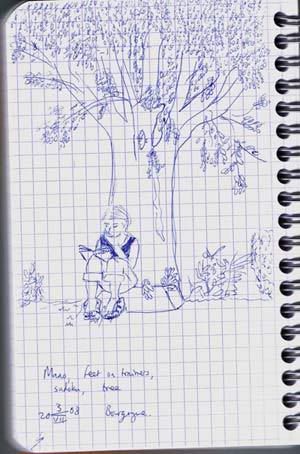 Hello! My name is Elena, I am fifteen years old, and I have been recruited into being Sarah's Time Management (Super) Fairy for the next few weeks. I have decided to take her under my instructive wing, hoping some of my (super) influence will rub off onto her before I have to let her run free again, and she will apply traits learned from me, such as being able to manage time.
(By the way, The picture shown above was done by myself. It is not nearly finished, so make sure to be watching for when I post the finished version.)
This would be me, the Time Management (Super) Fairy. I am holding a Ginger Beer bottle. The fact that I drank nearly a whole bottle of it by myself was quite an accomplishment. I told Sarah afterwards that if I burped, it would be like fire.
That seemed to be a very inspirational quote, so we made this: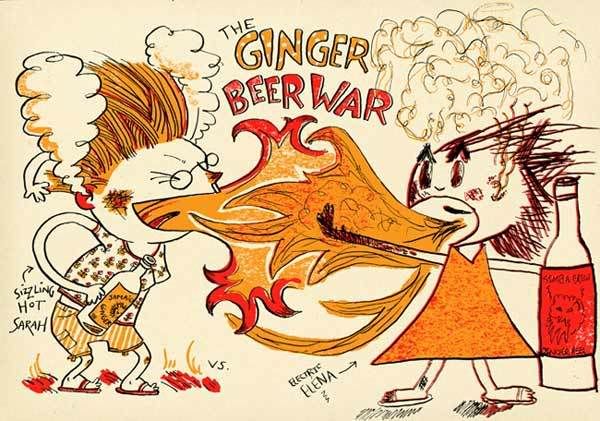 If you know Sarah's art style, you can tell which side she did and which side I did. If not, read the little captions with arrows saying 'Sizzling Hot Sarah' and 'Electric Elena'. We had quite a bit of fun making it.
Day One of Project: Sarah's-Time-Management went very well. Before we went out for the day, I constructively forced her to wear her watch. I'm positive that I am already impacting her life in a none other but positive way.
Go (Super) Fairy!
Today's Random Fact about (Super) Fairy: Instead of fleetly flying like most fairies, she is quite adventurous in her way of transport: she dive-bombs / sky-dives everywhere.