July 17th, 2008

I went and got myself enjoyably 'lost' in Greenwich. There are so many great shops there, it would be easy for me to break against my ways and stay there forever. But alas, when duty calls, I must immediately answer (Sarah, you should memorize this, as it can be very useful for those learning to manage time.)

As for my new user picture that you see: you are quite correct in saying that I have no wings, because I don't. (I come from a different, less common type of fairies, known for their efficiency and capability of getting things done, but we are wingless, no doubt.) The picture that you see, there are most certainly big, butterfly wings. Yes, you are not just seeing things. They were given to me from my friend, a butterfly. I thought I would put them on and, of course, take a picture.

I remain yours, wingless but efficient,
Time Management (Super) Fairy
Yesterday, I let Sarah go as a test so we could observe and see if she followed her instructions for the day. I did realize that she put on her watch without me even telling her to do so. We are getting somewhere!
Ellen Lindner
and me modeling her lovely new book in Gosh! Comics,
Little Rock Nine
, a graphic novel about the historic 1957 school desegregation in Little Rock, Arkansas. The pages look crisp and well-drawn and I'm going to dive in right now and read it, very exciting!
(Here's the link if you live in the USA.)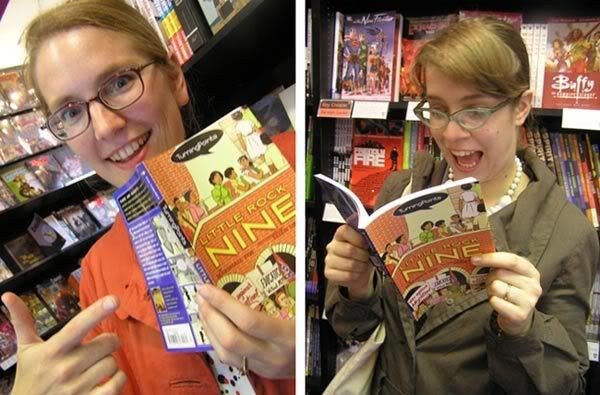 My Time Management (Super) Fairy will only let me spend 59 seconds posting anything more, so here are a couple more pictures from today, our fabulous comics salon with Ellen and
Dave O'Connell
and the Super Fairy reading Ellen's book at the
British Library
. We saw an amazing exhibition there,
The Ramayana: Love and Valour in India's Great Epic
, of more than 120 17th-century manuscript paintings. I absolutely adored their detail, bright colours and flat perspectives, almost like fantastic comics, in fact. If you're in London, you are crazy if you miss
this exhibition
, which runs until 14 Sept.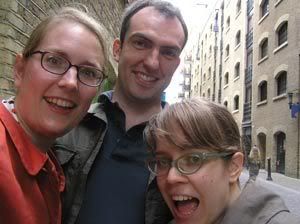 Hooray, Ellen! This is
Today, I left Sarah again, to give her another shot at performing her time-management-skills to all of London. I went to visit Scholastic UK publishing. I had a very nice day learning about how books are put together, edited, re-edited, sent to China, sent back to the UK, re-re-edited, etc. It was extremely interesting and it makes me want to write a book. Maybe I will someday, but for the right now, I have Sarah to look after and with that as my job, I hardly ever get anything else done.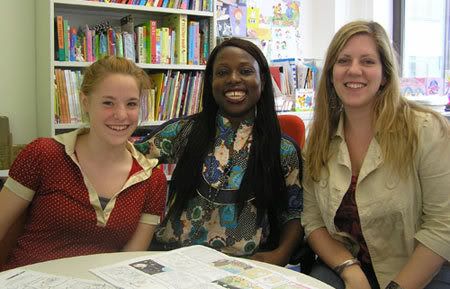 This is a picture of two of my cool-new-book-publishing-friends, Rebecca the designer and Katherine the editor. Thanks to them, my day was wonderful.
Random Fact About Time Managing Super Fairies: Though Sunny Spain, Ferocious France, and Sweet Switzerland sound wonderful, we Time Managing Super Fairies infinitely would prefer to vacation to Merry Mars, Peaceful Pluto, or Vicious Venus.
What's On Tomorrow's Agenda: Nothing but getting hopelessly lost.
Goodnight, Faithful Friends and Respectable Readers!
(Note to Sarah: If I catch you sneaking back on here anytime soon ... be ready to face the consequences!!!)
Sarah obviously did not heed my 59-second-only (emphasis on the only) because I've watched her type and it is impossible that she was able to type a quite descriptive blog in 59 seconds. I will have to break out my great methods of punishment. Maybe I will tell you about that tomorrow.