July 27th, 2008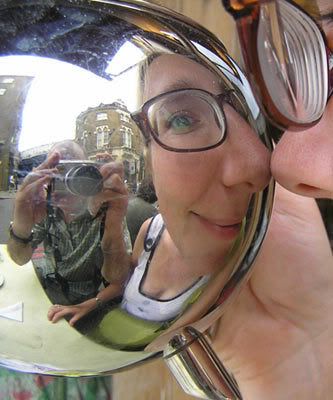 This week I got miracled by my downstairs neighbour who had an extra ticket to go see
Monkey: Journey to the West
at the Royal Opera House this evening. The opera was a spectacular combination of modern dance, circus acrobatics, martial arts, pantomime, Gorillaz animation, and looked and sounded amazing. The way the music and the huge animation tied some of the scenes together made it feel like we'd all been sucked into the real brain of a marvelous video game, like we were progressing up through the stages, but much more real and immediate than anything on a computer screen. My favourite bits were the mountain of fire and the final huge blue Buddha glory scene. The peach banquet part with the contortionist was brilliant but also made me feel a bit queasy. I think I worry about these people too much, that they'll hurt themselves, which is probably very silly.
Earlier in the day, Stuart and I met up with his cousins in Borough Market and had way too much fun with a certain tea pot while eating a huge lavender meringue.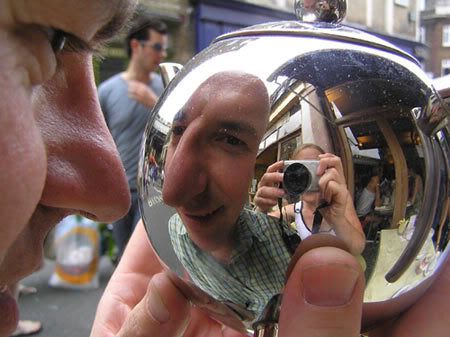 We also had to take a photo of cousins with the mountain 'o brownies:
Then Stuart and I went to see the
BP Portrait Awards
and fell dead asleep for an hour on a very comfy sofa on the top floor of the National Portrait Gallery and I left a trail of drool down his shirt. On the way to the opera house, I got another glimpse of the huge airship I keep spotting all over town. I'm geekily keeping a record of my blimp sightings over on
Dave's blog here
, just because it's so much fun to pester him with airship photos.
Hooray! I just spotted my friend
We went into a bookshop, and I saw Twilight by Stephenie Meyer, except it was translated into Hebrew! Those books sure do get around.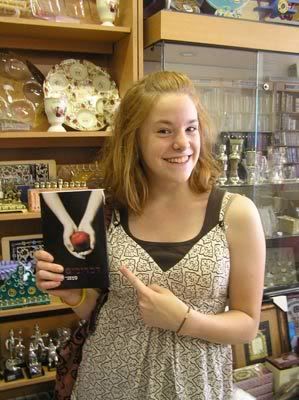 Next, Sarah dragged me to the Kenwood house. After looking at the brilliant works of art within, we went out on the lawn, then ate some DELICIOUS cream puffs that we had gotten in a bakery called Carmeli's. I suggest that you try them.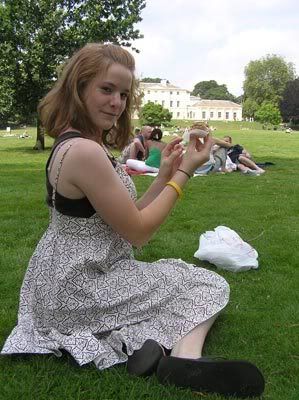 After this, we napped on the lawn for about half an hour. How very refreshing!
After this, we went to Inhabitation Cafe, in Camden. I got a chocolate mint milkshake and Sarah got a lime one (very Australian, the waiter told us).
Here is a before-milkshake picture,
And of course if you have the before, you need the after,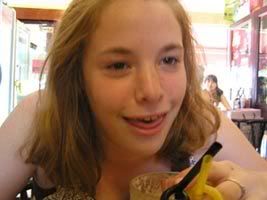 How much fun.
Well, as you might realize, this will be my second to last post for Sarah, my job is coming to an end. Expect a lengthy post full of tips and ideas on how to manage your time correctly tomorrow. I always say, "End it with a bang!!"
Today Sarah and I went to Golder's Green for the morning. We ate at Coby's. It was very good.