August 12th, 2008
chamonkee
, who spent 20 minutes trying to work out from my
very rough comic yesterday
what 'butt nuts' were.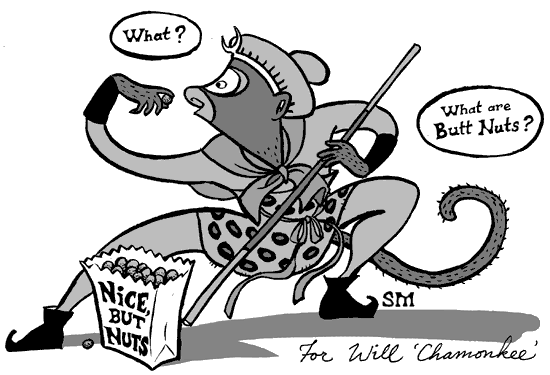 So fitting, my neighbour David just e-mailed a photo he took in 1982 of a comics stall in China's Sichuan province. Cool, hey?
And I've just been sorting through my
loot from Caption
, here it is!
I had to buy two copies of the brilliant little
Curtis and Terrorist
comic with the hand-drawn covers by
Oliver Lambden
; now I'm wishing I'd bought a couple more for gifts.
Weekend Friends
brings together work by Oli Smith and Sean Azzopardi from
London Underground Comics
, Oliver Lamden and
Dan Lester
. Someone called 'Peet!' made the
Fume!
comic, here's the
crazypants website
. The
Cinnamon
CD covers and books -
Rumble Strip, Count Milkula,
and
Sugar Buzz
- are by
DFC
colleague
Woodrow Phoenix
, and the two comics called
The Sea
are by Will Kirkby, or
chamonkee
.
And to finish, these days
nedroidcomics
are leaving me helpless on the floor. (For example,
this one
,
this one
and
oh, this one
.)
Today's morning sketch is dedicated to
I don't usually get around to wrapping gifts very attractively, but I was kind of chuffed with the way this one came out, using a recycled trade show poster and some Chinese-made dolls I bought from a stall in Hay's Galleria: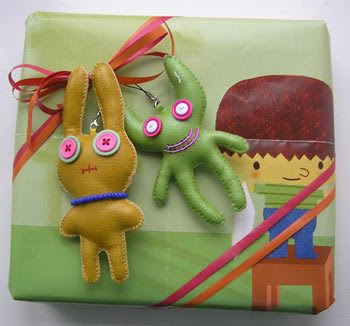 And how cool is this! After teasing him about butt nuts in the last post,
chamonkee
got me back
here
with a brilliant and very mental portrait, including Lettuce and Vern.
Will Kirkby, you totally rock!
:-D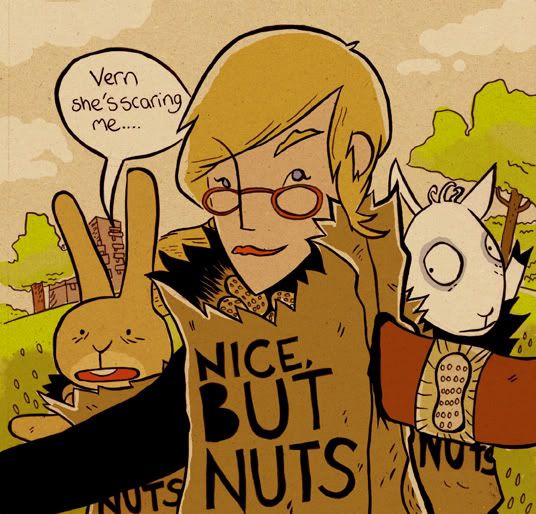 Today in the tube I saw a poster for a free exhibition of all sorts of skeletons dug up under London.
ginasketch
gave a great link to a
Times article
, including a map so you can find who's been buried beneath you. The exhibition runs until 28 Sept at the
Wellcome Collection
in London. I'm going to try to get down there at some point to do some life drawing... er, death drawing.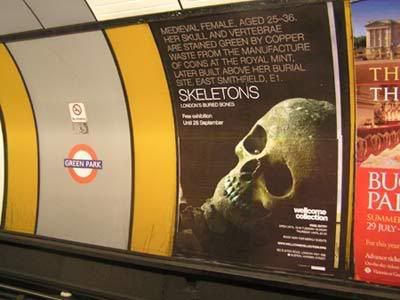 And Caption photos keep coming in, here are
some more
by
tallguywrites
.
Brian Sibley
has written a heart-felt and fascinating
tribute on his blog
to
Pauline Baynes
, illustrator of many books I grew up with, including the Narnia Chronicles, who died the Friday before last. I'm sure many people will remember her work very fondly, and Brian's fortunate to have known her so well.
Okay, I'm off to Brussels for the wedding of two of my best friends, so I won't be posting for a few days. Here's a card I made for them, two people who have struck the most amazing balance between living simply and living the good life. Which involves lots of sunlight and good wine and picnics and riding their bicycles in the park and tending their cabbages (not to mention the incredible things they do at work, which I won't go into just now).