I didn't get time on this trip to spend ages browsing in a bookshop, but I managed to do a lightening blitz of the news agent next to the place I picked up everyone's breakfast pastries.
I grabbed
Spirou
because I'd heard
Paul Gravett
mention in during his panel talk last weekend at Caption, and I also grabbed
Tchô
, which is much better inside than its shiny naff cover suggests. As tempting as it is, I won't post any pages for copyright reasons, but at least here you can get a little peek at how the pages look (Spirou on top, Tchô beneath):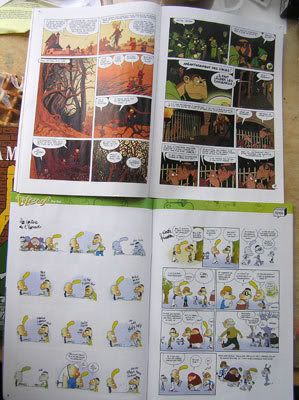 I wasn't impressed by the
Tchô
website, but
Spirou
's website lets you see some drawings by the contributors (click
auteurs
on their navigation strip - this is a seriously good link).
And this morning was so wonderful because the postman brought a parcel from
chamonkee
in Sheffield with this fantastic drawing on it! I am so keeping this for when he's famous, but then I still won't give it away.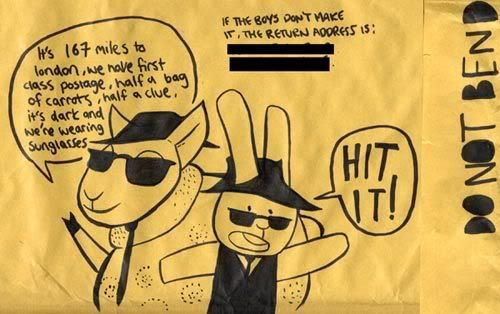 I'm feeling very humbled because I only drew on his envelope very fast with a blunt Sharpie.... sorry, Will, I'll do better next time! Will Kirkby is awesome.