September 11th, 2008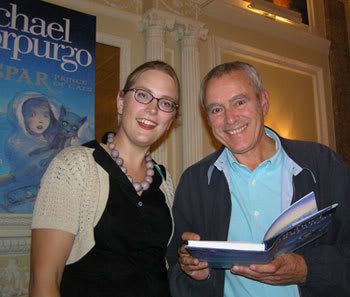 Hey, it's Michael Foreman!
I had an amazing time last night at Simpsons on the Strand, for the launch of a book by two British titans,
Michael Morpurgo
and
Michael Foreman
. I've always admired Foreman's work and I recently read my first Morpurgo when it was loaned to me by my ten-year-old friend, Chloe, who thought I would like it. (Chloe gave me a little packet full of drawings of all her favourite characters to give to Morpurgo when I met him.) Just as exciting, I met
Judith Kerr
, who wrote one of the earliest books I can remember reading and loving,
Mog the Forgetful Cat
. And I also got to talk with
Jacqueline Wilson
and couldn't help but thinking of a competition entered by thousands of girls just so they could spend a lunch in conversation with their hero. (I didn't have to do anything to talk with her, so I almost felt a little guilty!) She asked what I did and amazingly, perked up when I mentioned my comic strip
Vern and Lettuce
, which she knew and liked. Which was very exciting, as she is rather fabulous. She's been unwell for several months and was out having a glass of champagne against doctor's orders to support her friends, but I thought she looked more fit and lively than anyone else in the room. I also spoke with her friend
Damian Kelleher
, whom I first met at the
DFC
launch, and I look forward to reading his upcoming book,
Life, Interrupted
.
(
Read more under the cut
Collapse
)
Woodrow Phoenix
just sent me this fascinating New York Times
link to an article about Maurice Sendak
. He's one of my top illustrating heroes, and it makes me sad to know he's so grief-stricken in his old age. I like to think of him as happily enjoying his last few years, surrounded by people and animals he loves, but since much of his work has been fuelled by illness or unease or revulsion, I guess I wouldn't expect him to be living some soft-focus fantasy retirement. But if there was any chance I could send him a meaningful message of deep affection and good wishes, I would.
Here's my launch party review for Write Away, which Nikki Gamble will post on her site as soon as she gets back from her whirlwind visit to Denmark.
What kind of book would you come up with after living for three months in one of the best rooms in The Savoy? The historic London hotel gave celebrated novelist
Michael Morpurgo
this chance and, after prowling about the place, he choose an elegant, black, art-deco sculpture of a cat as his story's hook.
In a glittering evening of champagne and top-notch canapés (including chocolates sculpted in the shape of the Savoy's cat), the two Michaels -- Morpurgo and veteran illustrator
Michael Foreman
-- discussed their latest book with Harper Collins,
Kaspar, Prince of Cats
. Bouncing off questions supplied by writer
Nicolette Jones
, the two of them talked and joked about their many years of working together in an intimate gathering of publishing colleagues and friends, including
Judith Kerr
,
Jacqueline Wilson
and
Damian Kelleher
.
(
Read more under the cut
Collapse
)