September 30th, 2008
click here
!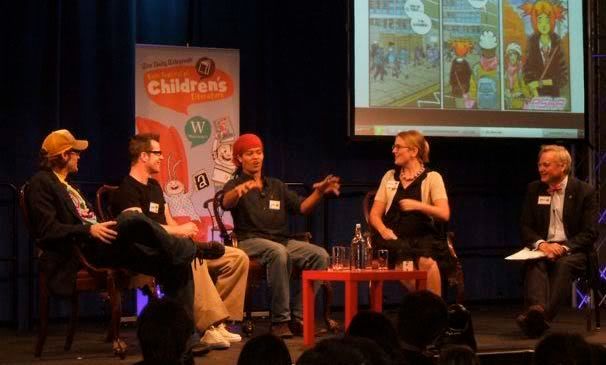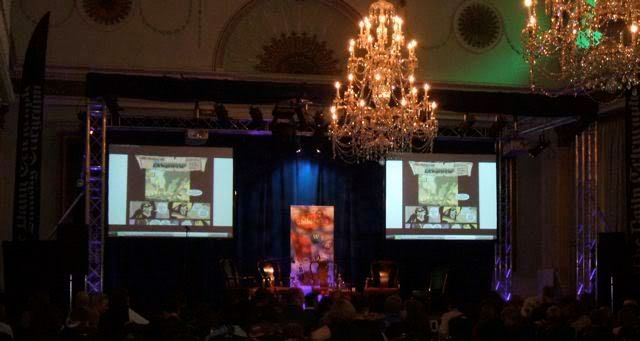 My parents are still here, and I'm having a crash day of catching up with my
Vern and Lettuce
strip while they shelter from the rain in the British Museum. (...So back to work, Sarah!)
Don't miss the chance to meet David O'Connell
tozocomic
at the Birmingham Int'l Comics Show and buy our collaborative
Airship
mini comic!
One of the DFC's publicists, Louise Stothard, just sent along this photo of our panel (the Etheringtons, John Aggs, me and David Fickling) at the Bath kids lit fest, and another one with a glimpse of the venue in Guildhall and its ceiling bling. To read Lorenzo Etherington's account and see a few more event pics,
the DFC
finally has its trailer up on YouTube, plus more on its own
new channel here
.
Edit:
I think I'm going to be doing something at the DFC stand at the
London MCM Expo
on either 25 or 26 Oct.
Emma Vieceli
(who does
Violet
for the DFC),
John Aggs
(who draws
John Blake
and writes
The Boss
) and
Kate Brown
(who writes and draws
Spider Moon
) have said they're going, are any of you coming along?
Hey, cool,