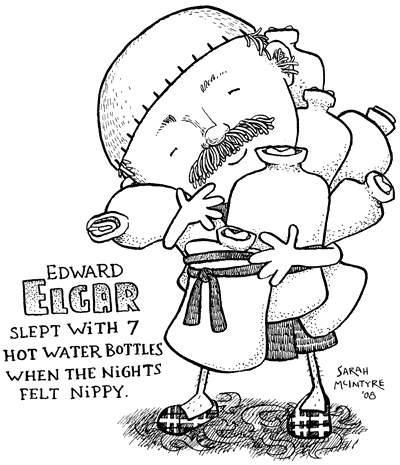 True fact! That composer was a bit of a delicate chappie. (I know hot water bottles looked different back then, but there's nothing like a good anachronism to start the day.)
Artwork
: I've had some people contact me about buying drawings from my blog and I've sold a few for some welcome cash. I'm not sure how many I actually want to part with right now, or how I'd set it up, but I'll have a go with this one:
£40 plus registered mail postage via Paypal
if anyone is wanting to buy. (The image is 13 x 15 cm on heavy paper a bit larger than that.)
Edit: Picture sold
London MCM Expo
: I'm going to be doing some signings this Saturday the 25th at the DFC stand with
Emma Vieceli
, who draws and writes
Violet
. Not quite sure what time yet, but stop by and say hi if you're there!
And the marvellous
Garen Ewing
used my picture on his
Rainbow Orchid blog
.
Edit
: Good ol' Radio 4 news flash: At 9:30 this morning, as part of his comics series, Phil Jupitus is doing a 15-minute programme on
Charles Peattie
and
Russell Taylor
, the comics guys who make The Daily Telegraph's
Alex
.
(radio link)