November 14th, 2008
Woodrow Phoenix
. Which was fun, but it reminded me why I never draw with felt-tip markers. (The sound effects refer to his latest fab book,
Rumble Strip
.)
More
Comixtravaganza
for the upcoming
SCBWI
conference! The latest two remarkable entries come to us courtesy of
John Cei Douglas
(
carrot_rope
) and
David Thorpe
.
See them here!
And you probably saw this already, but
lucylou
has posted a whole truckload of great comics
here
, including one about a restaurant visit that will make every foodie person go crazy.
And I'm going to the all-day comics symposium at the V&A tomorrow for
Comica
. Is anyone else coming?
I found an old pack of brush pen markers I forgot I had, and did this little picture of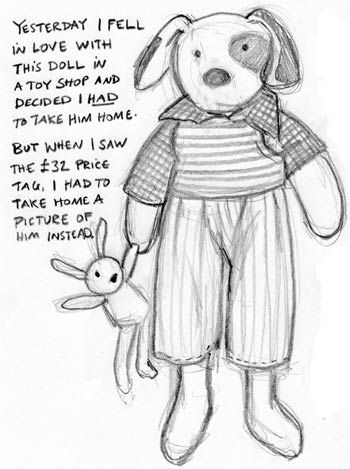 Today I got to hear a talk by someone who is possibly my all-time favourite comics artist,
Posy Simmonds
. Not only is she a brilliant artist and observer of life, but she's a great speaker as well; she had us all in stitches with her impressions of different English accents as she talked about class stereotypes in comics. And she even did some live drawing so she could explain why she draws her different characters the way she does.
I'm too knackered to review the whole Comica symposium at the V&A, and I'm going to try to pencil a Vern & Lettuce episode before I go to bed. But I was very happy to discover
jinty
, whom I met at Caption (Hi, Jenni!), had come along, and she's already done a good write-up
here
.
The other most interesting talk was given by
Sina Shamsavari
, who is doing his PhD topic on gay and bisexual representations in comics. His talk got squished a little bit at the end, so he had to race through a list of artists, but they included Hazel & Foxglove in Sandman, Tom of Finland, Howard Cruse, Alison Bechdel, Ariel Schrag, Rachel House, Jeremy Dennis, Andy Hartzell, Robert Kirby, Tony Arena, Michael Fahy, Ivan Velez, Justin Hall, Jamie Cortez, Victor Hoge and Jennifer Camper. So I have a few names to look up when I get a moment.
Another highlight included meeting a lovely artist from Utrecht named
Maartje Schalkx
. (I got to look at two of her beautiful mini comics.) And I met the Filipina buyer in the graphic novel section at Blackwells on Charing Cross Road,
Mahala Urra
. I also met a lovely chappie named Alex, whose last name I never found out, but who had great specs, and he caught me up on the gossip up at the illustration programme at Cambridge School of Art. Apparently my visiting tutor
Chris Draper
is teaching the BA there now, lucky them!
Today
DFC Issue 25
dropped through the letterbox! I've just heard that the DFC is going to go on sale in Tesco for 1 week only, from Wed 26th November, to see how things go. So I'll get back to you about that one.
I'm very envious of all you who are going to
Thought Bubble
in Leeds tomorrow. Let me know all the gossip, okay? :-)