November 20th, 2008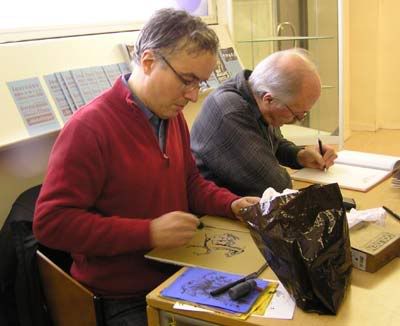 Last night I went to the French Institute in London to hear a talk by two of France's top comics creators,
Ted Benoit
and
Emmanuel Guibert
as part of the
Comica
series. While I was in Provence a couple months ago, I saw lots of old copies of
Blake and Mortimer
series for sale in the markets, so I was a little bit aware of his work, but Guibert is a new find for me. There was a rush for seats at the start, so I sat at the back with
tozocomic
,
rainboworchid
and his wife Ellie,
Maartje Schalkx
,
Sarah Lightman
, a Scotsman named Euan and Catrina MacLeod, who's doing her PhD on women in comics. Since I could catch glimpses of the overhead screen but couldn't see the speakers from there, I did a lot of doodling in my notes: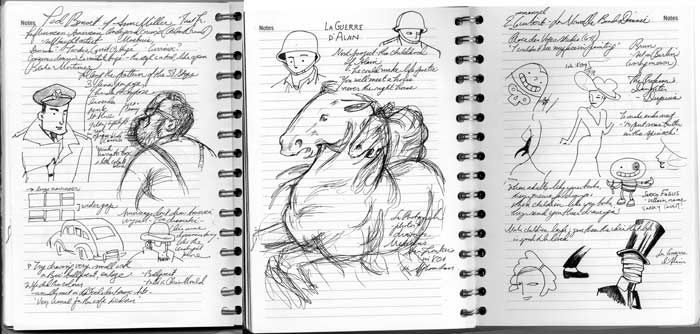 Have a look at some of
Ted Benoit's artwork here
. I was interested by Benoit's fascination with 1950s America, and his assertion that 'Americans don't draw America very well', that their pictures are 'too dramatic', while he likes a more documentary style look at the landscape which he only finds in underground comics there. He cited American influences on his work, particularly Robert Crumb, and talked about his conscious decision to take on Herge's style of
ligne claire
drawing; he didn't see it as copying, more that Hergé's established style can be used as a tool, like a pen.
Guibert turned out to be a captivating speaker. (Read an article by Paul Gravett about him
here
.) I was very moved by his description of getting to know an old American soldier, Alan, and the depth of their relationship as Guibert listened to Alan tell stories of wartime, and later, his childhood, up to the time he died. Guibert has produced three books about the man, now compiled into one,
La Guerre d'Alan
, and he's also going to come out with a book about Alan's childhood. Here you can see a video of his strange but effective working technique for
Alan's War
with ink and water. (It's not clear what's happening at first, but it all falls into place at the end):
(
Read more here under the cut
Collapse
)
DFC
colleague
Woodrow Phoenix
had some interesting family stories. I rang him up for help today because I was having a hard time with my Vern & Lettuce strip, and after giving me some excellent tips, he casually mentioned that he was taking his mum to Buckingham Palace tomorrow so she could collect her OBE. (That's
Order of the British Empire
for the non-Brits.)
We chatted about it for a bit and, very intrigued, I asked Woodrow for her name so I could look her up, and when I Googled her...
Oh My Goodness!!!
This is one of the most amazing women I have ever read about! And she lives right in my neighbourhood! She was our mayoress!
Have a look at
what this remarkable woman has done
, the list is jaw-dropping. And here's a video interview I found on YouTube, I'm still reeling from the discovery! Here's another
fascinating article
.
YouTube link
Wow. I've been suspecting for a little while that