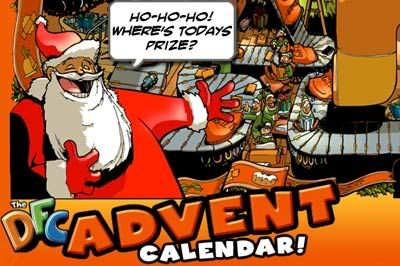 I got a bit obsessive trying to find the magic parcel! The artwork's by the insanely gifted - emphasis on the 'insanely' - Lorenzo Etherington of
Monkey Nuts
.
(Careful, there's jolly music.)
Advent calendar here, with prizes.
The Forbidden Planet International blog is on a DFC roll! Here are two more posts:
this article here
quotes Emma Vieceli (creator of
Violet
), Peadar O Guilin (
Sneaky
), Laura Howell (
Sneaky, The Mighty M
), Robin Etherington (
Monkey Nuts
) and Jim Medway (
Crab Lane Crew
).
This article
gives reviews by other readers of the DFC.
And this Rutles video is, like, the worst video ever made, but it makes me laugh.
(Warning, more jolly music.)
YouTube link here