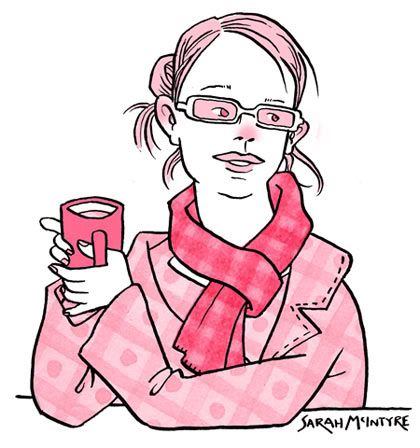 I just used my new pen nib to draw this self portrait. It doesn't look all that much like me, but that's okay. Ever since I was a kid and saw
Norman Rockwell paintings
, I've wanted sticky-out ears. I don't have them, but I like to draw myself with them anyway.
Two cool websites: Alex Milway referred me to the blog of
Viviane Schwarz
, and I'm looking forward to the upcoming Peckham launch of
There are Cats in this Book
. I have a copy of her book
Shark & Lobster
, which is a magnificent example of crossover between picture books and comics.
And my illustration critique group used to meet in the studio of
Kev Hopgood
, who's done a mind-boggling amount of professional comics and managed to support his family with the business, which is very encouraging. He's just launched a
complete overhaul of his website here
.