I was working very late last night, and when it got to the Silly Hour, just before hitting the sack, I couldn't resist drawing something for what was happening
here in the comments
on
nedroidcomics
' blog post.
(This picture refers to a painting by
Valetin Serov
, which is very famous in Russia but I guess not so much here.)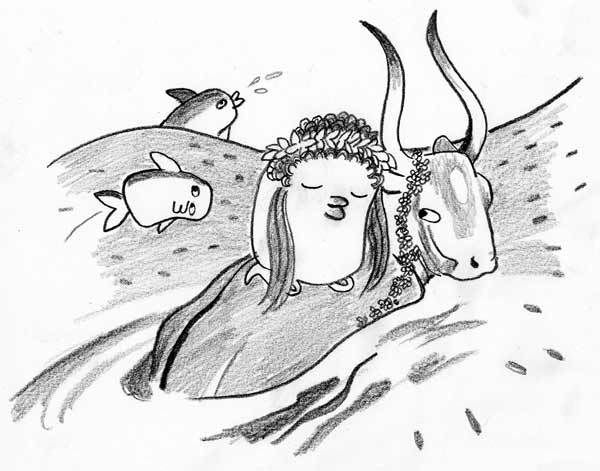 While he was in town, Will Kirkby (
chamonkee
) did a sketchy life drawing of me, and I liked the head so much that I sat next to him and did my own little drawing based on his sketch. It looks like a cross between the way Will draws and I draw.
And
tozocomic
made me laugh with
his drawing
of our pub-going group a couple nights ago, and he let me post it here. It's me, Will, Stuart and Dave. (As you can see, I'm rather tall-ish.)
'Comickers in search of a pub' by David O'Connell
My friend
Kim Toohey
has posted a link to a November article in the Guardian about one of my favourite writer-illustrators,
Satoshi Kitamura
here
. I was particularly intrigued by this:
He draws with ink, but instead of a springy, steel nib he uses a Japanese glass pen, with tiny grooves to accommodate the ink . This creates a distinctive line that blobs now and then as it glides, giving an unmistakable character to everything he draws.
Does anyone know who makes these
Japanese glass pens
? I've never seen one.
Want some recommendations for this year's reading? My writer friend
Candy Gourlay has made a video interviewing the kids in her neighbourhood to hear their best picks!
(Thanks, Mia, for the Vern & Lettuce plug.)