January 16th, 2009
Not too bad, for a quick jobbie with a cut-up cereal box! My little neighbour friend busily made clothing while I tried to get on with some work.
I recently discovered ten pages of rather atrociously dated paper doll outfits I made when I was a kid in the mid-'80s, tucked into a sketchbook I'd brought from America. I can spot a few
Grace Kelly
dresses mixed in there, and my obsession for anything to do with ancient Egypt. After my brief dream of becoming a fashion designer, I decided I was definitely going to be an archaeologist when I grew up, so I could race around cool-looking painted tombs while dodging Nazi looters.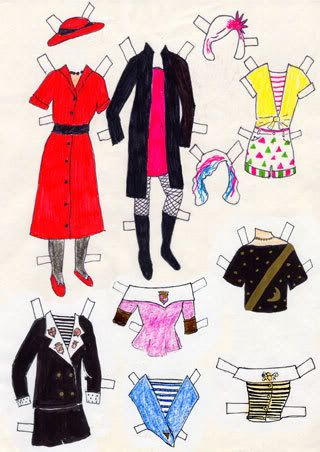 (
More '80s fashion horror
Collapse
)
DFC issue 33
arrived today, and
Vern and Lettuce
take the Tube!
I've always wanted to show the London Underground in a commissioned piece of work, and now it's happened! Except, even better, in the Pickle Rye parallel universe, the transport engineers don't put those annoying barriers on the metal runners next to the escalators, it's all ONE LONG SLIDE. Whoosh! What a perfect world.
Edit
: Hey, here are some nice words about
the DFC
from
Paul Gravett
in his
Best of 2008: Graphic Novels & Comics
:
The DFC: What does this "DFC" stand for? Well it is "Delivered Fridays Consistently" and it's "Definitely First Class". The DFC actually stands for The David Fickling Comic, and he is the determined publiser, backed by powerful Random House, who has made the most significant injection of new ideas and creative talent into British all-ages comics in a decade. You can't buy it in any shops, you have to subscribe online and every Friday it arrives in your morning mail. There's lots of quality here, even a sea-faring serial, John Blake, written by Philip Pullman of Golden Compass fame, but if I had to pick just two stand-out series they would be Sarah McIntyre's charming sheep-and-rabbit duo Vern and Lettuce, and Mezolith, a caveboy drama written by Ben Haggarty and drawn by Adam Brockbank, concept designer and storyboarder for the Harry Potter movies. Are you ready for their monstrous giant blue baby or their naked, overweight she-creature? This is easilly the most vivid, arresting children's adventure I've come across anywhere all year, a masterpiece in the making.
Thanks, Paul! Woodrow Phoenix's book
Rumble Strip
also gets a good mention.
article link
Cool thing I've seen lately: the work of Chicago-based illustrator and comics man
Chris 'Elio' Eliopoulos
, or
elio
. Have a peek at some of the lovely work
on his website.
Hooray,