February 16th, 2009
I'm thrilled to see that two people who do my favourite drawings and comics are back posting on LiveJournal:
Eleanor Davis
(
squinkyelo
and
Drew Weing
(
drewweing
). (Hi, guys!) I took inspiration for today's morning sketch from Eleanor's fab drawing at
the bottom of this entry
.
Related to my last post,
Lucy Knisley
(
lucylou
) has been having similar shortsighted dilemmas
here
.
Rosemary Travale
(
piratecore
) is doing fundraiser sketches for the amazing price of TWO Canadian dollars! (*gasp!*) Don't miss your chance! You can donate more (I donated $4 CAN) but even $2 will get you an e-mailed sketch, and $10 will get you the original drawing!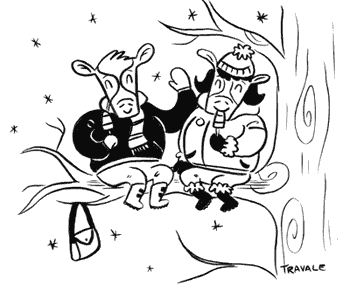 My brief was 'two fat cows sitting in a tree eating iced lollies'. Thanks, Rosemary!
Go here to get your own commissioned sketch!
Matt Reidsma
(
reidsrow
) is offering some amazing comics workshop tips and links about getting into the comics business
here, you'd be nuts to miss it.
Hey look,