February 18th, 2009
Starting THIS SATURDAY!
They only asked me yesterday, so it's great that I won't have to wait too long to see it. Every Saturday for twelve weeks, The Guardian will feature the first twelve episodes of my comic,
Vern and Lettuce
(which is running now in
the DFC
). And since the Guardian Comic has three pages of comics and
Vern and Lettuce
takes up only one page, the other two pages will feature
James Turner's
Super Animal Adventure Squad
. Which thrills me to no end because it's one of my favourite strips in the DFC, and I'm so glad they'll be together! (You might also know James –
eruditebaboon
– from his hilarious webcomic
Beaver and Steve
.)
Just in case you're one of those kinds of people who only read a certain section of the paper and throw away the other sections, I've made a little chart to show you where to find comics goodness: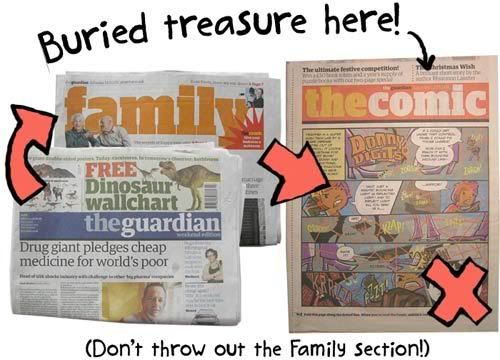 Edit:
I almost forgot to mention,
here's a photo
of Woodrow Phoenix (creator of
Donny Digits
, shown above) and me having lunch with a couple of James's Super Animal Adventures squadies!
And (hopefully) on an entirely unrelated topic,
iv_solyaev
has posted two of the most jaw-dropping
paintings of train wrecks
and wow, they are
something
.
Edit: Guardian link here
Waterstone's Children's Book Awards
to get some air and a glass of wine with the lovely
Sally Nicholls
. (You may remember I made her a big foam
airship
for the launch of her book
Ways to Live Forever
.) Since she won the award last year, she was presenting it to this year's winner,
Michelle Harrison
, who bagged the five thousand squid for her book
The Thirteen Treasures
. I thought I could say 'you read it here first', since I came home early to do more work tonight (no party girl, me) but the
BBC have already beat me to it.
(They are so quick, these guys.)
Sally's the one giving the speech, and in the line of nominees, Michelle's the one in the red dress:
When the prize was announced, I was standing next to publisher Barry Cunningham and author
Rachel Ward
(black blouse, with the glasses), who didn't win the prize. But I must say, the write-up for her book,
Numbers
, sounded the most interesting of the lot. It's about a girl who can see exactly when each person is going to die when she meets them, and how that affects her relationships with them. That sounds a lot like a daydream I had as a kid, on long car journeys, when I imagined I could see a billboard on top of every single car on the freeway, saying exactly where each car was going and why they were going there.
And here's a little portrait I did the other day for a
DFC prize winner
named Katherine. (Keep checking the
DFC website
for all sorts of competitions.) I hope she doesn't mind being a mermaid, but in the photo, she had great hair that I thought would be fun to make all swirly.
I was going stir-crazy today from painting all day like a maniac for an upcoming picture book deadline, so I popped out to the