March 6th, 2009
David McKee, the 74-year-old artist, illustrator, storyteller and creator of the bestselling
Elmer
books about a friendly patchwork elephant and the cult TV series
Mr Benn
is exhibiting his first UK solo exhibition of his oil paintings from 3 – 14 March 2009 at the Illustration Cupboard in London.
I got to hang out with David McKee for almost two hours!!! He's very interesting and incredibly kind. I interviewed him for
Write Away
for an hour, and then when I thought he'd be wanting to move on, I switched off the recorder, but we got talking about painting and it went on for much longer. So this interview is very long already, but sorry to leave out the last bit! If you ever get a chance to spend time with this guy, go for it. Unlike most Brits, I didn't grow up with Mr Benn, and I got to know McKee's work through another illustrator I hugely admire, Satoshi Kitamura. Kitamura is very much influenced by McKee's work and they're close friends and send frequent letters to each other and to their editor at Anderson, Klaus Flugge. You can see my
blog post here
about an exhibition of both their painted envelopes (and one of mine!) at the Tokyo Post Office Museum in June 2007.
I've hardly ever done any interviews, so my questions were kind of lame, and I got so caught up in what he was saying, I totally forgot to look at my questions sheet. But I think McKee's used to that and he gently filled in the gaps. He'd just come from lunch with Flugge (who's his best friend as well as his editor) so he was in a good mood.
(
Click here to read the interview
Collapse
)
I've been going since Issue 1 with
Vern and Lettuce
and I'd been planning to take a break to do some concentrated work on picture books. But I had every intention to do more V&L strips, at least the next eleven I'd signed up to do (a year's worth of strips in total). So I asked if I could make this one a big hurrah, letting V&L go out in a blaze of glory until reappearing in the anniversary issue, which now won't appear. I'm glad their road trip story could draw to a close before the DFC ended, not cut-off mid-story, as has happened to several distraught contributors. (Although there may be a way that those stories will finish online, we'll see.)
I originally drew this view as a scene in the
Airship comics jam
I did with David O'Connell: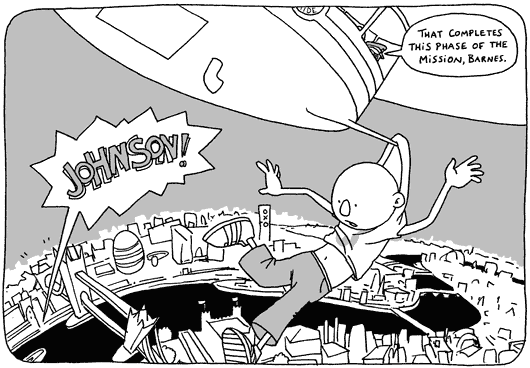 But Dave and I only allowed ourselves an hour per panel for that, so I was frustrated I didn't have time to do more detail, and I got to play more with the DFC spread. Its view isn't
quite
London, it's still the parallel Pickle Rye universe, where the Thames seems to have a few less bridges and some of the buildings take on slightly animal-like forms. I spoke with Woodrow Phoenix this morning, and he thought it was really funny we both had sweeping views of the Thames and Tower Bridge in the same issue (his more graphic take on the scene in
Donny Digits
). It's a classic DFC moment: we often seem to have themes appear unintentionally in an issue, the most memorable being the eerily similar 'drowning girl scenes' in Issue 2 (
John Blake
and
Spider Moon
).
So Vern and Lettuce have had their run in the DFC, but they will make a little appearance in the last issue. Woodrow and I have been putting together a good cover and one other collaborative item, hopefully bringing together everyone who's contributed so far to this amazing project. Should be good.
Other tidbits...
I took a photo of my good friend
Dan Fone
this weekend for a new online project called
Tweak Today
. On the website, there's a daily new challenge, and that particular day's misson was
Have yourself photographed standing in front of something the same color as your shirt
. So here's our entry. (We got a bit overly excited about the whole parallel lines thing in the composition.)
(Dan's the guy who designed my website,
so book him quick if you want some web work, he's good.
)
Rick Eades
(
eadesmust
) did another funny Witch Hetty Grubb
comic here
.
I bought a lovely painterly picture book last year in Brussels by
Carll Cneut
and just discovered
his website.
And don't miss the third episode of Vern and Lettuce in tomorrow's Guardian newspaper!
(Look for it in the Family section!)
There's something particularly gut-wrenching and beautiful at the same time to me about this spread arriving in the post just after the announcement about the DFC coming to a close.