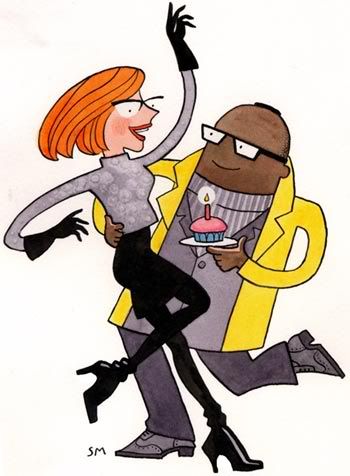 I've been itching to draw criminal mastermind V.V. Morgenstern from the DFC's
Donny Digits
('by Woodrow Phoenix, obviously'), whom I v.v. much suspect is based on Woodrow's fabulous partner, Bridget. I still haven't quite got the essence of Ms Morgenstern or Bridget, but here's my go at it.
Happy birthday, Bridget!
I just saw on the Forbidden Planet blog
here
that one of my favourite illustrators,
François Schuiten
, is going to design the new Brussels Railway Museum, planned to open in May 2010. That will please both Stuart and me to no end, as I'm fond of trains and adore Schuiten, and Stuart is almost a transport fanatic, and thinks trains and trams are far preferable to humans. Trams are really his thing, and he used to go round and round Moscow on the trams in the dead of winter, just because he liked being on trams. Although we once went on a steam locomotive on the Isle of Man and I've seldom seen him so excited. We went with friends who live in Brussels to the tram museum there a few years ago, around Christmas, and it was shut. But a nice elderly Flemish caretaker let us in and gave us his own tour around the shadowy depot, with its amazing world of dust, leather, mechanical oddities and fading signs.
And a book list for a meme from
nice_cup_of_tea
following the
BBC's The Big Read
:
(
Collapse
)