April 15th, 2009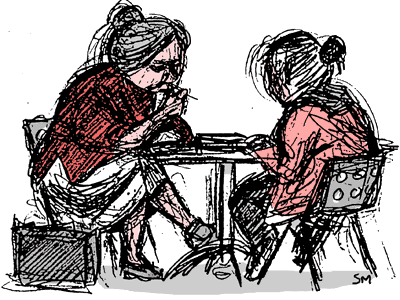 The
Royal Festival Hall
's a lovely place to spend a morning. At 10:30, they had this huge projection in the atrium cinema area of the London Philharmonic either rehearsing or peforming, and you could just come in off the street and sit and watch and listen. It was almost as good as being at the real performance.
Hey, there's an upcoming exhibition of
Alice in Wonderland
artwork by
John Vernon Lord
at the
Illustration Cupboard
from 21 April - 16 May. My course leader, Janet Woolley, was always going on about him when I was at art college and I loved his book,
The Giant Jam Sandwich
when I was a kid. (Here's a
small photo
I took when I met him last year.) So I will certainly be tootling over to see this show at some point.
Here's a quick sketch I made yesterday before a meeting in the cafe in the Royal Festival Hall. I don't normally let you see my pencil work because I don't think it looks all that great; I prefer how my pictures look after I've inked them. But I thought I'd give the Photoshop 'stamp' tool one more try to see what would happen. Still not sure if I like it, but it does preserve the energy of the sketch lines.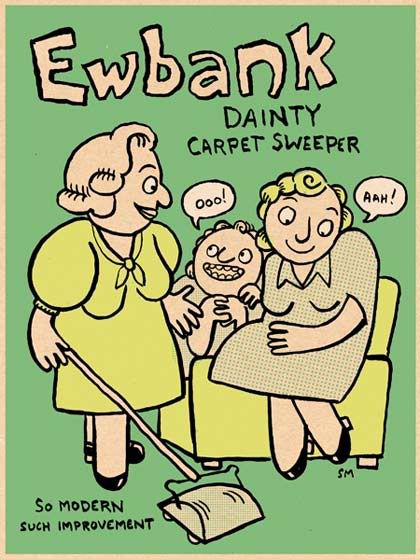 The morning sketch I posted today was actually something I drew yesterday, so I was itching to make a picture today that wasn't work-related. I was flipping through an album of 1930s posters, found this funny advert, and decided to redraw it roughly in the style of an illustrator whose work I really like,
Simms Taback
. It made me really happy the way it came out.
(So if you're looking for something to draw today, you could try copying an advert in the style of your favourite artist or illustrator.)
In the meantime, I'm going to go buy a new cleaning appliance and invite all the girls round for a look.