May 1st, 2009
Admiring Dave's
red robot
yesterday made me nostalgic for a football player I haven't watched for awhile since he left Liverpool. I mean, he's still playing, I just don't watch football much these days. I used to perk up whenever he was on the telly, being a bit fascinated with the way he looks on the pitch, and his robot dance makes me howl. If you haven't guessed who it is,
answer here
.
Oh, okay, here is a
video of the robot dance.
And an
even sillier one
. Yay!
...And just one more thing, here's where he gets
punk'd by Rio Ferdinand.
Okay, no more football on this blog, I promise.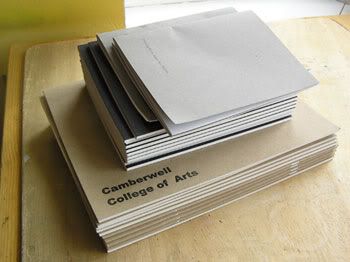 Yay, a lovely new pile of sketchbooks! Every few months I hop on my bike and go over to my old art college shop to get some of these; super-cheap but very good. Much less intimidating that something expensive like Moleskines. Then I wonder why everyone keeps asking me if I'm a student when I'm drawing. I also stopped by the
new art supply shop
near Camberwell Green, it's really good! I used to go straight up the East London Line to
Atlantis
, in the East End, but ever since that tube line was closed for extention works (and will be until next year), that's sort of cut off the neighbourhood for me; I only make that long trek very occasionally now.
So
Gary Northfield
helped me fill the first page of two of my new sketchbooks; we both drew the top half of a monster and then swapped and did the bottom half.